Summer is in full swing and all of our summer favorites are still on sale! Our current site is under maintenance and may not reflect these amazing prices at the moment, but we will honor them when we process your order.
All of our summer favorites are 30% off!

Summer is an exciting season filled with backpacking trips through the forest, visits to local farmer's markets, picnics at our favorite park, dips in the river, harvesting fresh berries and vegetables from the garden, dancing at outdoor concerts, and many other warm-weather adventures inspired by these long days. We look forward to this bounty of fun all year, so why not celebrate? In honor of the season, we've picked our favorite summertime products for this special sale!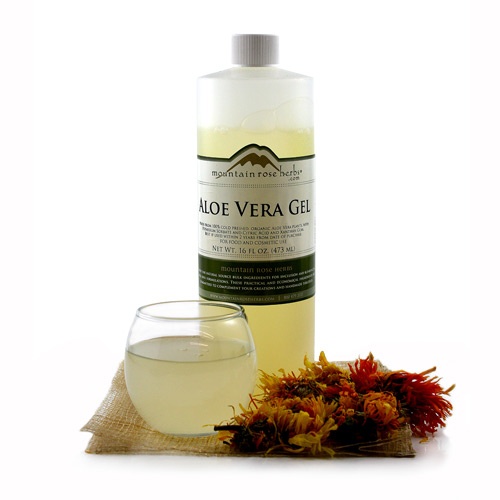 Aloe Vera Gel 16 oz.
The classic treatment for sunburns! Aloe Vera Gel is such a helpful and indispensable household ally for treating burns, bites, and other skin maladies. We like to keep a bottle in the refrigerator to increase the cooling effect during the warm summer months. Pulverized from the inner fillet of certified organically grown Aloe Vera plants.
Regular price: $5.50
Sale price: $3.85
Aches & Pains Massage Oil 4 oz. flip cap bottle
The name says it all! A deeply penetrating and soothing herbal oil for all the aches and pains we endure. This is a great massage oil for relief from fatigue and stiffness. Ideal for sore muscles that result from hiking, gardening, long bike rides, yard work, and other physical activities. Contains: organic Calendula flowers infused with organic Olive oil, organic Jojoba oil, organic Sweet Almond oil, Vitamin E oil, and a blend of pure essential oils.
Regular price: $9.95
Sale price: $6.96
Injur Heal Balm 2 oz. tin
A loving companion for athletes, outdoor enthusiasts, and those who take part in strenuous activities. Wonderful to use on bruises, sore muscles, and general aches and pains. This balm is based on our popular and effective Injur Heal Oil. Use immediately after arduous exercise, exertion or injury to prevent, relieve and reduce swelling, bruises and pain. Contains: organic Arnica Flowers, St. John's Wort flowers, organic Calendula flowers, organic Olive oil, Beeswax, organic Lavender essential oil, and Vitamin E oil.
Regular price: $8.00
Sale price: $5.60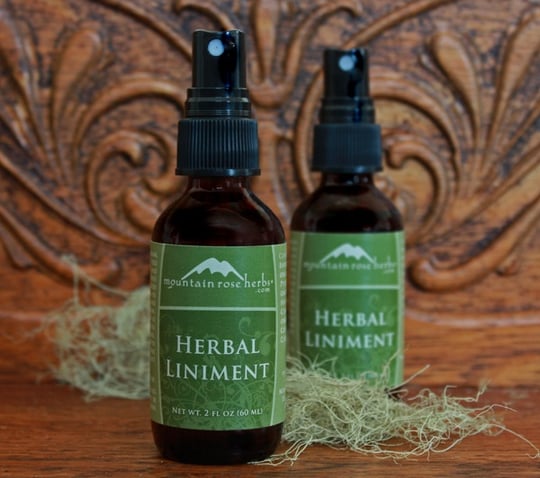 Herbal Liniment 2 oz. spray bottle
Enjoy herbal healing with this highly effective herbal liniment which offers immediate soothing to bruises, sprains and muscle aches. Formulated with organic herbs and menthol crystals to help alleviate pain and promote circulation, this healing spray is essential for athletes, hikers, outdoor enthusiasts and gardeners alike. Just spray directly onto skin and massage into sore muscles for instant relief. Contains: Isopropyl alcohol, organic Echinacea Purpurea root, organic Calendula flowers, organic Comfrey root, organic Menthol Crystals and organic Cayenne.
Regular price: $9.50
Sale Price: $6.65
Tulsi (Holy Basil) Hydrosol 8 oz. spray bottle
Wonderfully soothing and uplifting! Used extensively in Ayurvedic medicine, Tulsi is considered a sacred plant and is found growing in many Hindu homes. Warm, and slightly spicy, this hydrosol is wonderful to spray on the face or body in times of stress. Keep a bottle chilled in the refrigerator, and mist to help cool down or whenever in need a little energizing pick-me-up.
Regular price: $17.50
Sale Price: $12.25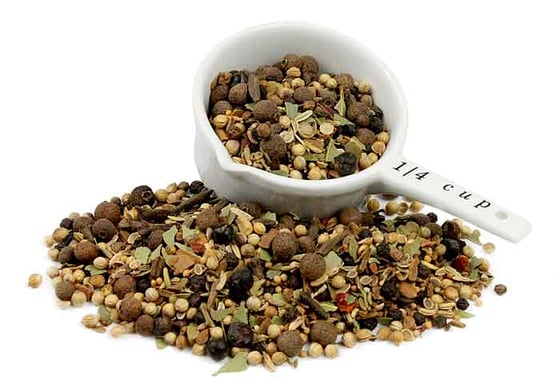 Pickling Spice 8 oz.
This sweet and savory blend is a must have for homemade picklers! Over 10 cut spices and whole berries and seeds are combined to perfectly compliment any refrigerator or canned pickled fruit or vegetable recipe. Contains: organic Cinnamon, organic Yellow and Brown Mustard seed, organic Black Pepper, organic Dill seed, organic Celery seed, organic Chili flakes, and organic spices.
Regular price: $5.75
Sale price: $4.02
Lemon Tea 8 oz.
A powerfully refreshing cup of tea blended with the finest lemony herbs. This infusion has just the right amount of citrusy tang, and is great for children. Try it iced as a soothing summer tea; it's one of our absolute favorites! Contains: organic Lemon Verbena, organic Green Rooibos Tea, organic Lemon Balm, organic Lemon Peel, organic Lemongrass, and organic flavor of Lemon.
Regular price: $11.50
Sale price: $8.05
River's Rhapsody Chocolate Elixir 4 oz.
This delicious chocolate elixir is sure to bring a smile to your face! Created with pure botanicals to promote relaxation and euphoria, and ease you through those stressful moments that we all have. Try drizzing over vanilla ice cream for a special summertime treat! Contains: unfiltered Pacific Northwest Honey, organic fair trade Cacao powder, organic Kava Kava root, organic Maqui berry, organic grain alcohol, and water.
Regular price: $14.50
Sale price: $10.15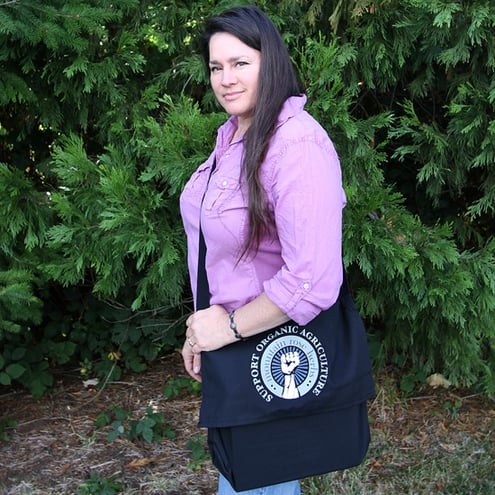 Support Organic Agriculture Messenger Bag
These large organic cotton bags are perfect for trips to the local farmers market or filled with fresh veggies from your garden, and are spacious enough to hold water bottles, sunscreen, guide books, snacks, insect repellent, and other necessities for day hikes. Show your support for organic agriculture wherever you go! The 40" strap makes it easy to sling over your shoulder, and each bag measures 18" wide x 12" high and has a Velcro closure under the flap. Made from certified organic cotton grown and produced in the United States.
Regular price: $13.00
Sale Price: $9.10
***
Sale prices are valid now through August 31st
Enjoy the summer!