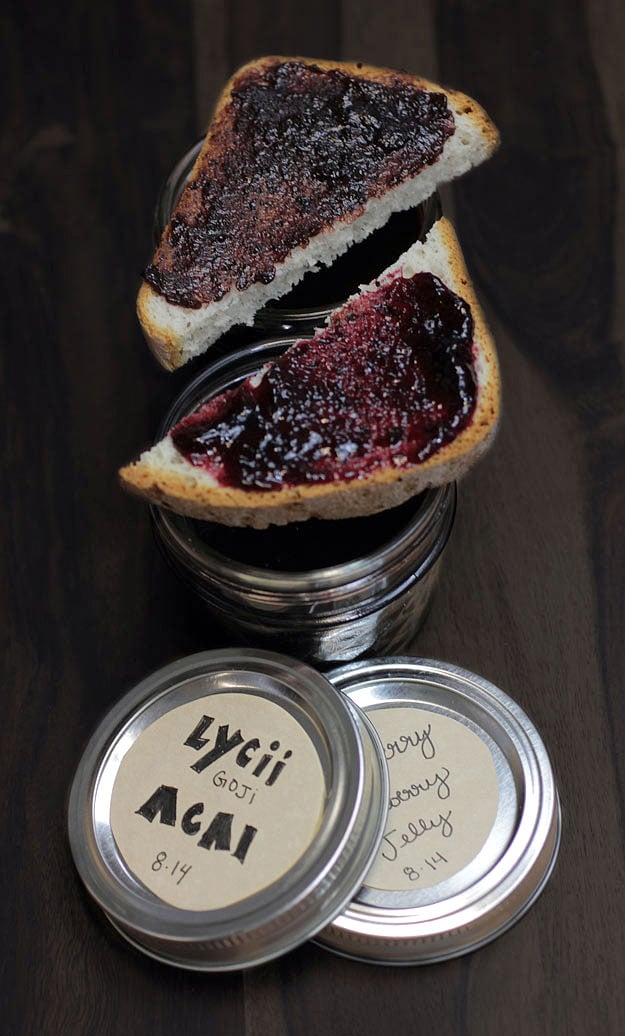 I was really craving a "super fruit" jelly the other day, but with the bounty of summer long gone, I had to get creative. So, I set out to make some tasty spread with my favorite dried and powdered berries. The results were phenomenally delicious!
When making jams and jellies from dried berries or herbs, you generally want to use half as much as you would when using fresh herbs or berries. So, if a recipe calls for one cup of fresh lemon balm or elderberries, you will want to use 1/2 cup of dried instead. The reason for this is that dried herb will absorb liquid and expand, producing less herbal tea or berry juice base to turn into jam. While I made two "superfruit" jellies from dried berries, you could easily combine these ingredients with your favorite fresh berry jam recipe. For example: Cherry Bilberry Jam or Blueberry Acai Jelly. Yum! I recently tried some of Peggy's Blueberry Lavender jelly and that was a true treat.
An easy way to incorporate herbs into your jams is to make a strong tea in place of water or apple juice in a given recipe. If you want to make a Strawberry Holy Basil jam, you could follow a recipe for Strawberry jam, but replace any required water with a strong Holy Basil Tea! It's that easy! Have fun with it!
A few berries to begin the jam journey...
Acai Berry Powder - These berries are delicate and start to ferment within 24 hours of harvest so they must immediately be turned into juice, wine, or be frozen or freeze dried (like the powder we offer). Acai berries contain antioxidants and anthocyanins, protein fiber, vitamin E and iron. They are naturally low in sugar and the flavor is a wonderful mixture of red wine and chocolate.

Goji Berries - These bright red, chewy berries have been used as a general nutrient tonic (Yin tonic) for many years and Chinese medicine refers to them as a "cooling tonic". A member of the Solanaceae family, these fruits offer a complex flavor with layers of sweet, umami, bitter, sour, and salty.
Bilberry - Also known as the European blueberry, this fruit is a close relative of the blueberry, cranberry, and huckleberry, with a wonderful blue/purple color from natural anthocyanosides. Bilberries have a flavor very similar to blueberries and offer antioxidant bioflavonoids.
Barberry - This bright red berry has a wonderfully sweet/sour taste and contains citric acid, vitamin C, and the alkaloid berberine. Often used in Persian and Afghan cooking, or made into jam or pickles, barberries add a delicious little surprise to your unique herbal jam.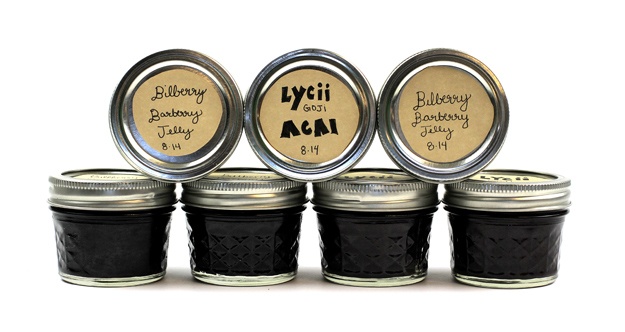 Acai & Goji Berry Jelly Recipe
yields 4 (4oz) jars
1/2 cup organic Acai Berry Powder
1/2 cup organic Lycii (Goji) Berries
1 1/2 cups water (or strong Herbal Tea of choice)
1/2 cup organic lemon juice
2 TBSP low sugar pectin
3/4 cup organic sugar
Bilberry & Barberry Jelly Recipe
yields 4 (4oz) jars
1/2 cup organic Bilberries
1/2 cup organic Barberries
1 1/2 cup water (or strong Herbal Tea of choice)
1/2 cup lemon juice
2 TBSP low sugar pectin
3/4 cup organic sugar
Directions
1. Place dried berries, water/tea, and lemon juice in a saucepan. Smash the berries gradually as the water heats up and the berries begin to rehydrate. Once the water comes to a boil, turn off and smash thoroughly for fifteen minutes.
2. Strain berry juice until you have about 1 1/2 cups liquid. Let drip undisturbed for thirty minutes.
* This is a good time to get your sanitized jars warming up in a water bath, not boiling, just heating up. Your lids should be heated as well, to a boil, and removed and dried just before using.
3. Pour juice into a stainless steel saucepan, add pectin and bring to boil Add sugar all at once and bring back to boil. Allow to boil hard for 1 minute stirring constantly.
4. Remove from heat and quickly skim off any foam that occurs at the top.
5. Pour juice into sanitized canning jars and wipe brim to make sure nothing is in the way of the seal. Remove lid from boiling water, dry, and screw on tight. Set aside.
6. Once all of the jars are full of jelly, place in pre-heated water bath. Make sure water is covering jars by an inch at least. Boil hard for 10 minutes, adjusting for altitude.
7. Remove and let sit undisturbed for 24 hours, check seal. After 24 hours, lid should not flex up and down, and if it does, keep it in the fridge for immediate use.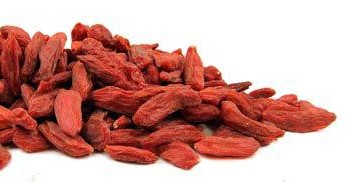 Enjoy and feel free to share your recipes!