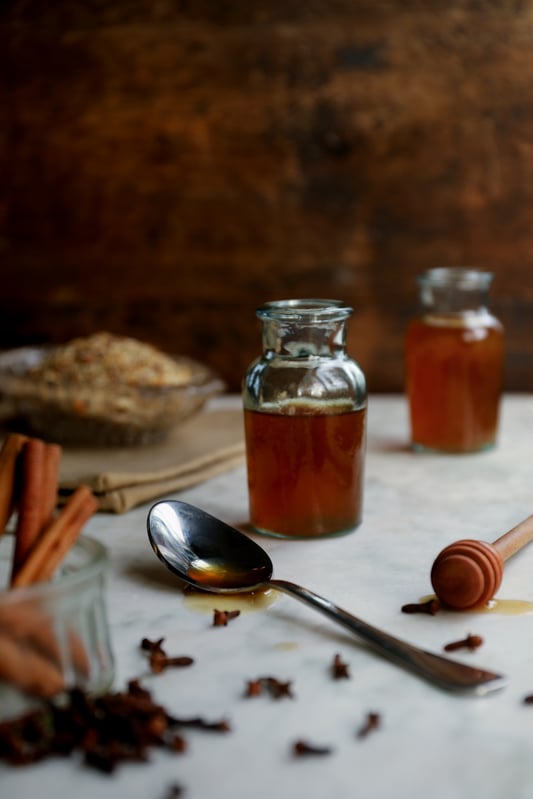 We've been crafting

herbal teas for nearly 30 years, and 5th Chakra

has become one of our most beloved blends. Especially wonderful during the winter woes, the sweet, citrus, and warming spices combined with Echinacea for immune support* and soothing marshmallow root make this tea the perfect base for a seasonal wellness syrup.

What I love about the 5th Chakra blend is the feeling I get after finishing a hot mugful; there are just so many amazing herbs at work here! I love the warming nature of licorice and ginger, not to mention the amazing flavors. Ginger and fennel are both amazing aromatic herbs used to help support the digestive and respiratory systems*, leaving me with a clean and clear feeling inside and out. Echinacea purpurea root is an amazing alternative which is also used to support immune health*, and marshmallow root is a well-known demulcent, providing our bodies with natural mucilage that soothes and moistens the mucous membranes of the respiratory and digestive tracts*. Needless to say, this herbal blend is a true workhorse during the cold winter months.

So, let's take this amazing blend and turn it into an herbal syrup. By taking the time to extract all the goodness of these herbs, plus adding the natural benefits of honey to the mix, you're creating a simple and delicious formula for winter wellness. Kids will love it, too, for its sweet taste and versatility. You can put it on pancakes for breakfast, or on ice cream after dinner!

5th Chakra Herbal Syrup
Makes about 3 cups of syrup
Ingredients
Directions
Combine 1/2 cup loose 5th Chakra tea with 1 quart cold water in a pot and bring to a boil.
Reduce heat and allow to simmer for 30 minutes.
Strain the tea and measure the liquid.
Add an equal amount of honey.
Gently heat for a few minutes until well combined. Do not boil!
Add optional brandy or tincture to give an herbal boost and extend shelf life.
Label, keep refrigerated, and use within one month.
Pro Tips:
Herbal syrups can easily be tailored to your favorite herbs and blends. Try making a classic elderberry syrup, or use a combination of your other favorite herbs!
Want another herbal syrup to add to your arsenal?
You may also enjoy:
* For educational purposes only. This information has not been evaluated by the Food and Drug Administration. This information is not intended to diagnose, treat, cure, or prevent any disease.