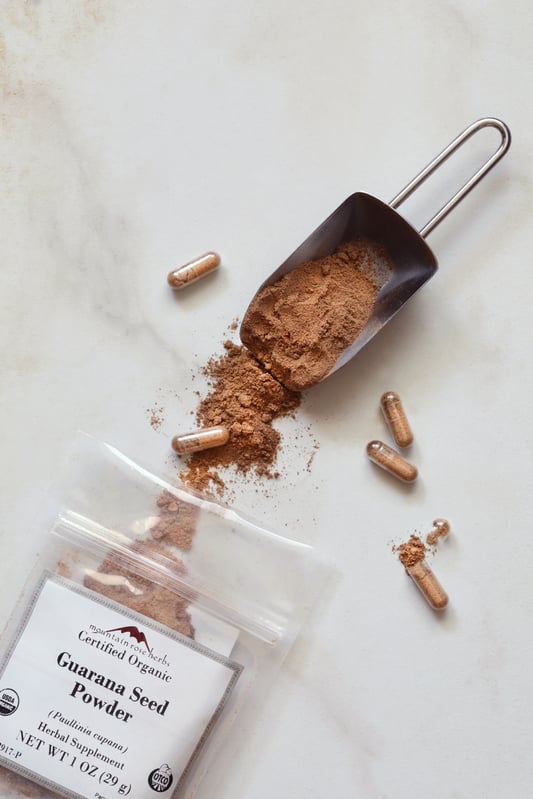 Caffeine is a way of life in modern western culture. The philosopher Terence McKenna once jokingly quipped that if caffeine were to disappear from the western diet the economy might collapse due to no one getting any work done! Here at Mountain Rose Herbs, we certainly enjoy our organic black and green teas, organic yerba mate, and even organic, fairly traded coffee. Some of us like to get creative with our caffeine intake, and guarana seed offers an excellent alternative.
What is Guarana?
Guarana is a member of the maple family, is native to the Amazon basin, and is especially common in Brazil. Guarana seeds have more caffeine per weight than any plant material on earth, almost three times as much as coffee beans! That's why you'll often find guarana extract in many of the energy drinks on the market. In addition to caffeine, guarana seed also contains theobromine and other xanthine alkaloids. Guarana provides a clear energy boost, sharpened mental clarity, and does not give you a "crash" similar to coffee.
How to Take Guarana:
One of our favorite methods of preparation is to make our own capsules. All you need is a capsule machine and empty vegan capsules. Fill them up with our organic guarana seed powder, and you're set. These capsules can be taken anytime you need a boost. We like to keep a bottle in our car during road trips.
Interested in trying Guarana?

You may also enjoy: