This vegan poke bowl recipe is healthy, filling, and makes the perfect addition to your weekly meal plan. It takes a bit of planning, but sure does pay off. Cook the rice and tempeh, make the sauce, and chop the veggies ahead of time in preparation for the work week. Then, simply combine the ingredients for protein-rich lunches or dinners sprinkled with organic nori flakes and organic sesame seeds. You can also assemble these bowls in individual containers and have premade delicious meals throughout the week. In my house, high-vitamin, protein-packed, easy-to-digest poke bowls are a perfect vegetarian option for meatless Mondays.
What is a Poke Bowl?
Poke (pronounced POH-kay) means, "to cut or slice." Poke is a traditional Hawaiian dish that's been transported and reimagined in different cultures around the world. While traditional poke is made with marinated cubes of raw fish (usually ahi tuna) served over white rice, it's easy to give this tasty preparation a vegan twist for those who choose not to consume fish. Poke bowls are very customizable, so you can easily tailor them to your preferences.
How to Build a Poke Bowl
Poke bowls generally contain the following layers:
Base (White rice, brown rice, soba noodles, zoodles, or leafy greens)

Protein (Tempeh or tofu in place of traditional ahi tuna or salmon)

Toppings (Edamame, cucumbers, avocado)
Garnishes (Seaweed, sesame seeds, scallions)
Sauce (Tamari, hoisin, spicy black bean paste)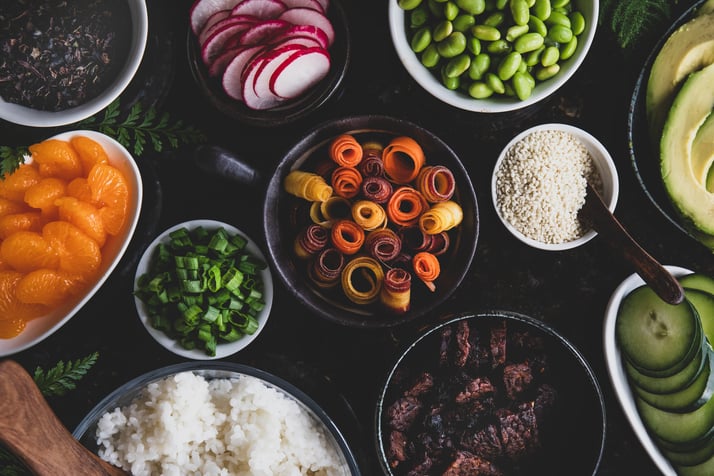 Ingredients for vegan poke bowls
While not the most exciting ingredient in the poke bowl, you'll want to start with your base. Traditionally, this is white rice, but there are lots of other options if you have dietary restrictions or if you're trying to use what you have on hand. Don't love rice? Swap for noodles. Looking to ditch the carbs? Use zoodles (zucchini noodles) or leafy greens.
As for the star of the show—the marinated protein—tofu is the most commonly used in vegan versions of this dish. But for those who have issues digesting tofu, tempeh may be a better option. The fermentation of tempeh breaks down phytic acid and creates enzymes that pre-digest the carbohydrates and protein, making it easier to digest. You can also use "meaty" mushrooms such as shiitake or portobello if you are trying to avoid soy.
Once your base and protein components are prepared, it's time to get creative with your toppings and garnishes. Seaweeds such as organic nori flakes, sea lettuce flakes, or dulse flakes are regular additions to my poke bowls. These contain a host of vitamins and minerals (including vitamins C and B-12, and a long list of others), as well as iodine. Another of my favorite toppings is sesame seeds. Paring sesame seeds with seaweed gives this recipe an added crunch and the saltiness you find in seafood without the actual seafood!
One of the most fun aspects of poke is the presentation. Try fanning out the avocado, "flowering" the carrots, or sprinkling the seaweed with a flourish. The world is your oyster, so go wild!
Now that you know the basics, let's get started with my favorite marinade recipe and my go-to bowl combination. They can be used as your starting point and then adjusted to taste.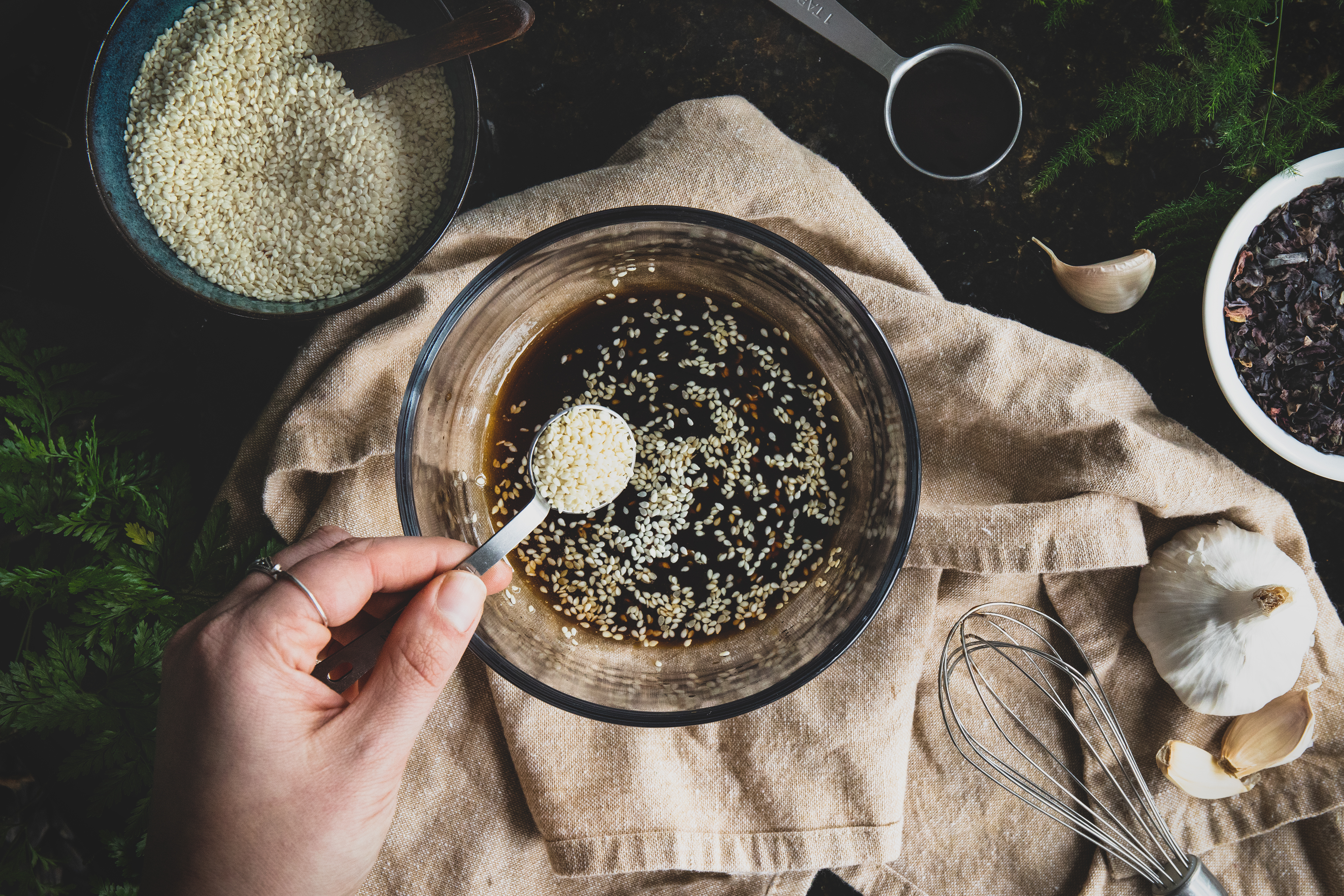 Vegan Poke Bowl Recipe with Sesame & Seaweed
poke bowl Marinade
Makes enough for a 12 oz. package of tempeh plus some for drizzling
Ingredients
4 cloves organic garlic, minced

1/4 cup organic hoisin sauce

2 Tbsp. organic sesame oil
2 Tbsp. organic soy sauce or tamari
2 Tbsp. organic sesame seeds
4 tsp. organic rice vinegar
2 tsp. organic maple syrup (optional)
Directions
Combine all ingredients in a medium-sized bowl.
Whisk together until well combined.
Use immediately or store in refrigerator until ready to use.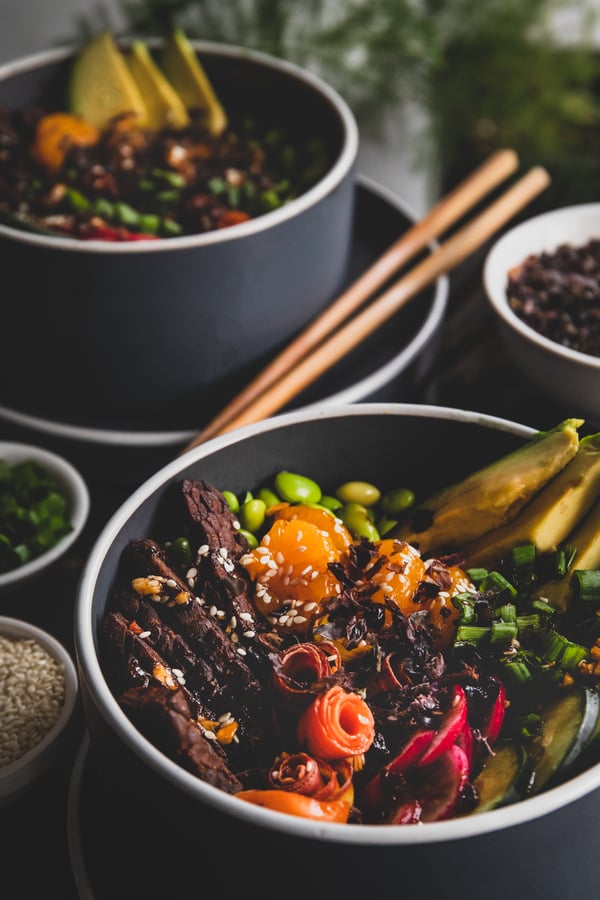 Vegan poke bowl Recipe
Organic Ingredients
Sushi rice or brown rice
Tempeh (see cooking directions)
Avocado, thinly sliced
Edamame, shelled
Cucumber or radish, thinly sliced
Carrots, shredded
Mango or mandarin slices, thinly sliced
Directions
Cook rice according to package.
Preheat oven to 425° F and line baking sheet with non-stick mat or parchment paper.
Cut tempeh lengthwise and then into 2-inch rectangles.
Toss tempeh in 1/3 of prepared marinade and set aside for at least 30 minutes. Reserve remaining marinade.
Start to chop or "poke" your veggies while tempeh is soaking up the marinade.
Arrange tempeh on prepared baking sheet and bake 10 minutes.
Remove from oven, flip, and brush another 1/3 of marinade on the other side of tempeh. Bake another 10 minutes.
Assemble bowls with rice on the bottom. Add tempeh, toppings, seaweed flakes, sesame seeds, and drizzle remaining marinade on top.
Pro Tips
Steam tempeh in a steamer basket for 10 minutes before baking to allow tempeh to soak up more marinade goodness!
If you don't feel like turning on the oven, the salty-sweet marinade in this recipe also works well to sauté your protein in a cast iron skillet.
Most hoisin sauces that you'll find at the grocery store are vegan. They are made from soybeans and spices. Check out the ingredients list to make sure it doesn't contain artificial colors or other ingredients that aren't vegan-friendly.
If you enjoy eating with the seasons, try adding tomatoes in the summer or squash in the winter.
Precautions
Seaweeds contain naturally high levels of iodine.
Since seaweed is harvested from the ocean, it can sometimes contain small shell fragments. It is wise to inspect the flakes before sprinkling onto your beautiful bowls.

If you have allergies to fish or shellfish, it is not recommended to consume seaweeds.
Want

more nourishing recipes with seaweed flakes?

You may also enjoy: