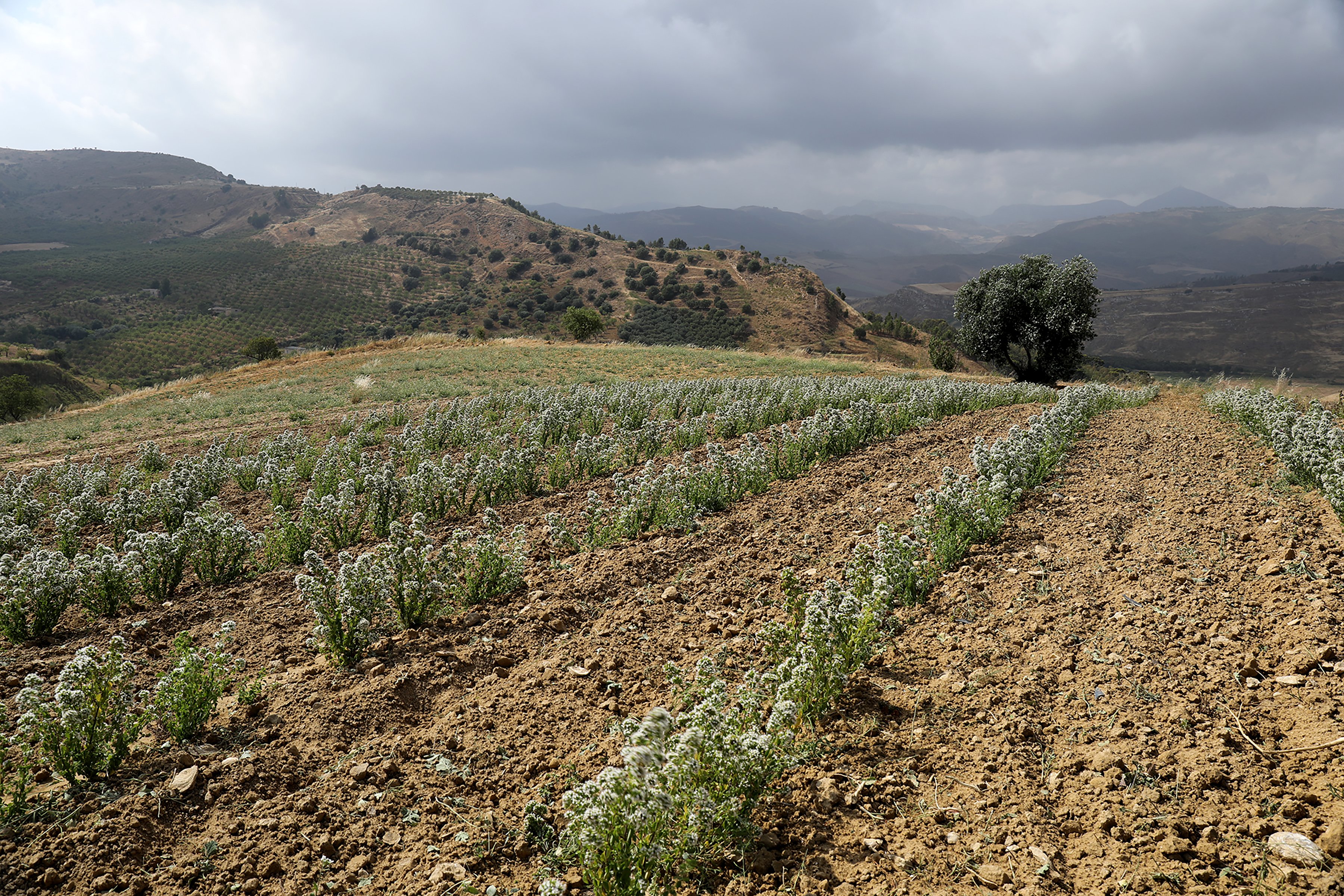 We travel to our farm partners' fields across the world to maintain close relationships with our growers and learn from one another.

On a breezy hilltop on the island of Sicily, 15 minutes from the Mediterranean Sea, our fragrant oregano plants have gone to flower. Gaetano, our farm partner there, bends down and inhales their spicy aroma and smiles.
While many gardeners in the U.S. might think it heresy to harvest oregano after its tiny white petals begin to show, Gaetano is adamant that this is how it's done in southern Italy. This culinary herb farmer likes to harvest his oregano right after the plant blooms. He believes it's then that the plant's natural essential oils are at their highest, resulting in a more pungent and flavorful botanical. After harvest, the oregano is air-dried indoors in a light-proof room just steps from the field in which it was grown, ensuring the ambrosial herb has little time to degrade in the hot Italian sun. The scent of the dried oregano in the drying room is overwhelming—like being enveloped in your favorite pizzeria.
"The warm temperatures, rich volcanic soil, and position of the fields make our herbs the very best," Gaetano tells us through a translator.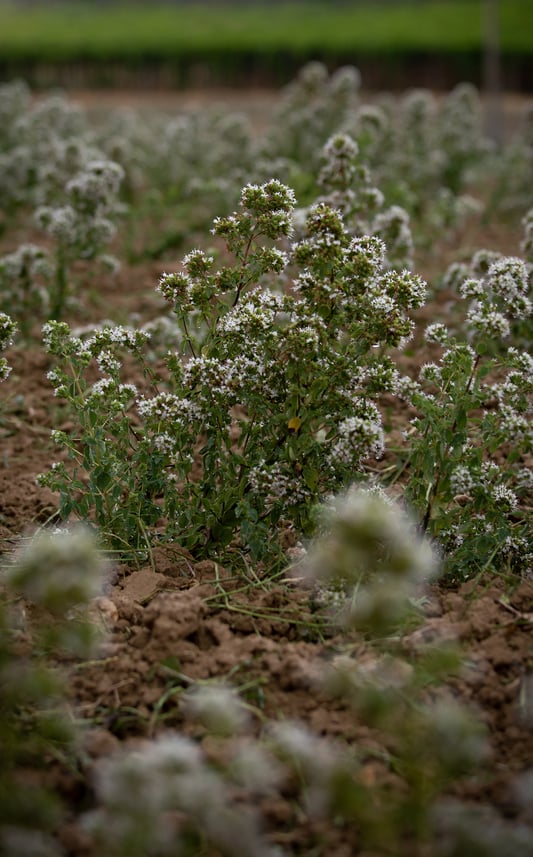 Our organic oregano, which thrives in the warm Sicilian climate, is harvested just after it blooms to ensure a fragrant and flavorful dried botanical.
We tend to agree, and that's why our team has traveled halfway across the world to witness Gaetano's certified organic operation and the fields of fresh botanical bounty that will one day grace the spice racks of our grateful customers.
This grower has revolutionized the cultivation of oregano on the island by perfecting his technique with incremental improvements season-after-season. While some oregano farmers in the region harvest their plants four times a year, Gaetano will cut only once each June, with the exception of the first year after planting. It's then, when the young shoots are quicker to regrow, that he'll try for a second cutting in September. His yields may be much lower than other nearby growers, but he takes pride in knowing his oregano will be of the highest quality.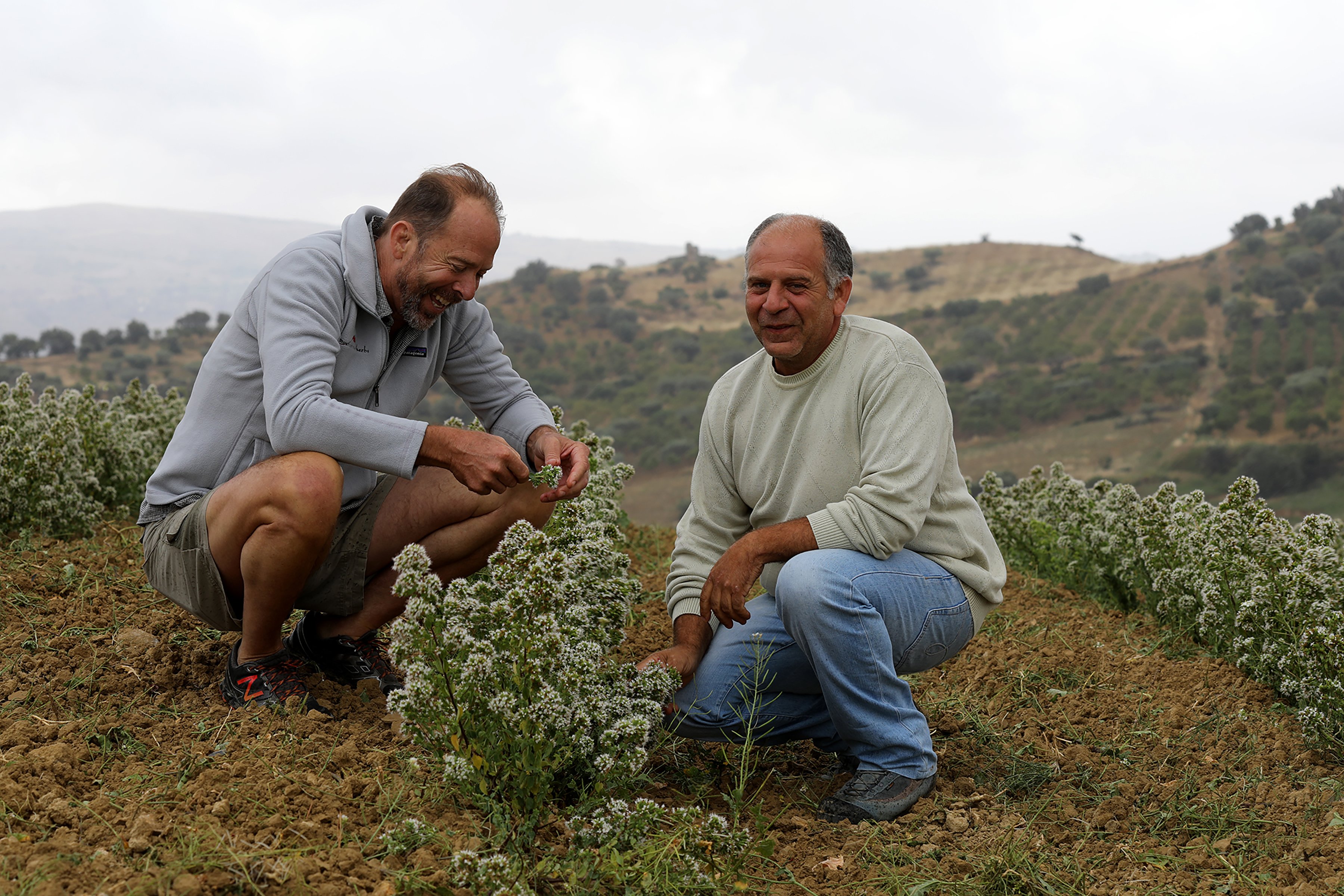 One of our farms liasons, David (left), shares a laugh with our Sicilian farm partner, Gaetano (right) in Gaetano's field of organic oregano. Our farm visits start with an audit of the growing and drying methods but also involve cameraderie in the fields and time spent outside the farm learning about one another's cultures.
Gaetano caught the agricultural "bug" from his father, who planted the first oregano seedlings on the hillsides of this bucolic farmland in 1992. Their acreage had been in the family for generations before that, previously used for cultivating wine grapes. His father sold appliances to make ends meet while developing the land that Gaetano tends to this day. Tiziana, Gaetano's sister, now runs the business side of the farm, while he focuses on innovation in the fields. All 22 hectares (about 54 acres) are certified organic.
"When you grow up in a family business, the business grows with you," Gaetano said. "It becomes a part of your life and you cannot ever give it up."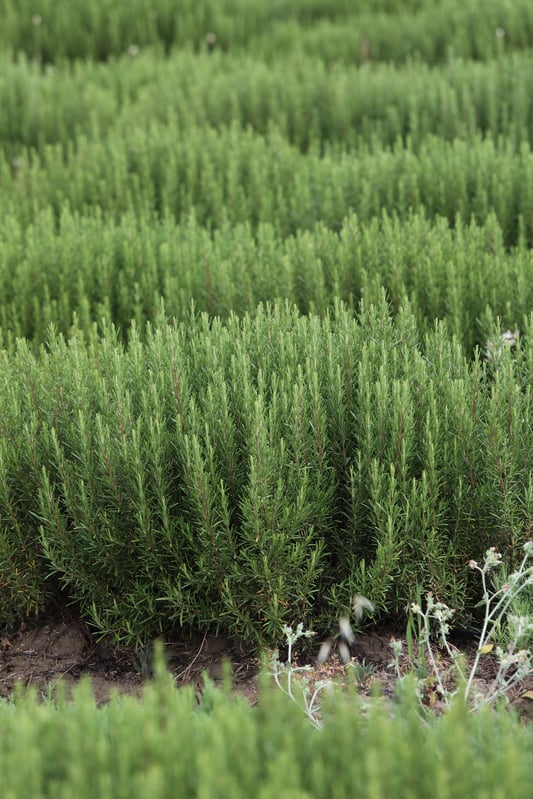 Gaetano's organic verdant fields of organic rosemary also thrive in the Mediterranean climate.
Culinary herbs are Gaetano's passion. After 12 years of perfecting oregano, his family augmented their offerings and now also grow sage, bay laurel, and rosemary. In June, his rosemary shrubs are knee-high, voluptuous, and bright green—a stark contrast to the hilly, brown backdrop. The sage leaves droop, thirsty from an irrigation process that intentionally restricts watering just before harvest to stress the plants to produce a more flavorful dried botanical.
We wouldn't be able to offer such high-quality botanicals without Gaetano's wisdom, gleaned from generations of experimentation, combined with a fertile land where many of these culinary treasures originally grew wild.
"We are what we eat," Gaetano said. "And I do my best to play a positive part in this small world."
Want More Italian Farm Stories?
You might also enjoy: