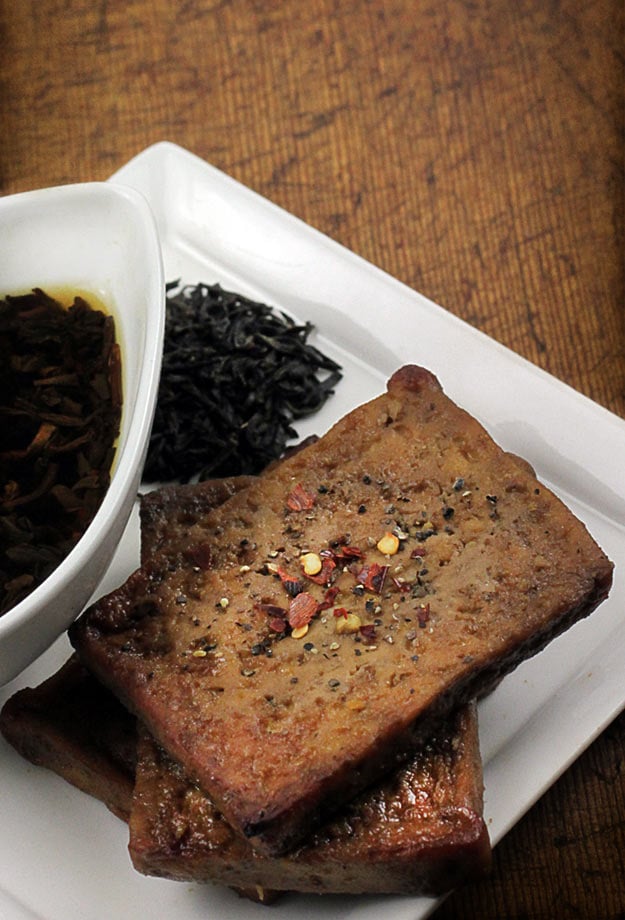 Hot days are here and that means grilling season is upon us! Like clockwork, I always start to crave that special hint of smoke from a backyard barbecue this time of year. With sunset dinners and summer parties on the way, now is the time to start exploring new recipes.
This zesty, sweet, and spicy marinade is inspired by the flavors of Asia with ginger, garlic, chillies, and tamari in a base of citrus, vinegar, and a very special smoked tea called Lapsang Souchong. The leaves of this bold black tea have been placed over a smoldering bundle of spruce to infuse them with a unique smokiness that lends a subtle, yet rich flavor. It is wonderfully reminiscent of a campfire! Of course, this flavor profile makes it especially nice in a marinade. If you like tofu, which this recipe is great with, the astringency from the tea gives it a meatier texture while imbuing lots of flavor.
Sweet & Spicy Smoked Tea Marinade

Ingredients
Directions
Mix all ingredients together and stir well. In a lidded container, cover protein of your choice with the marinade and refrigerate for 24 hours. If you are using tofu, try freezing, thawing, and draining as much water as possible from it and then prick the surface with a fork to allow the marinade to penetrate the slab. Bake, grill, or sauté using your favorite method. Enjoy!