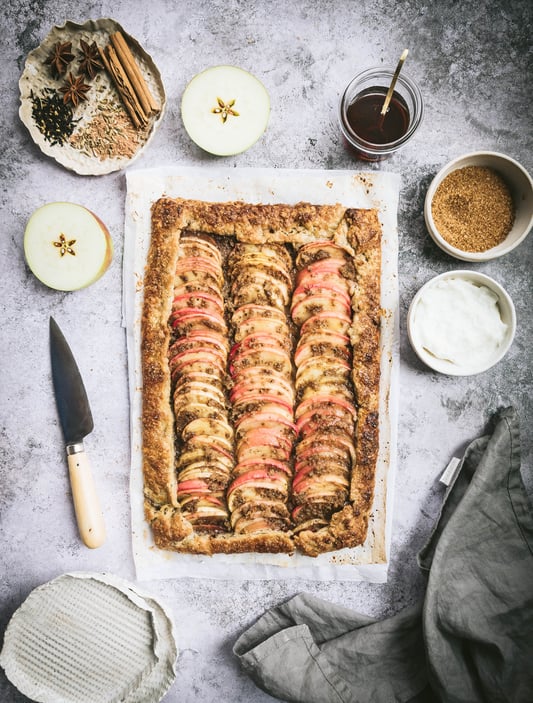 In college, I befriended an exchange student from France who arrived in NYC just before fall term. Sonia and I would often meet at coffee and tea shops during our break from classes. After discovering a shared love of baking, we made plans to meet at her dorm and make a quintessential American apple pie together. Since she was French, I entrusted her with the pastry making, and I would bring everything for the yummy apple pie filling. To say I was excited was an understatement.
I arrived at her dorm, apple tote, cornstarch, and spices in tow. As I got to chopping apples, she noted we surely wouldn't need a whole bag of apples for one pie! I wasn't sure what she meant as, in my experience, apple pies typically had at least 2.5 pounds of apples in them, sometimes more! I kept chopping and she commenced rolling out her beautiful, all-butter pie dough. She rolled an almost perfect circle out on parchment paper with a puzzled look on her face, watching me chop apple after apple after apple.
When I looked up and noticed she had stopped rolling the dough, I suggested she put the dough in a pie plate and start on the lattice—I had only a few more apples to chop.
"We don't need a pie dish", she said. She also didn't know what a lattice crust was.
Now I was the confused one. Something was definitely getting lost in translation. We stood there looking at each other, and Sonia asked if she could just go ahead and finish the pie. I obliged.
She reached for the apples I had painstakingly sliced, loaded less than half into a bowl, added in sugar, cornstarch, and spices, and poured the entire mix right into the center of her pie dough. She folded the edges over on each other, brushed the crust with egg wash, sprinkled sugar on top, and declared the pie done.
Sonia's French apple pie was the first time I'd seen or tried a galette. It blew my mind then, because if you look at my work, you'll see I do a lot of baking! The gallete now remains my pie of choice to this day. Why slice pounds of apples if I only need to slice 3 or 4? What was the real value of a lattice top? The galette's lack of fuss and its endless adaptability make it perfect to dress up or leave as is. Rather than frangipane, crumb toppings, and caramel drizzles, my preference is to mix together spices and teas to flavor seasonal fillings and add a bit of flair to a dessert that, in my view, is absolutely perfect.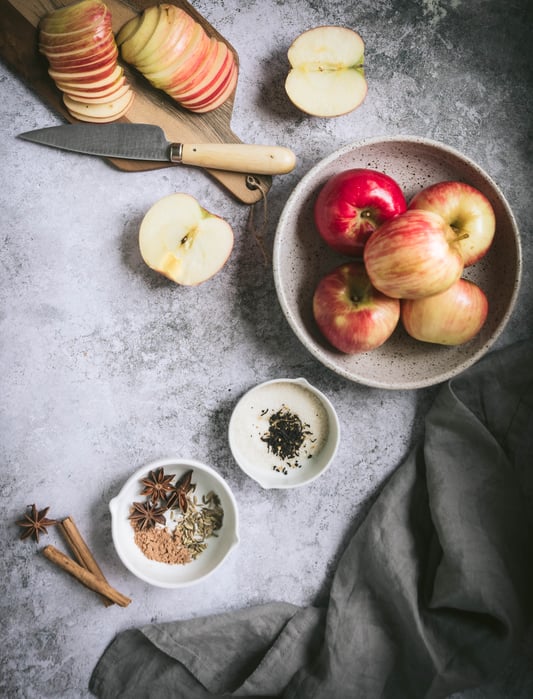 Vanilla Tea and Spiced Apple Galette
Serves 8
Spice Mix
Ingredients
Directions
Combine all ingredients in a spice grinder.
Blend into a fine powder.
Dough
Ingredients
1 1/2 cups all purpose flour
1 1/2 Tbsp. sugar
1/4 tsp. sea salt
1 stick plus 3 Tbsp. cold, unsalted butter, cubed
1 tsp. of the above spice mix
3-6 Tbsp. ice water
Directions
Whisk together the flour, sugar, salt, and spice mix.
Cut the cubed butter into the flour, preferably with a pastry cutter.
Add 3 tablespoons of water, and start bringing the dough together.
Once it begins to come together, introduce more water, 1 tablespoon at a time, until the dough holds together.
Wrap the pastry in plastic wrap and refrigerate for at least 1.5 hours.
Apple filling
Ingredients
3 Tbsp. organic butter
1/3 cup organic sugar
1 1/2 tsp. above spice mix
1 Tbsp. organic, Non-GMO cornstarch
3-4 thinly sliced organic honeycrisp apples
1 organic egg, beaten with 1 Tbsp. milk (egg wash)
2 Tbsp. organic turbinado sugar (to dust on top)


Directions
Melt the butter completely in a small sauce pan, then remove from the heat.
Stir in the sugar, spice mix, and cornstarch.
Mix together to form a thick paste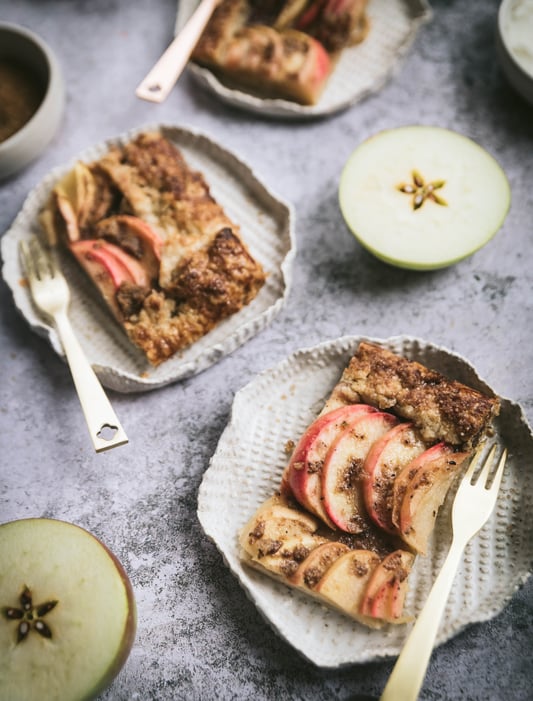 Putting it all Together
Preheat oven to 425°.
Roll out the dough into a 1/8-inch-thick rectangle on parchment paper.
Layer the apple slices in rows slightly overlapping each other, leaving a one-inch border on all sides.
Spoon the spiced butter and sugar over the apples, then fold the top and bottom dough border over the apple filling, followed by the two sides so your filling is enclosed.
Brush the galette dough with egg wash, and sprinkle with turbinado sugar.
Bake for 40-45 minutes, until the top is deeply golden, and the bottom crust is lightly browned.
Let cool slightly and serve with your favorite organic tea!
Looking For Another Irresistible Party Pleaser?
You May Also Like:
Sweet and Spicy Chipotle Caramel Corn
Coconut Vanilla Cardamom Granola