We are dedicated to Carbonfund's mission to reduce what you can, offset what you can't. Every year we calculate our estimated carbon emissions from business operations including: electricity use, natural gas use, and company travel.
For 2014, we offset 366 metric tons of carbon emissions!

So how can you reduce your carbon footprint?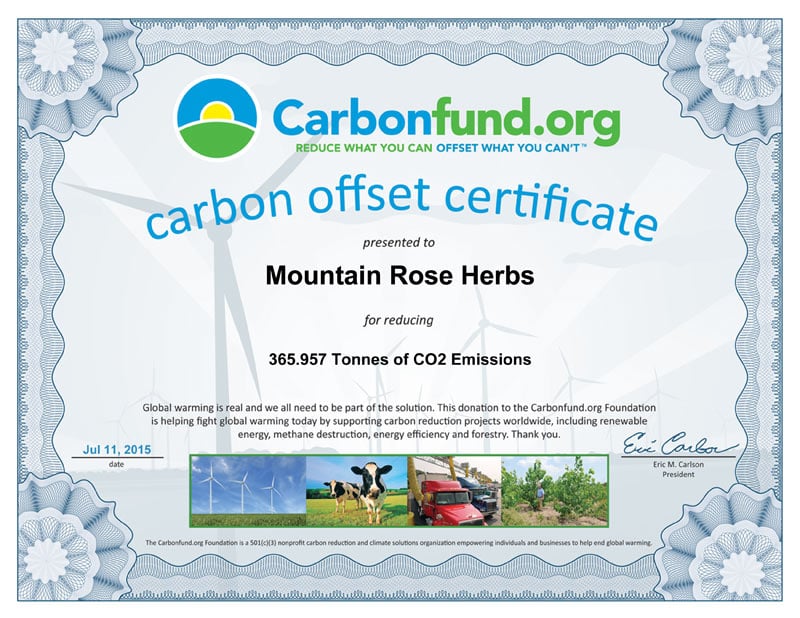 Mountain Rose Herbs' primary facility was constructed with LEED (Leadership in Energy and Environmental Design) standards and relies heavily on natural lighting. Energy demand was further reduced by making a complete lighting upgrade to energy-efficient bulbs in our principal facilities and installing Energy-Star rated heating and cooling systems.
In addition, Mountain Rose Herbs upgraded all of our computers to those with Gold Star ratings for energy conservation, minimal shipment packaging, and elimination of environmentally harmful materials, as well as more energy-efficient flat screen monitors. We also converted all of our electrical usage to a local Greenpower program to ensure that a significant portion of our electricity comes from wind and solar sources.
Even with all of these efforts, we still produce carbon emissions. Since 2008, we've worked with carbonfund.org to measure and offset these unavoidable emissions by supporting Carbonfund.org's clean energy and carbon reduction projects such as a wind farm in India, a methane collection plant in New York, and forest conservation work in Brazil.
Learn more about their projects at Carbonfund.org!
Stay tuned to learn about how we're installing solar panels this summer and other budding Mountain Rose Herbs' sustainability initiatives!