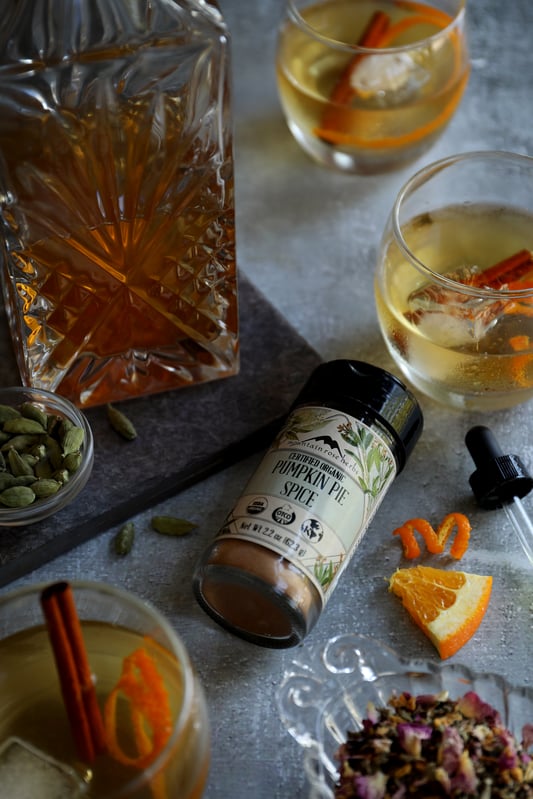 With the start of autumn come vibrant red maple leaves, cooler temperatures, and the ubiquitous resurgence of pumpkin pie spice. Our blend of organic and fair-trade ingredients is the perfect way to welcome back the season of sweaters, ciders, pies, and family gatherings.
We're all familiar with how pumpkin spice can liven up our lattes and confections, but this versatile flavor blend also makes a delectable addition to the classic cocktail known as an Old Fashioned. In order to make this recipe extra special, I like to swap out conventional sugar with a simple syrup infused with our organic herbal Love Tea blend. I also take it up one notch further with the spiced goodness of some homemade orange cardamom bitters. The result is a new classic for getting cozy by the fire with the added warmth of friends and family.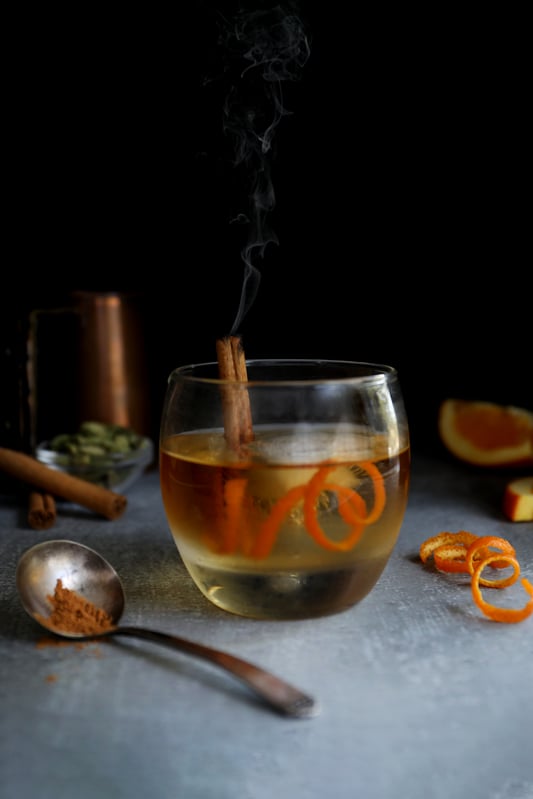 Pumpkin Spice Old Fashioned Recipe
Makes one cocktail.
Ingredients
1 tsp. Love Tea simple syrup (recipe below)
2 oz. bourbon
4 droppers orange cardamom bitters (recipe below)
2-4 dashes of organic pumpkin pie spice
1 organic navel orange
Directions
Stir together simple syrup, bourbon, bitters, and pumpkin pie spice in a lowball glass (a short tumbler for cocktails).
Peel one large strip of orange zest using a vegetable peeler and twist the peel over the glass, releasing its oils.
Wipe the pith-side of the peel around the rim of the glass and toss whole into the glass.
Add desired amount of ice and garnish with cinnamon stick and orange wedge.
Love Tea Simple Syrup Recipe
Makes about 1 cup.
Herbalists know syrups are one of the tastiest ways to ingest traditional herbal remedies. However, we can use the same techniques to turn our loose-leaf teas into a delicious simple syrup for cocktails!
Ingredients
Directions
Bring water to a boil in a medium saucepan on the stove top.
Once water boils, take the saucepan off the heat and add tea to steep for about 5 minutes or until reaching desired strength. The flavor should be much more concentrated than a typical cup of sipping tea.
Remove tea leaves and compost to discard.
Bring tea infusion back to a boil on the stove top.
Add sweetener of choice and stir until dissolved.
Set saucepan aside and let cool for 1 hour before storing in a pantry jar or recycled glass storage jar in the refrigerator for up to 1 month.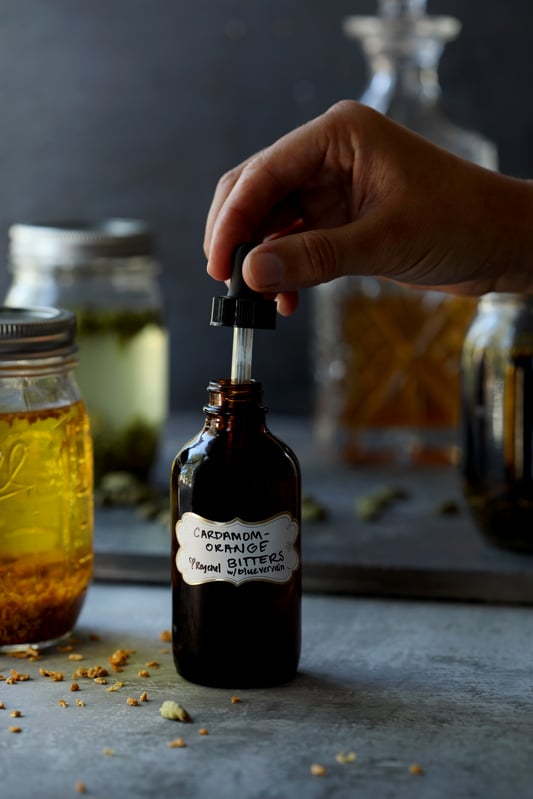 Orange Cardamom Bitters Recipe
Bitters have long been a part of the herbalist's arsenal and are considered particularly helpful as a digestive aid. But now, craft bitters are also seeing a resurgence in bars and pantries across the country. Purchasing craft bitters for your home bar can be a pricey proposition, but bitters are actually very easy and inexpensive to make on your own. Bitters recipes typically include at least one of each of the following: a bitter herb, an aromatic herb, and a flavor herb, plus a high-proof alcohol. We encourage you to experiment with different herbs, but here's a favorite combo we love in bourbon drinks!
Ingredients
Directions
Place three clean, pint sized (16 oz.) glass canning jars on your counter.
Add the orange peel to one jar, the cardamom pods to another, and the blue vervain to the third.
Add 1 cup grain alcohol to the orange peel jar and another cup to the cardamom jar. Add 1 cup bourbon to the jar with blue vervain.
Secure a tight-fitting lid and shake each jar vigorously.
Set aside in a cool, dark, dry place to infuse for up to 4 weeks.
Check jars regularly (every other day or so) and shake each time you check.
Taste as you go along—once the flavor of one of the infused alcohols pleases you, strain through cheesecloth and/or a funnel with filter. Discard herbs and return liquid to its jar, secure lid, and store until other alcohols are ready. (Note: The amount of time needed for tincturing each herb will depend on the botanical used and your taste preferences.)
Once all three herbal tinctures make your taste buds happy and have been strained, combine them a little at a time in a mixing bowl. Taste as you combine. Once the balance is perfect, use a funnel to transfer completed bitters into amber dropper bottles and store in a cool, dark place for up to a year (or more). Don't forget to label your herbal creation!
Looking for More Herbal Cocktails?
You might also enjoy: