Glazed popcorn and autumnal weather are a perfect match, and I dared to enhance the experience by adding everyone's favorite fall flavor—pumpkin pie spice! There's no snack better to pass around a backyard bonfire with my friends while telling our favorite stories from summer.
This recipe even reminds me of breaking into that classic cardboard box filled with the sticky sweetness of glazed popcorn and peanuts, digging for the mystery prize hiding within! As much as that prize delighted my kid self, however, adult me isn't so excited about all the added sugars, corn syrup, and low-quality oils of conventional prepackaged caramel corns. These days, I do my best to avoid GMOs and processed sugars. Happily, the amazing flavors that pumpkin pie spice, vanilla, and a hint of chipotle bring to this DIY caramel corn are unbeatable, making it a healthy alternative for adult me! For even more autumn flare, I decided to forego the peanuts and substitute pumpkin and hemp seeds to ensure my sweet tooth isn't having all the fun.
This snack is easy to make in large batches, too! Everyone can fill their bowl while cozying up to a movie at home, and it makes a great addition to any harvest potluck.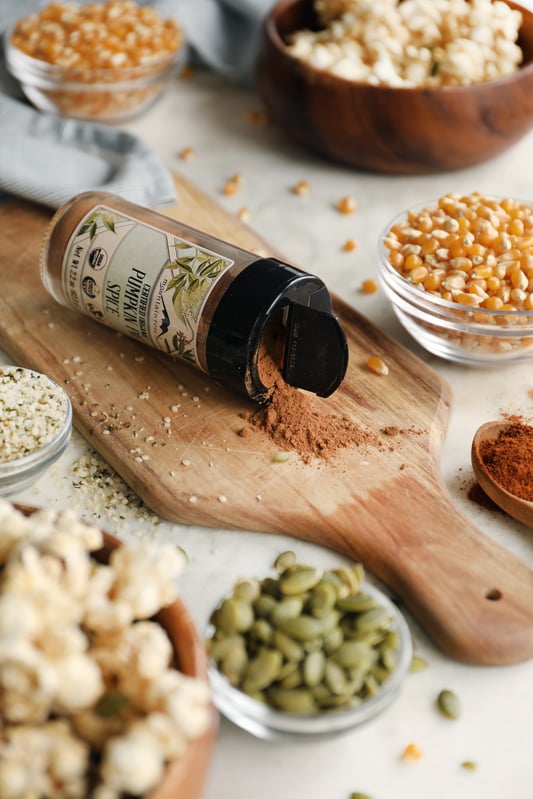 Chipotle Honey Caramel Corn with Pumpkin Pie Spice
Makes 6 cups of caramel corn. Easily double or triple this recipe for a big bowl of crunch!
Ingredients
Directions
Preheat oven to 250° F.
In a large bowl, toss together popcorn and pumpkin seeds and set aside.
Whisk together honey, oil, spices, salt, and vanilla extract.
Drizzle over popcorn and pumpkin seeds and, using a rubber spatula, toss well to coat.
Sprinkle in hemp seeds and toss again.
Transfer to a parchment-lined baking sheet and spread evenly to create a single layer.
Bake until popcorn starts to caramelize (about 5 minutes) and toss with a spatula.
Continue to bake, tossing every 5 minutes, for a total of 30 minutes.
Remove from oven and sprinkle with more salt, to taste.
If needed, return to oven and bake a little longer until light and crispy. Allow to cool for several minutes before devouring.
Store in a closed container for 2 to 3 days. Enjoy!
Looking for another healthy, Homemade snack?
You might also enjoy: