One of the most exciting recent happenings at Mountain Rose Herbs was the arrival of fresh turmeric straight from our organic grower in Hawaii! For decades, we have regularly welcomed dried herbs and spices to our loading docks from growers across the globe, but we've never processed fresh herbs in-house until now.


This evolution was made possible by the crafty folks at our Tyinn Production Unit in Eugene, Oregon (formerly known as Terra Firma Botanicals), who have been making herbal extracts, elixirs, and syrups for over 30 years.

How did this come to be? After acquiring the assets of this local extract maker, we were thrilled to bring their wisdom of working with fresh herbs to the Mountain Rose Herbs family. Shay (pictured below) now oversees our production of tinctures, having spent much of her adult life working alongside her mother and Terra Firma Botanicals founder, River Kennedy. Shay and her crew have been making herbal goodness for our online shop for years, and we are proud to maintain the integrity of their time-tested recipes. While we anticipate many botanical adventures in the years to come, we simply couldn't wait to share the unbelievably fragrant process of turning this beloved golden herb into tincture!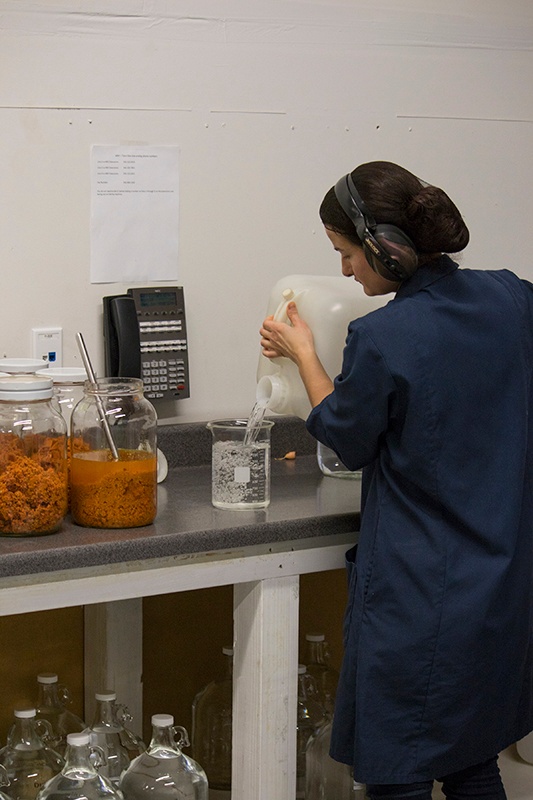 What Does Fresh Turmeric Look Like?
Turmeric is in the same family as ginger; it's botanical name is Curcuma longa. If you're lucky, you may find it at your local natural food store in the fruits and veggies aisle, where you'll see a root reminiscent of ginger, but more orange in color. Turmeric contains curcumin, which gives it its signature ochre hue. When this 160-pound shipment arrived fresh from the Big Island, it was so much more vibrant, plump, and fragrant than any fresh turmeric we'd ever seen at the grocery store!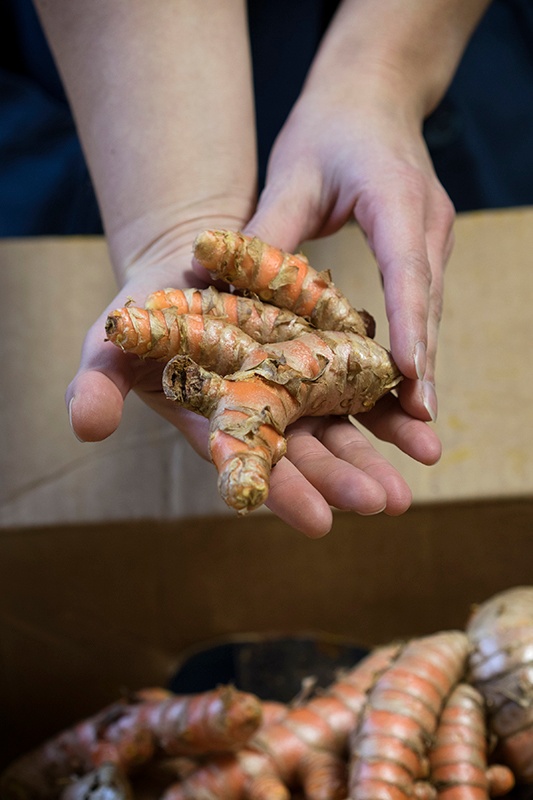 What Happens After it Arrives?
Since fresh turmeric is perishable (and we have limited time to process it before it spoils), we had to perform our first round of quality control analysis on the spot. This process was mostly organoleptic (a.k.a. sensory) profiling: we had a list of macroscopic characteristics of fresh turmeric that we wanted to ensure matched this shipment. We'll have more quality control to do later in the tincture-making process, the rhizomes passed their first test.

Preparing the Fresh Turmeric
After the fresh herb got a thumbs up from our quality control team, we used a very large (and loud) grinder to break the herb down into pieces that are easier to work with. We were amazed by how much fresh turmeric pulp was created from 160 pounds of root! The buckets just kept filling up. The room, which was quite large, was quickly take over by the strong, spicy scent of turmeric – it was heavenly!

Making the Extracts
Once broken down, we filled glass jars with the ground turmeric root. Pouring high-quality alcohol and alkaline water over the fresh material, we then sealed the glass jars. The herbs will macerate (soak) in glass and get hand shaken each day for about two months before getting pressed and strained. It usually takes a full day of pressing, and then finally, we can call this strained liquid a tincture (also known as an "extract"). Before getting packaged, this tincture will travel to our quality control lab for extensive identity testing.
Where Does it All End Up?
This turmeric extract will be found in many forms in our online shop a few months after it arrived at our Oregon facility. Look for it as a single extract, as an ingredient in our bitters, elixirs, and syrups, or in our combination herbal extracts like Joint Care. We've found that extracts are an excellent way to preserve the botanical goodness from herbs, especially those that are hard to find or difficult to take in their raw form. Have a great source for turmeric in your area? You can even make your own!
We're so excited to now be processing fresh, American-grown herbs in-house. Thanks for celebrating this new milestone with us!