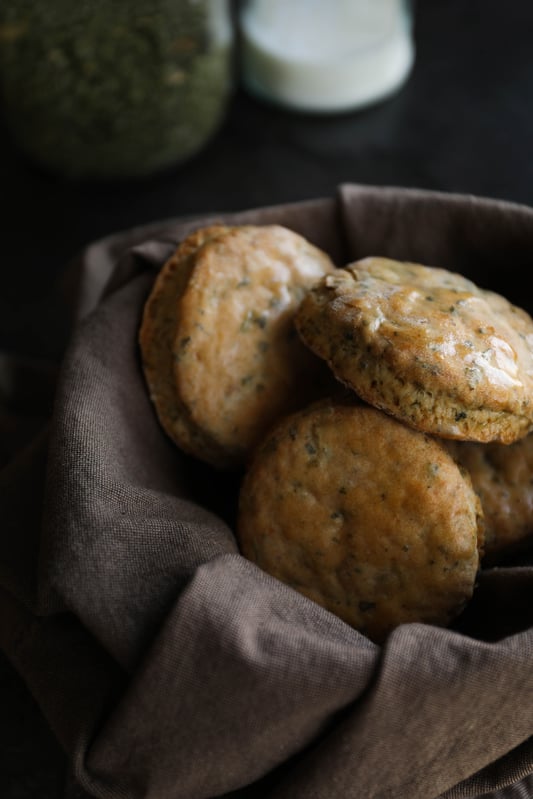 It's nettle harvest time! How humans came to figure out that nettles are a powerhouse of goodness is beyond me. They contain potassium, calcium, magnesium, iron, zinc, and a treasure trove of other vitamins and minerals. But as a kid growing up in the Coast Range of western Oregon, my entire relationship with nettles involved trying not to get stung by those wicked trichomes while romping through the woods. So, kudos to the first brave nettle-harvesting souls, because they figured out (as I now know) that harvesting nettles without getting stung is actually easy, and this puts urtica dioica on my list as a versatile and delicious herb.
Nettles can be taken as a tincture or a nutritious tea, and they are also wonderful when sautéed, blended into smoothies, made into pesto, or added to breads and biscuits. And, best of all, getting the benefits of this gift of nature isn't limited to the spring harvest! The fiercely serrated cordate leaves of stinging nettle can be used fresh or dried for a variety of herbal actions.
If you haven't cooked with nettles before, then these nettle and garlic buttermilk biscuits are going to launch you into a fantastic culinary adventure. As you start to explore more recipes using nettle, try substituting nettle leaf anywhere you might add fresh basil. Add chopped nettle leaves to omelets, sprinkle on pizza, or blend them into a curry sauce. You can even pickle them!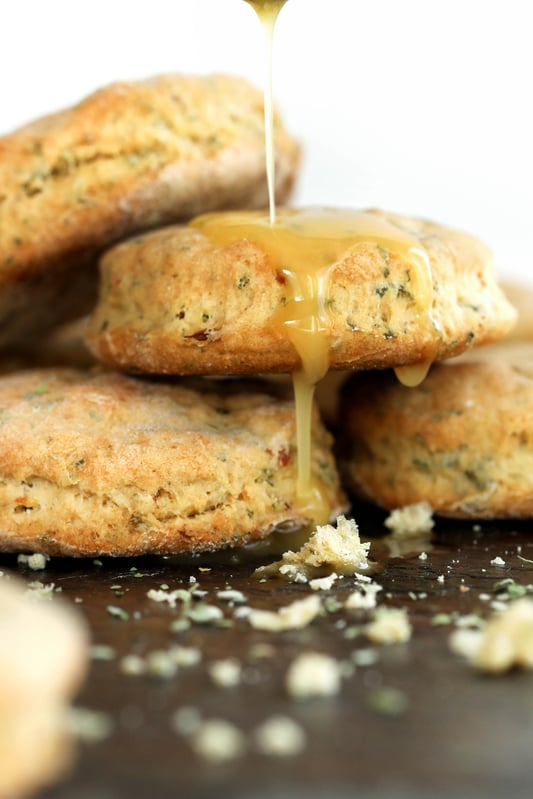 Nettle & Garlic Biscuit Recipe
Makes 12-15 biscuits.
Ingredients
1 cup organic unbleached all-purpose flour
1 cup organic whole wheat pastry flour
1 1/2 tsp. baking powder
1/2 tsp. fine Himalayan pink salt
1/2 tsp. baking soda
5 Tbsp. organic unsalted butter
1 cup organic buttermilk
4 cloves fresh garlic, minced
6 Tbsp. organic dried nettle leaves or 3/4 cup finely chopped fresh nettle leaves
Directions
Preheat oven to 400° F.
If using dried nettles: In a small bowl, pour 1 cup warm water over dried nettles and let soak at least 5 minutes to reconstitute. Strain out leaves with fine mesh strainer, press out excess water, and set aside. If using fresh nettles: Wear gloves while chopping to protect hands from sting (it will be neutralized by baking), or for easier handling, blanch or soak in cold water overnight (more on how to blanch nettles in our pesto post!).
In a large mixing bowl, combine flour, salt, baking powder, and baking soda.
Using two butter knives or a pastry cutter, cut the butter into the flour mixture until it resembles a crumbly meal.
In a separate bowl, combine buttermilk, garlic, and nettle leaf.
Add buttermilk mixture to the dry ingredients and gently fold together to form a soft dough.
Turn the dough out onto a lightly floured surface and knead lightly, adding flour as necessary, until dough is no longer sticky and begins to look smooth.
Roll the dough out until it's about 1/2-inch thick.
Using a biscuit cutter or the rim of a small glass, cut the dough into 2.5- to 3-inch rounds and place on an ungreased baking sheet.
Bake the biscuits for 18 minutes or until light golden brown.
Remove from the baking sheet immediately to avoid over-crisping your biscuit bottoms and serve fresh from the oven with butter.
Pro Tips:
Looking for vegan biscuits? You can easily substitute plant-based "buttermilk" for a dairy-free version (see the vegan variation of our Irish soda bread recipe for more details!)
Don't overwork your dough or roll it out too thin, or your biscuits will turn into buttermilk crackers!
Harvesting nettles is fun, but as with all wildharvesting, it must be done responsibly to avoid damage to your local ecosystem. Make sure to go over the basics of responsible wildcrafting before you start snipping away!
Looking for more ways to Taste spring?
You may also enjoy: