By now, if you've been following along with my seasonal cocktail recipes here on the Mountain Rose Herbs blog, you know I have a passion and something of a reputation for making herb-infused spirits. This year on the Spring Equinox, I started thinking about what I wanted to create to celebrate the end of winter. Something fun and fresh, with herbal goodness. Also, I happened to have a couple bottles of my favorite artisan gins hanging about, Desert Juniper from Bendistillery and another from Thinking Tree. So: spring, gin, relief after a long winter. Obviously, my version of an herbal gin fizz was in order.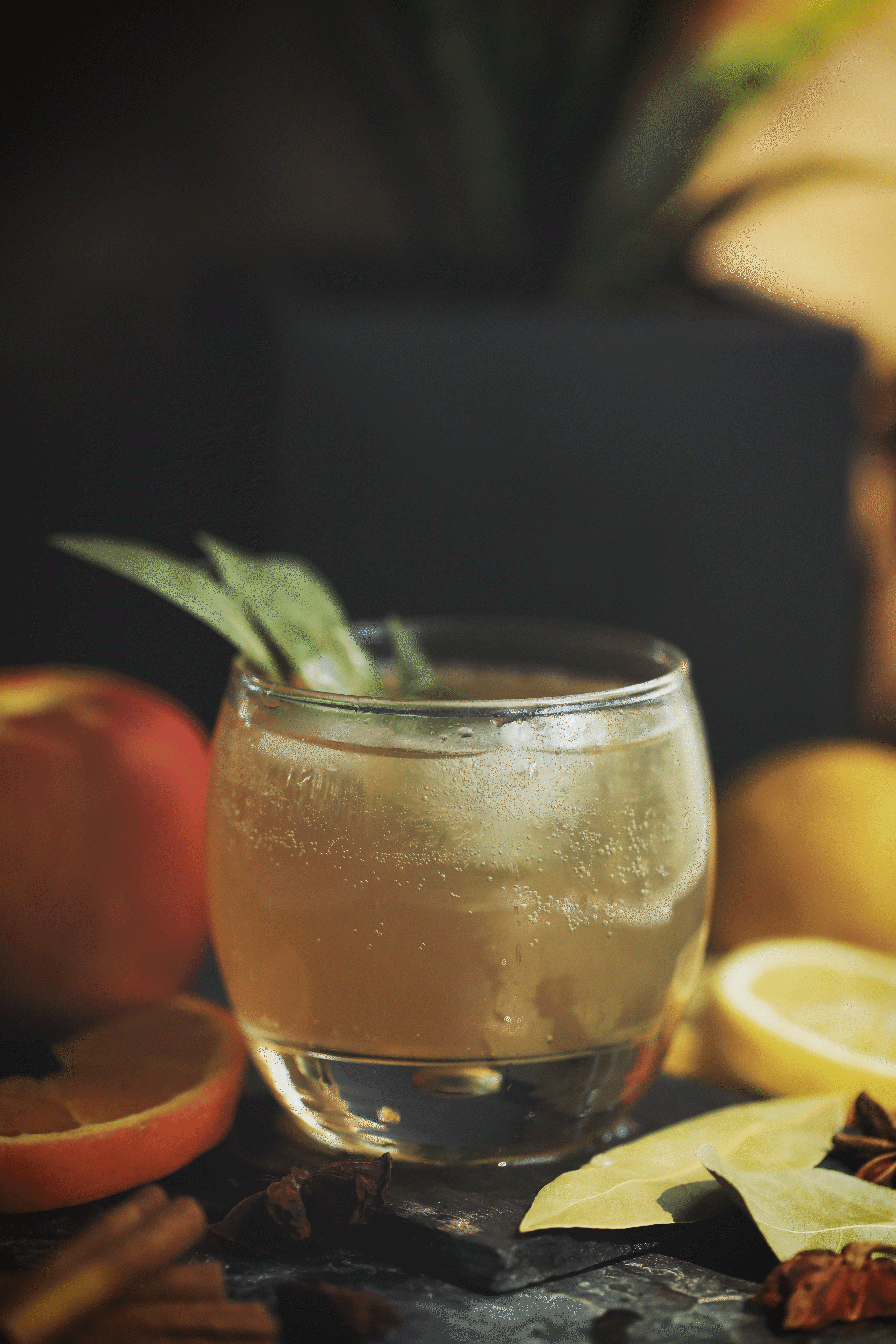 The beauty of this cocktail is two-fold. Unlike traditional gin fizz recipes, this one does not include simple syrup or egg white; its vegetarian friendly and has no refined sugar. Instead of simple syrup I infuse apple cider with herbs and utilize the natural fruit sugar, which blends perfectly with a squeeze of orange and lemon. Also, you can infuse the cider with the herbs ahead of time and keep this "base" in your refrigerator for an impromptu gin fizz. If you don't have the base made and you need to make a batch quickly, it only takes about 20 minutes on the stovetop to infuse the cider adequately with the herbs.
Herb-Infused Cocktail Base Recipe
Makes enough for about four 8 oz. drinks.
Ingredients
Directions
Combine herbs and apple cider in a pot over medium-low heat.
Squeeze in juice from orange and 1 tsp. lemon juice
Bring to a simmer.
Simmer for 15-20 minutes.
Remove from heat and set aside to cool enough to handle.
Strain herb-infused cider into a jar and store in refrigerator for up to 5 days.
Cool completely before using in gin fizz.



Herbal Gin Fizz Recipe
Makes one 8 oz. drink
Ingredients
Ice cubes
2 oz. infused apple cider base (see above)
2 oz. gin of choice
Carbonated water or club soda
Organic fresh orange peel for garnish
Directions
Fill an 8 oz. tumbler-style glass two-thirds full of ice.
Pour in strained herb-infused apple cider.
Add gin of choice, or to taste.
Top off glass with carbonated water or club soda.
Garnish with a shaving of orange peel.


Want more warm-weather cocktails?
You may also enjoy: