As autumn is now officially here, my mind has turned to the supportive power of elder berries. Elderberry syrup is obviously a tried and true ally for immune system support*, but elder berries also make an excellent base for cocktails and mocktails. My Elder Bellini recipe is one such fall cocktail that provides both remarkable flavor and immune system support*. I must admit that it isn't exactly an "herbal cocktail" per se—because it is made with herb-infused spirits, it is ostensibly an extract that is added to juice to impart a slight herbal flavor in a full-bodied cocktail. The beauty of this method is that you can make the infusion ahead of time, so you have your elderberry-infused base on hand whenever you get the urge for a remarkably beautiful, delicious cocktail.
My adventure with herb-infused spirits was inspired by a visit to our local Plank Town Brewing Company, where they make an amazing hibiscus-infused martini. The color imparted by the hibiscus, not to mention the flavor, blew me away, and I thought I must try this. When I infuse vodka with elderberries, I get a stunningly purple vodka that is rich in flavor. Combining this beautiful infusion with peach juice creates a dual-colored beverage that goes down refreshingly smooth!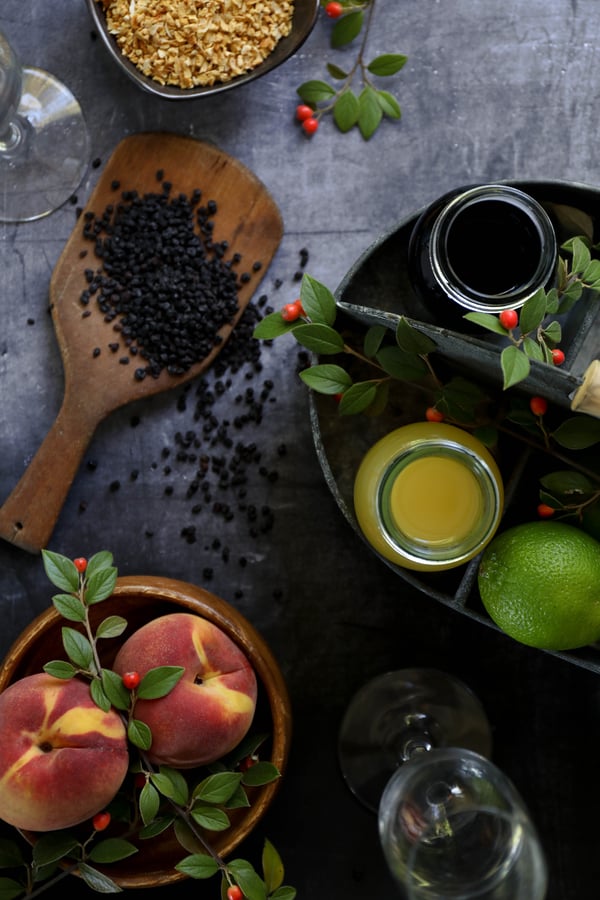 Elderberry and Lemon Infused Vodka
Makes about 16 drinks
Ingredients
Directions
Pour elderberries and lemon peel into a quart jar.
Add 16 ounces of vodka.
Infuse three to five days. The jar can remain on the counter. Shake once a day.
Strain the infused vodka into a separate pint jar.
Follow directions below for Bellini.
Pro Tip
Taste every couple of days to determine your preferred flavor profile. If you infuse the elder berries and lemon peel too long, they can impart a bitter flavor.

Elderberry and Lemon-Infused White Grape Juice
Makes 6-8 drinks
Ingredients
Directions
Put all ingredients into a saucepan over medium-low heat.
Heat to approximately 200°F, just before boiling.
Remove from heat, cover with a lid, and let infuse for 30 minutes.
Strain the grape juice into a separate pint jar.
Store infused-grape juice in the refrigerator—it should be used within 5 days.

Elderberry Bellini Cocktail or Mocktail
Makes 1 drink
Ingredients
Organic peach juice

Elderberry and lemon infused vodka or white grape juice (see above)

Organic lime juice, optional
Directions
Fill a champagne flute about halfway with peach juice.
Gently pour infused vodka or grape juice over the top to create layers of color.
Add a squeeze of optional lime juice to add a bit of complexity.
Enjoy!
Pro Tip: Using a spoon to catch the initial splash helps to maintain the two-tone color.
Want more herbal cocktail/mocktail recipes?
You may also enjoy:
*This statement has not been evaluated by the Food and Drug Administration. This product is not intended to diagnose, treat, cure, or prevent any disease. For educational purposes only