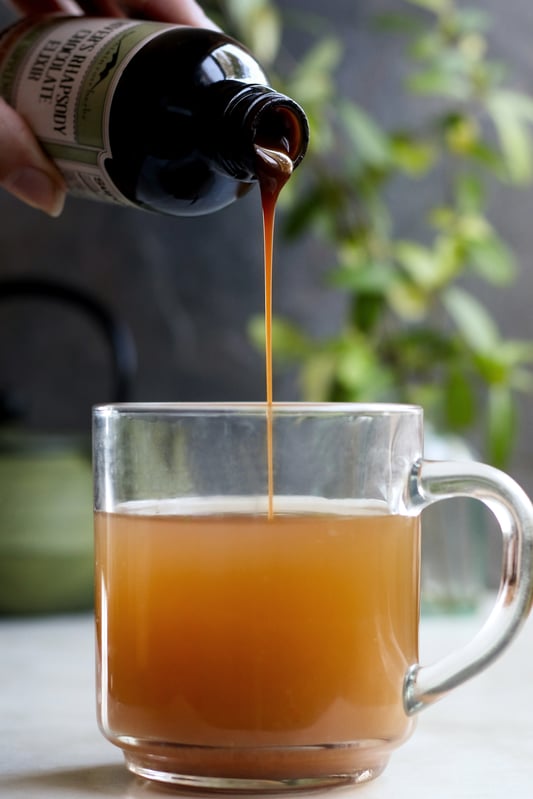 All of our herbal syrups and elixirs are lovingly handmade by our expert team in Eugene, Oregon. These tasty concoctions featuring herbs, honey, and alcohol, are highly valued for their effectiveness and ease of use. They also make for a flavorful way to experience the benefits of herbs and are excellent herbal allies to have on hand as the weather continues to get colder. All our herbal syrups are made with certified organic and consciously wild-collected botanicals, organic alcohol, and raw honey from the Willamette Valley.
Our expert blenders work hard to bring us these tasty and supportive concoctions. Syrups are an easy and delicious way to work herbal remedies, and especially helpful for children who often dislike bitter herbal blends! Our syrups can be taken right out of the bottle, stirred into a steaming cup of tea, mixed with sparkling water, or in any number of creative ways you can dream up.
Aphrodite's Syrup—This is a sweet and deliciously spiced herbal syrup created to help inspire natural relaxation and closeness and is inspired by the ancient Greek goddess of love. Organic damiana leaf and organic kava kava root encourage soothing states of mind while kola nut revitalizes. Including delicious cinnamon and vanilla, this tasty syrup will win your heart.
Elder Berry Syrup—A beloved classic, elder berry syrup is an indispensable and delicious remedy that belongs in the cabinet of any herbalist, from learned professionals to DIYers alike! The humble elder berry has been used for centuries and appears in the writings of Pliny the Elder and Hippocrates.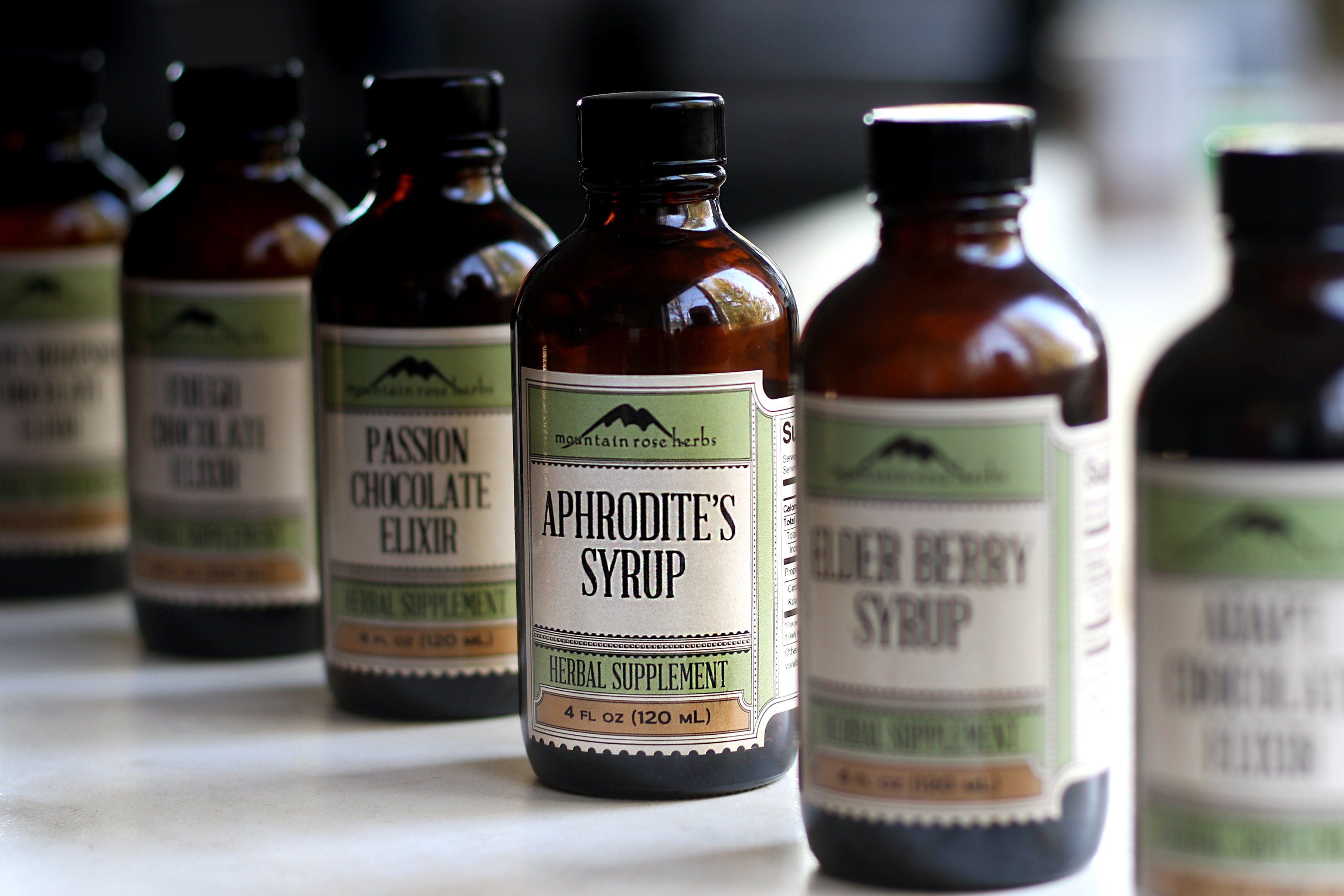 Elder Ultra Syrup—Our twist on the classic elder berry syrup, with the addition of organic Echinacea purpurea root for extra immune support*, as well as organic astragalus root, which has been revered in Traditional Chinese Medicine for centuries with written history going back to the 1st century AD.
Ginger Syrup—This warming, sweet, and spicy syrup features ginger root as the star ingredient. Ginger is another ancient herbal remedy with origins reaching back through the roots of Traditional Chinese Medicine and Ayurvedic medicine. Try our ginger syrup drizzled over a bowl of ice cream for a sweet treat!
Osha Ultra Syrup—With a distinct aroma and strong earthy flavor reminiscent of parsley, osha root is combined in this syrup with other fantastic herbs including elecampane root, fennel seed, marshmallow root, horehound leaf, and mullein leaf. While it's not the most delicious of our syrups, these herbs together are wonderful for supporting a healthy respiratory system*.
Fresh osha root in this blend is sustainably collected high in the Rocky Mountains of Colorado. This seasonal harvest is part of an ongoing osha research project: a multi-year sustainability study and collaboration between Mountain Rose Herbs, United Plant Savers, the American Herbal Products Association, and botanists at the University of Kansas. We are proud to support such a crucial study of this treasured plant.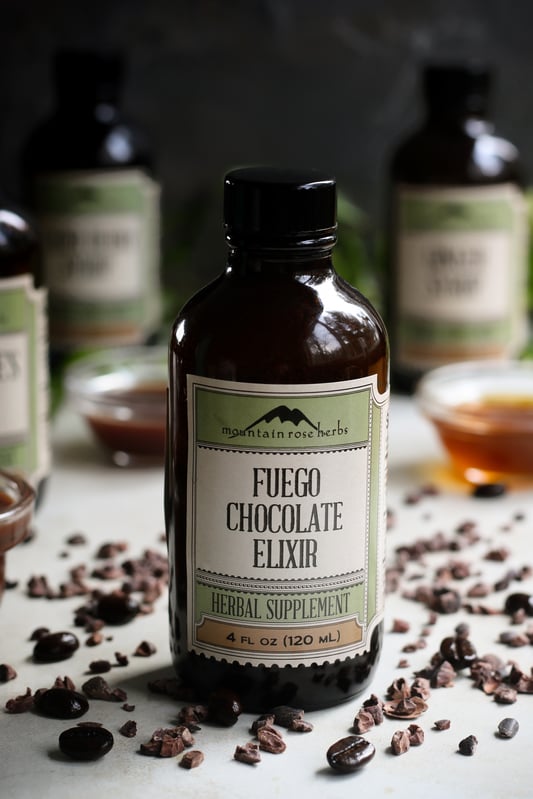 Honorable Mention:
Our amazing chocolate elixirs combine organic and fair trade cacao powder with local honey and a synergistic blend of herbs. These are also crafted with love by our knowledgeable team just for you!
River's Rhapsody Chocolate Elixir
*This statement has not been evaluated by the Food and Drug Administration. This product is not intended to diagnose, treat, cure, or prevent any disease. For educational purposes only.
Want to learn more about our handmade goods?
You might also enjoy: