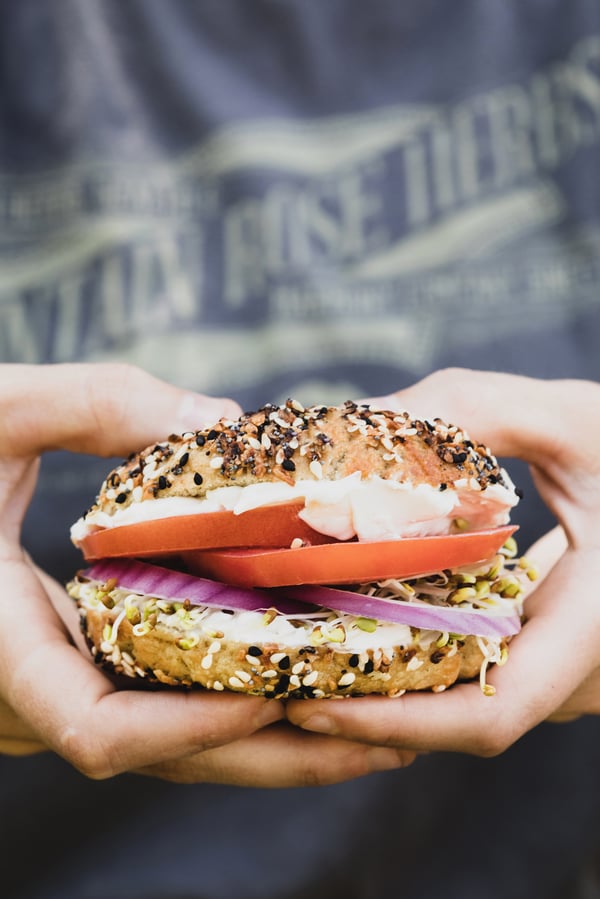 I remember the first time I ate a bagel. It was 1982 and I was teenager from the mountains of Oregon on her first trip to the East Coast. I saw Amadeus on Broadway, I ate Cuban food for the first time, and I went to a wonderful outdoor marketplace that was populated by a fascinating mix of locals, Amish farmers, and Orthodox Jewish craftspeople. While the farmers hosted an auction of horse-pulled buggies and farm equipment outside, I wandered the home-goods end of the event, where I discovered a man making handmade bagels. He had a steaming pot of water at his elbow, and a big catering oven at his rear, and was hand-forming rings of wheat dough as he chatted to passersby. I got sucked in by the smell and bought a perfect bagel accompanied with a side of herby cream cheese. And then there were arias, and the heavens opened, and a great light shown down… which is to say, it was amazing!
I LOVE a really good onion bagel with a nutrition-packed seed topping, but these days I'm gluten-free. Have you ever tried a gluten-free (GF) bagel? Over the course of the last year, I have tried both GF bakery bagels and the store-bought versions. I cannot in good conscience call any of them a real bagel. A bagel should be dense, delicious, and chewy with a doughy middle and crisp exterior. Although the flavor can vary by personal taste, it should not have any weird back-of-the-palate aftertaste (I experience this when sorghum flour is involved). There also should not be a grainy texture, which can be a problem with rice flours. The bagel should hold up to the weight of toppings without being dry or tough, and it should not get soggy. Trying to create that ideal flavor, chew, and mouthfeel with non-gluten flours sounds like a super-challenge, but with this recipe and a stand mixer, you can whip up a delicious batch of bagels in an afternoon. They keep well at room temperature for a day, hold for two or three days in the refrigerator, and freeze and reheat well for longer storage.
Choosing the Right Gluten-Free Flours for Bagels
I tried a plethora of non-gluten bagel recipes before I finally threw up my hands and created my own flour blend. As well as the proper taste, mouthfeel, and performance from my bagels, I wanted plentiful protein, good nutrition, and a wealth of vitamins and minerals. I wanted these GF bagels to be good, pure, healthy food that will perform in exemplary bagel-like fashion as edible plates for toppings.
I discovered that I could make an aesthetically pleasing bagel using the readily available gluten-free measure-for-measure or one-to-one style flours, but the texture was disappointing, the nutrition content was subpar, and the "bagels" practically dissolved on contact when introduced to butter or cream cheese. I started looking to high-protein flour blends and realized that the key to creating my ideal high-nutrition bagel with the right flavor, texture, and mouthfeel was to combine a keto-style flour blend with a good homemade baking blend made up of organic rice flours and starches. This baking blend rounds out the flavors, consistency, browning, and more. Combining buckwheat, millet, or sorghum flours with almond flour and coconut flour adds fiber, protein, and bountiful nutrition including magnesium, calcium, phosphorus, iron, and a slew of vitamins.
A quick note about sweet white rice flour for people who aren't familiar with it... First and foremost, it is not interchangeable with regular white rice flour, nor is it sweet. It is also called "glutinous rice flour" even though it doesn't have any gluten in it. The short form of this rice is what sushi is made from, which tells you something about it: it loves to bind things together! Also, sweet white rice flour is high in starch and adds moisture, giving these bagels a wonderful chewiness. However, it is easy to overuse; remember that a little sweet white rice flour goes a long way. You can find sweet rice flour in the Asian food aisle at most grocery stores.
Keeping these flours in your larder will take you a long way toward being a satisfied gluten-free baker and gourmand. You will also note that I list buckwheat, millet, or sorghum as the whole grain flour options. As mentioned above, sorghum leaves a weird back-of-the-palate flavor for me, but other people love it. My favorite flour in this category is a light buckwheat, but I also like millet flour blended with regular buckwheat.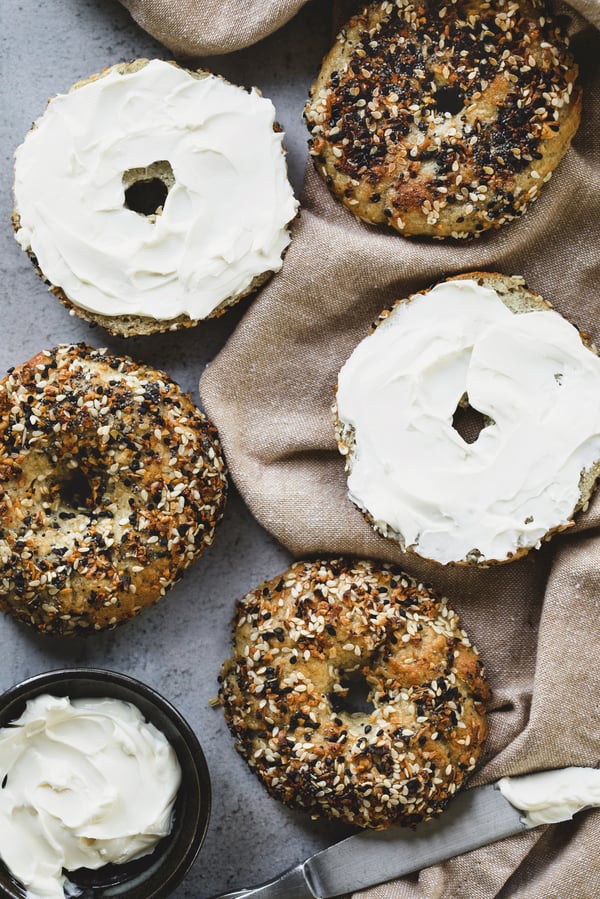 To Weigh or to Measure GF Flours
I consciously created this recipe with measuring cups and spoons so that it is accessible to a wide variety of cooks. Most North American cooks don't own a kitchen scale, and honestly, weighing everything down to the gram isn't necessary to produce consistent, delicious results in most baked goods. I do own a nice kitchen scale, so I can reliably say that 10 grams of these gluten-free flours measures out to about one tablespoon of flour. One tablespoon is not going to make or break this recipe. For those of you who prefer a scale, I've included some approximate weights so you can customize your bagel recipe.
You probably already know this, but do not scoop gluten-free flours with a measuring cup the way you might with gluten flours. Always scoop with a spoon or other vessel and gently fill the measuring cup so you don't compress the flour. Scrape your finger or a knife over the top to get an even measurement and add to the mixing bowl.
Finally: Because of the variety of flours in this GF flour blend, I add them ahead of time to the bowl of the mixer and use the whisk attachment to thoroughly blend while I gather my other ingredients. This gives me more consistent results.
Gluten-Free Everything Bagels
Makes 8 bagels.
Ingredients
1/2 cup organic almond flour (50 grams)
1/2 cup organic buckwheat, millet, or sorghum flour(s) (70-80 grams)
1/2 cup organic tapioca flour/starch (60 grams)
1/2 cup organic coconut flour (55 grams)
1/2 cup organic brown rice flour (70 grams)
1/3 cup organic white rice flour (55 grams)
1/3 cup organic sweet white rice flour (50 grams)
1/4 cup organic arrowroot powder (40 grams)
3 Tbsp. organic psyllium husk
1 Tbsp. ground organic chia seed meal (grind with a mortar and pestle or in a coffee grinder)
1 1/2 tsp. sea salt
1 Tbsp. double-acting, gluten-free, aluminum-free baking powder
2 Tbsp. organic dried minced onion or dried minced garlic, optional
1 1/2 Tbsp. organic honey, sugar, or maple syrup, plus 1/4 cup for boiling bagels
1 3/4 cups warm water (100-110°F)
1 Tbsp. active dry yeast
1 tsp. organic apple cider vinegar
2 Tbsp. organic olive oil, plus more for forming bagels
Water for boiling
1 large organic free-range egg white, beaten or 1-2 Tbsp. organic coconut oil, melted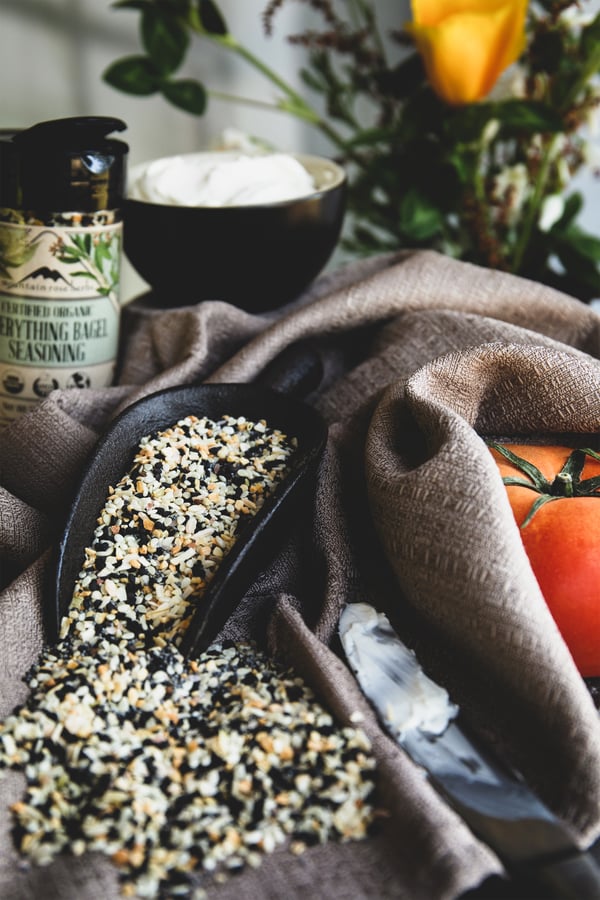 Directions
Add all flours and starches to the bowl of a stand mixer fitted with a whisk attachment. Turn on and let it whisk flours thoroughly while you grind chia seeds and gather your other ingredients, at least 5 minutes. Scrape down the sides of the bowl occasionally to make sure all flours and starches are incorporated.
Add arrowroot powder, psyllium husk, chia seed meal, salt, baking powder, and optional minced onion or garlic to flour mix. Blend for a minute or so to thoroughly incorporate.
Remove whisk attachment from stand mixer and replace with dough hook.
In a separate bowl, combine 1 1/2 Tbsp. honey/sugar/maple syrup with 1 3/4 cup warm water and stir to dissolve. Sprinkle yeast over water, give a quick stir to incorporate, and set aside to proof until frothy, 5-7 minutes. If yeast doesn't bubble up nicely, check the dates to makes sure your yeast is good.
Meanwhile, whisk together apple cider vinegar and 2 tablespoons olive oil and set aside.
When yeast is proofed, whisk and pour into flour mix.
Beat with dough hook on low just until homogenous. It will be wet at first, but the psyllium and chia will catch up in just a bit.
Whisk olive oil and apple cider vinegar and add to dough.
Increase speed to medium and allow to run for about 5 minutes, until dough is very smooth and pulls away from bowl around the edges a bit.
Cover and set aside for about 20 minutes to give the flours time to hydrate. The dough should rise, but don't worry if it's not much.
Gently upend dough onto a work surface. Cut into 8 equal balls. This is a handy place to have a scale so you can make 8 equally sized bagels, but it's okay to eyeball it, too.
Oil your hands lightly with olive oil.
Pick up a ball of dough and gently round it in your oiled hands, turning the bagel as you form it, pinching together any cracks, and working your thumbs or fingers through the center as you go to form the all-important bagel hole. Re-oil your hands as necessary. When you're done, you should have a fat disk of dough without cracks, and a hole in the center about a thumb-width in diameter. (Want a visual? See below.)
Set bagels on two parchment-lined sheet pans.
Cover and set aside to rise for 1 hour.
Near the end of that hour, bring water to a boil in a pot with enough extra room so you can comfortably work with two bagels at a time and they can submerge fully (about 6 quarts).
When ready to boil bagels, stir about 1/4 cup honey/sugar/maple syrup into water to dissolve. Bring water back to a full, gentle boil.
Preheat oven to 425

°

F.
Using a spider strainer or a big, slotted spoon, gently place two bagels in the boiling water bath, one at a time.
Boil 30 seconds.
Carefully flip bagels to the other side and boil for another 30 seconds.
Remove from the water bath and place back on the baking sheet.
Repeat with remaining bagels.
Whisk egg white or melt coconut oil and brush bagels lightly.
Sprinkle with everything seed mix, or if you have enough, pour mix onto a plate and dip both sides of bagels in mix to coat more heavily.
Bake for 22-24 minutes, until the bagels are golden brown and approximately 210

°F

.
Cool completely on wire racks before slicing.
Pro Tips
Because fine grains and starches compress easily, you will have the most accurate measurements if you give each flour a little stir or whisk before you measure.
I suggest mixing a batch of bagel flour blend ahead of time to store in your refrigerator until baking day. This also enables you to buy smaller quantities of flours in the bulk section of your grocery store and then pre-mix for specific baking projects over the next few weeks. Be sure to thoroughly whisk flour mix before use.
Gluten-free flours, particularly nut flours, need to be stored in a cool, dry place. A refrigerator is ideal.
Homemade Everything Bagel Seed Mix
Makes approximately 3/4 cup.
Ingredients
Directions
Stir all ingredients together in a small bowl.
Store in an airtight container in a cool area until ready to use.
Looking for more gluten-free recipes?
You may also enjoy: