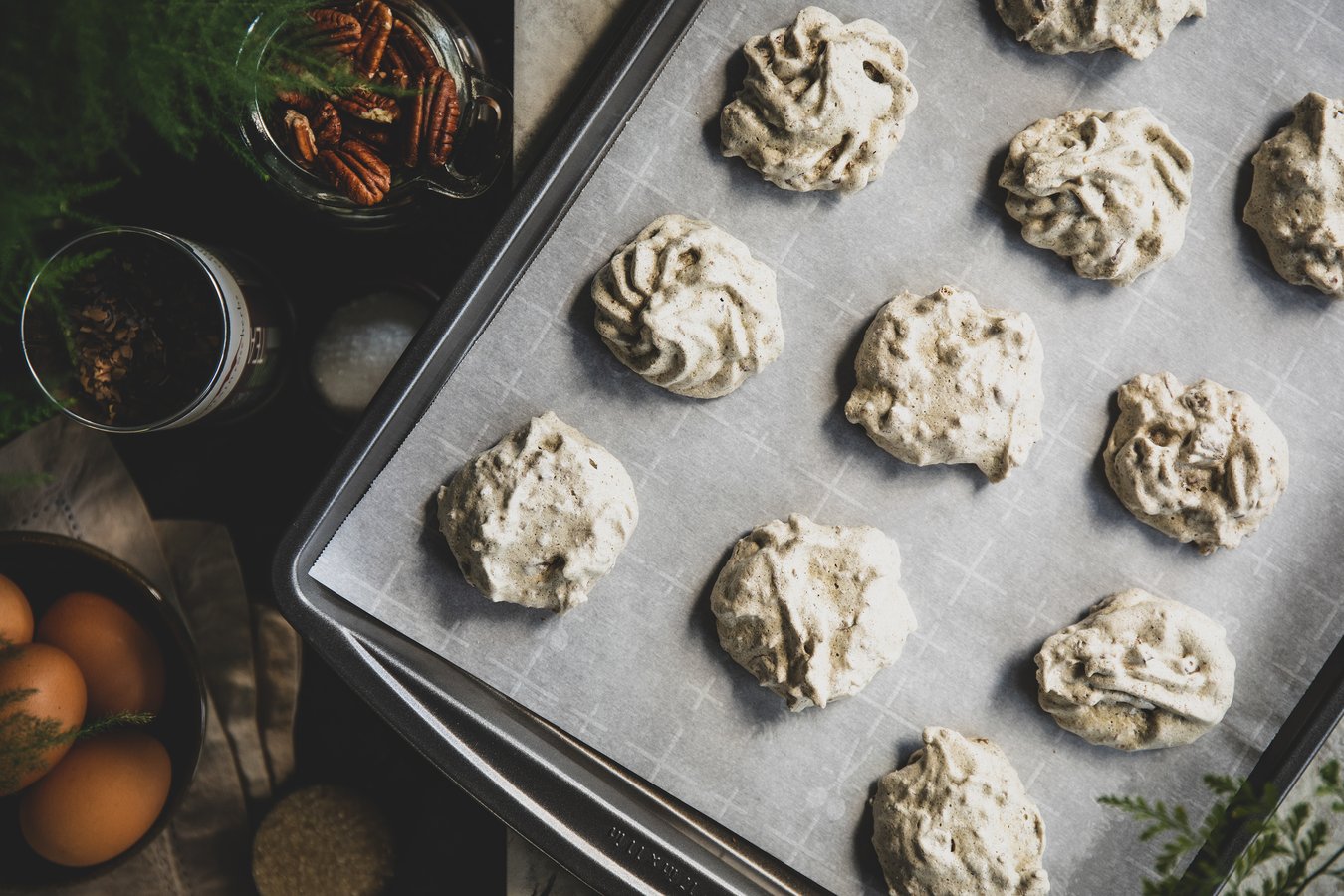 "Forgotten cookies" are an American classic and a perfect vehicle for America's "forgotten" tea. If you've been reading along with my blogs here at Mountain Rose Herbs, you know I got seriously into yaupon tea this year. As a bonafide history nerd, I first became fascinated with the story of America's only native tea plant and then, of course, I had to try it. I'll spare you the history lesson, but yaupon is an excellent caffeinated tea choice for me because it isn't bitter, it can be re-steeped more than once without a change in flavor, and it provides a gentle caffeine boost and increased focus without the jitteriness I sometimes get from coffee or Camellia sinensis based teas. It's also loaded with theophylline, theobromine, and a plethora of vitamins, minerals, amino acids, etc. I've been experimenting with multiple ways to bring it into my diet to replace other caffeine. This summer I brewed it with cooling hibiscus, sweetened it with a little honey, and kept it in the refrigerator to have delicious hibiscus-yaupon iced tea on hand. And then, one evening when I was in a cookie baking mood and perusing some of my favorite recipes, I thought of forgotten cookies and had the quintessential lightbulb moment: forgotten cookies + forgotten tea = pure joy.
These meringue-style cookies take only about 15 minutes to whip up and need to sit in the oven overnight, so this is a wonderful recipe to make before you go to bed. Just put them into a preheated oven, turn off the heat, and "forget" them overnight. In the morning, you'll wake up to little bites of heaven. For added bliss, enjoy these while sipping a hot cup of yaupon tea.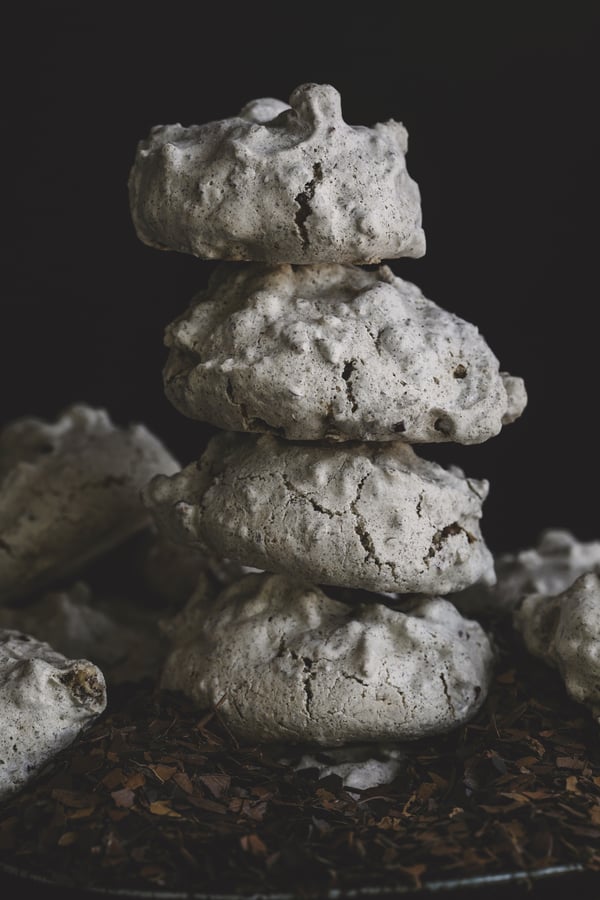 Forgotten Cookies with Yaupon Tea
Makes about 2 dozen cookies.
Ingredients
2 Tbsp.

organic roasted yaupon tea

2 large organic, free-range, egg whites at room temperature
1/2-3/4 cup organic sugar (I find 2/3 cup to be ideal, but go with your own sugar palate)
1 tsp. vanilla extract (or

make your own

!)
1 pinch

fine sea salt

1 cup pecans, finely chopped
1/2 - 1 cup semisweet chocolate chips, mini chocolate chips, or finely chopped chocolate of choice
Directions
Preheat oven to 350℉.
Line two cookie sheets with aluminum foil greased with butter. This does wonderful things to the bottoms of the cookies. Alternatively, you can use a silicone baking mat or parchment paper.
Using a mortar and pestle or a coffee grinder, grind roasted yaupon leaves to a fine powder. Sift through a fine-mesh strainer to remove stems or larger particles. You should end up with about 1 rounded Tbsp. of tea powder. Set aside.
Put egg whites into metal, glass, or ceramic bowl or a stand mixer.
Using a hand mixer or a stand mixer with a whisk attachment beat the egg whites until very "foamy" but not yet forming peaks. While beating constantly, gradually add the sugar a tablespoon or two at a time. Whip to stiff peaks.
Thoroughly blend in the vanilla and salt.
Using a rubber spatula gently fold in the yaupon powder and then the nuts and chocolate.
Drop the batter by tablespoons (a #40 cookie scoop makes a good size) onto the prepared cookie sheets.
Put the cookie sheets in the preheated oven, close the door, and turn the oven off.
Leave the cookies in the oven for at least 10 hours; overnight is perfect.
Store cookies in an airtight container so they don't absorb moisture from the air. Properly stored, they will hold on the counter for several days. They also freeze well and will keep for about 3 months.
Pro Tips
I like to use a dark roast yaupon in these cookies because it goes so well with the nuts and chocolate.
Cold eggs separate easier than room temperature ones. Separate the eggs while they are cold and then let the egg whites come to room temperature before whipping. You can use cold egg whites, but they take significantly longer to whip to stiff peaks.
The yaupon is subtle in this recipe, particularly if you use a full cup of chocolate chips. If you want more yaupon taste in your cookies, consider using 1/2 cup of mini chocolate chips so the yaupon has more room to shine in the meringue.
I once forgot that the forgotten cookies were in the oven and turned it on in the morning to bake a frittata. (Insert weeping emoji here.) Now I leave myself a note: REMEMBER TO TAKE THE COOKIES OUT!
Because these cookies hold well, they make wonderful gifts and will shine on a holiday cookie tray.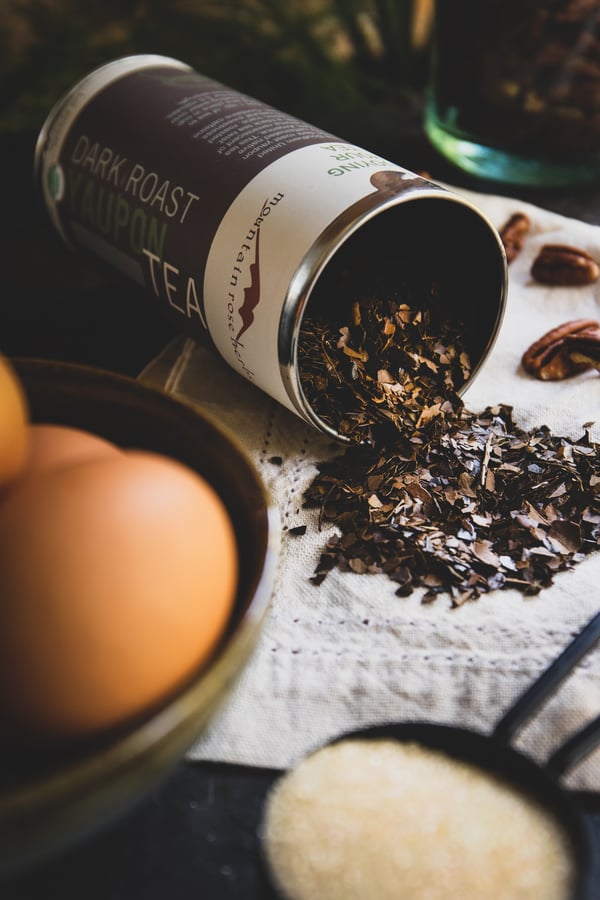 Looking for more delicious cookie recipes?



You may also enjoy: