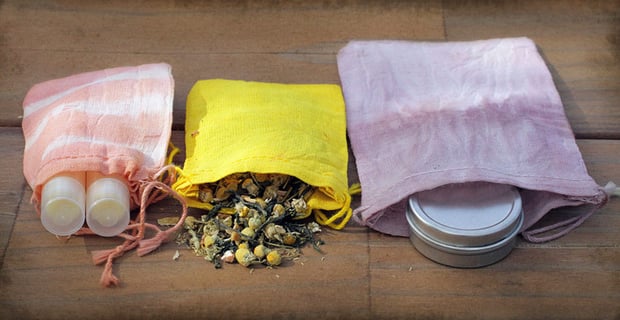 As we come upon the season for gifts and giving, searching for earth-friendly, natural, and beautiful packaging can be a bit of a challenge. It is so nice to have something lovely and useful for sharing homemade tea blends, potpourri, or edible holiday treats, so we challenged ourselves to see what we could create.
We used just a handful of herbs to dye our 100% cotton muslin bags and turned to the Handbook of Natural Dyes, by Sasha Duerr for inspiration. Since these gift and goodie bags won't need to stand up to washings and wearings, as clothes would, we opted for simplified process for our dyeing project. This could easily be adapted to dye cotton cloth for wrapping or larger fabric gift bags.
Here's how we made these adorable bags: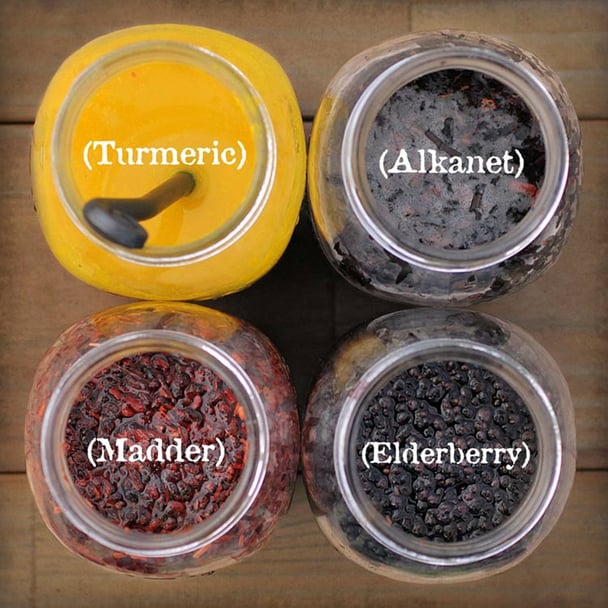 Dye Ingredients & Supplies
1 cup Madder Root
1 cup Turmeric Root powder
1 cup Alkanet Root
1 cup dried Elderberries
Distilled water
large or small cotton muslin bags
Directions
In a glass bowl or large jar, cover cotton muslin bags with water and soak for several hours (8+) or overnight. At the same time that you set your bags to soak, place one cup of dyeing herb in a quart Mason jar and fill with 3-4 cups boiling water. We let this herb-water mix also sit for several hours or overnight.
Drain the water from the cotton bags and use ties, knots, or rubber bands to create designs if desired, and put bags in the dye bath, making sure they are completely submerged. We left the herbs in the water the entire time we were coloring the cloth.
We pulled a few bags out at various intervals for increasingly darker colors. Once removed from the dye bath, rinse the bags in tepid water until the water runs clear. You could use a Tablespoon of white vinegar in the dye bath to ensure that the colors fix or, if you want to tackle other fabrics, we suggest you read up on the use of a mordant in Sasha Duerr's book.
We then just let the bags air dry and ironed them with a medium hot iron to get out all the cottony crinkles.
This is such a simple dyeing project! It would be great for kids or work well as a family or classroom project. The herbs can be composted when you're finished and you might even like to try some other great dyeing herbs like Goldenrod, Bilberry Fruit, Parsley, and Horsetail.
Now that we have our lovely gift bags, it's time to think about the gifts!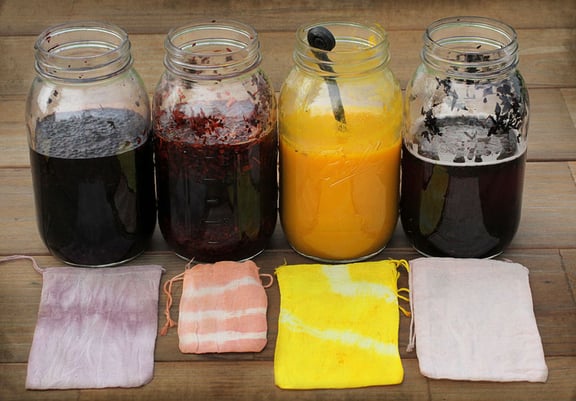 Have fun crafting!
About Kori: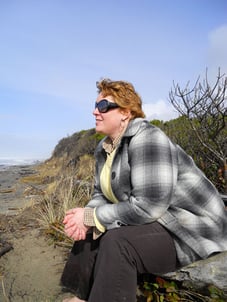 This post comes to us from Kori, our Public and Media Relations Coordinator! A West Coast native, Kori is a seasoned nonprofit activist and community organizer. Having launched six adult kids, she spends her free time in her burgeoning organic and very urban "farm"—taming Heritage chickens, building top-bar beehives from reclaimed materials, baking, brewing, and preserving.