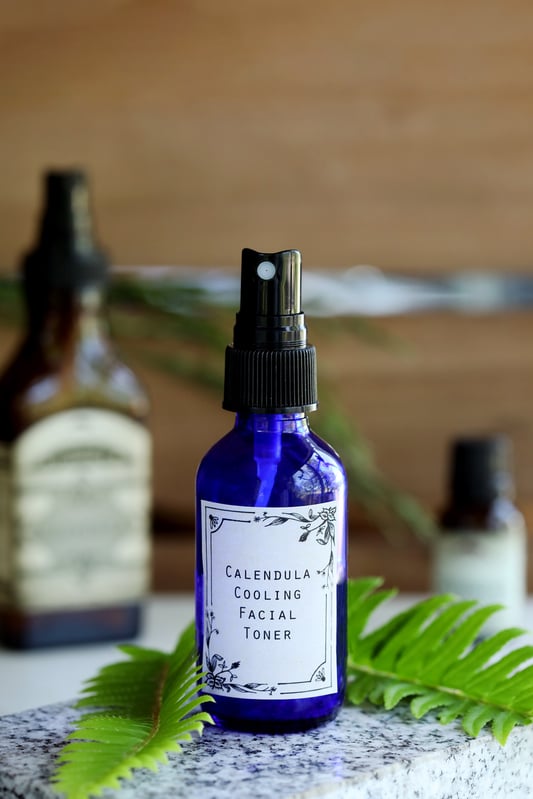 Facial toners have come a long way since the 1990s, when the most common commercial varieties (often marketed to teenagers) used high concentrations of alcohol to help remove oil from the skin. Purported to reduce acne, they were purposely drying and too astringent for most skin types. Today's facial toners with natural ingredients, on the other hand, provide benefits that can help to maintain the normal pH and hydration of our skin, both of which are essential to maintaining the moisture and elasticity that gives our complexions a smooth, healthy appearance. This important and fine balance is impacted by a wide variety of factors in our day to day lives. Soaps, makeup, and sunscreens all affect the skin, as does getting too much sun or prolonged exposure to the elements. The realities of modern work life can also take their toll on that healthy balance—spending all day in an office or warehouse can be very drying, and if your job involves frequent travel, you know that a few hours spent in an airplane tends to leave you feeling far from smooth and fresh. Plus, aging makes the skin more vulnerable to wear, damage, and imbalance from any of these sources. Although our skin does its best to return to its normal levels, using a toner can support it in doing the hard work of restoring its proper, happy state.
With summer soon upon us, a cooling facial toner comes in particularly handy for hydrating and soothing stressed skin in the heat of the day. Calendula is a traditional herb that has been used in body care products for hundreds of years, particularly in formulations for skin and hair. Combined with calming lavender, it makes for a DIY toner that provides skin with a refreshing boost when it needs it most. This spray can also be misted to calm the minor skin irritations so common to warm weather activities, helping us to revitalize at the end of a long day of play!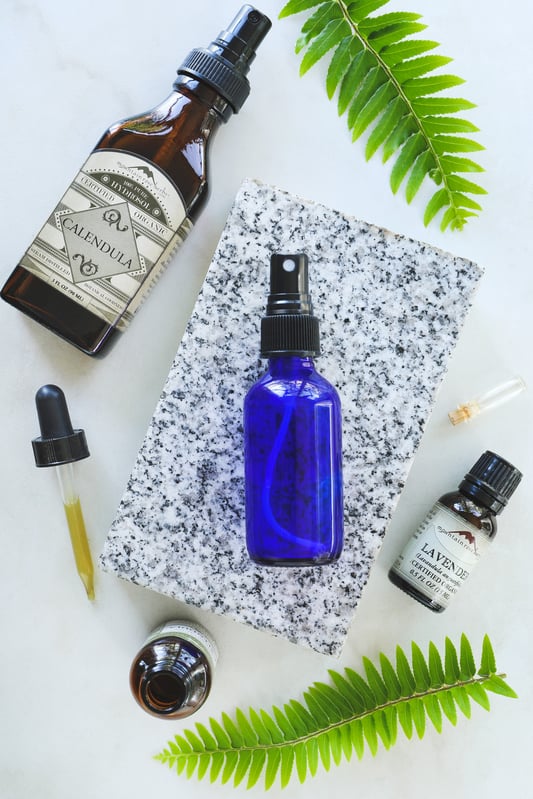 Fresh Herb Calendula Tincture Toner Recipe
Makes 4 ounces.
Ingredients
Directions
Mix all ingredients together in a clean 4 oz. glass bottle with a screw cap.

Shake to blend.

Pour part of the toner into a 1 or 2 oz. bottle with a mister top. Store remainder in refrigerator until ready to use (it will last up to a year).

Use as often as desired, shaking to blend before each use.
Pro Tips
Essential oils and extracts can break down the plastic tube of a spray nozzle over time, so be sure to fill the small mister bottle with only the amount of toner you will use within two to three weeks. Refill as necessary from the glass bottle you store in your refrigerator.

This toner is also wonderful for airplane travel, when things can get overly warm and uncomfortable. Instead of using a mister bottle, which might disturb your seat neighbors, pour the toner into a 1 or 2 oz. travel-size bottle and bring along some cotton pads. A pat of toner will clean and revitalize your skin on the go.

If you are allergic to members of the Asteraceae family (feverfew, chamomile, Echinacea, etc.), consult with a qualified healthcare practitioner before using calendula, as allergic cross-reactivity to Asteraceae plants is common.
Want to find the Perfect Plant Moisturizer for Your Skincare NEeds?
You might also enjoy: