My husband recently went on a summer-mocktail quest. It started because he made homemade ginger beer, which was good, but lacked some important refreshing element; it was a bit "much" on a hot day. Still, it was inspirational. The delicious, summery, layered mocktail that my honey ultimately came up with utilizes ginger beer (homemade or store-bought) and some of the most refreshing, cooling herbal allies. It also celebrates both summer berries and the beautiful roses of the season with a berry and rose simple syrup. Make tea and simple syrup the evening before so all you have to do is find some shade and settle in for a revitalizing, enjoyable day. Bring on the sun, we're ready!

Herbal Tea Blend with Cooling Herbs
Makes about 3 cups of tea concentrate.
Ingredients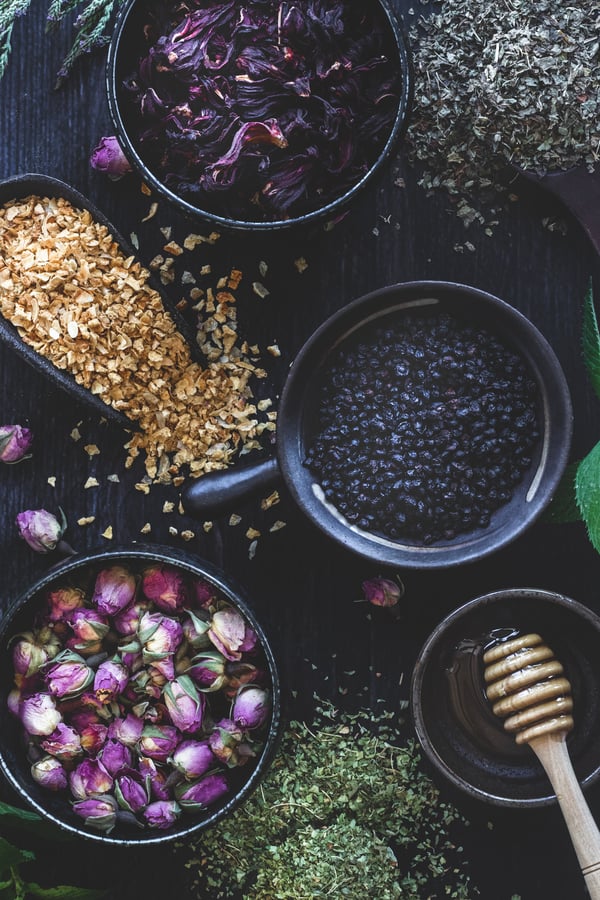 Directions
Combine water and hibiscus flowers in a saucepan. Bring to a boil.
Remove from heat and stir in remaining ingredients except for honey.
Cover with lid and steep until still warm but cool enough to handle, at least 20 minutes, then strain out herbs.
Stir in honey or sweetener of choice until dissolved.
Refrigerate tea concentrate until cold. Tea will keep in the refrigerator for several days.
Pro Tips
Mountain Rose Herbs' Hibiscus High Tea or Berry Bramble Tea are good substitutes if you don't want to blend your own tea.
Leftovers of this tea blend make a seriously refreshing iced tea all on their own! Just pour over ice in a tall glass.
Juliet's Berry Rose Simple Syrup
Makes about 1 1/2 cups.
This is a typical rich berry simple syrup made with two parts sugar and one part water. Adding dried roses is the herbal genius of Juliet Blankespoor, founder of the Chestnut School of Herbal Medicine. The roses are technically optional for this mocktail recipe, but they add a lovely flavor note. Also, BIG excitement here: Juliet Blankespoor's new book The Healing Garden: Cultivating and Handcrafting Herbal Remedies will be published by Mariner Books in April 2022!
Ingredients
1 cup fresh or frozen organic berries (about 5 ounces)—Juliet uses raspberries but pick your favorite berry!
2 cups organic sugar
1 cup water
1/4 cup organic dried rose petals, optional
Zest from 1 lime
Directions
Combine the berries, sugar, and water in a saucepan over low heat and stir to completely dissolve sugar.
Add rose petals and lime zest. Bring to a simmer. Simmer 5 minutes.
Strain through cheesecloth. While still warm, but cool enough to handle, squeeze to get out all the wonderful syrup. Compost remaining pulp.
Refrigerate syrup and use within 2-4 weeks.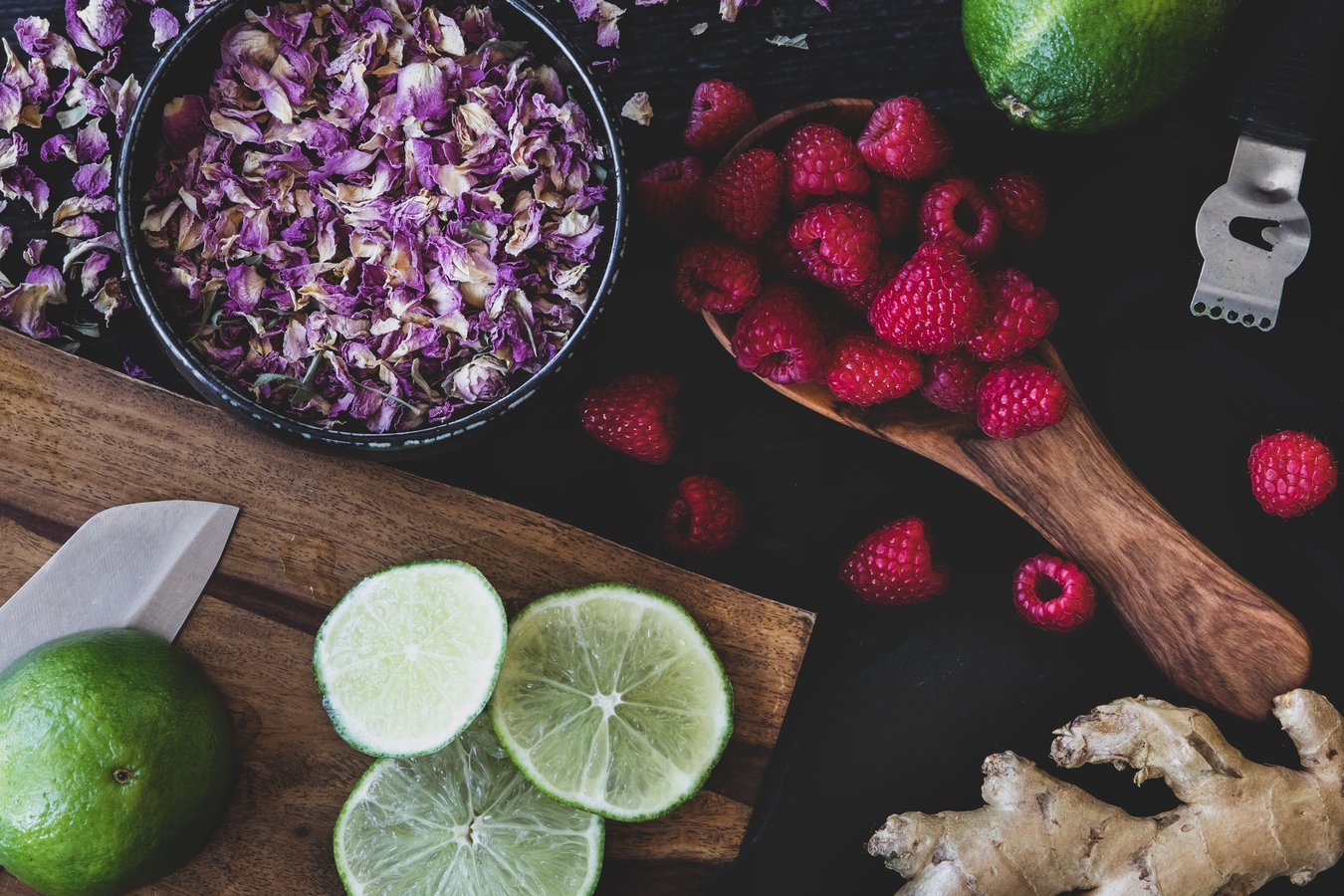 How to Juice Fresh Ginger Root
Adding extra ginger juice is entirely optional and should be left up to the individual imbibing—many people love the extra ginger sizzle, but you may want to leave it out for children or more sensitive palates. You'll only use a teaspoon or so per mocktail, depending on personal taste.
Ingredients
Fresh organic ginger root
Directions
Peel a piece of ginger root and cut into workable chunks.
Throw ginger root pieces into a food processor and process. Scrape pulp onto a doubled piece of cheesecloth and squeeze out juice into a container. Alternatively, lay a doubled piece of cheesecloth in a bowl and grate peeled root directly onto the cloth. You may want to further smash the grated pieces with a pestle to facilitate juice extraction. Fold up edges of cheesecloth to enclose grated root and squeeze hard to extract ginger juice.
If making ahead, store ginger juice up to 24 hours in refrigerator.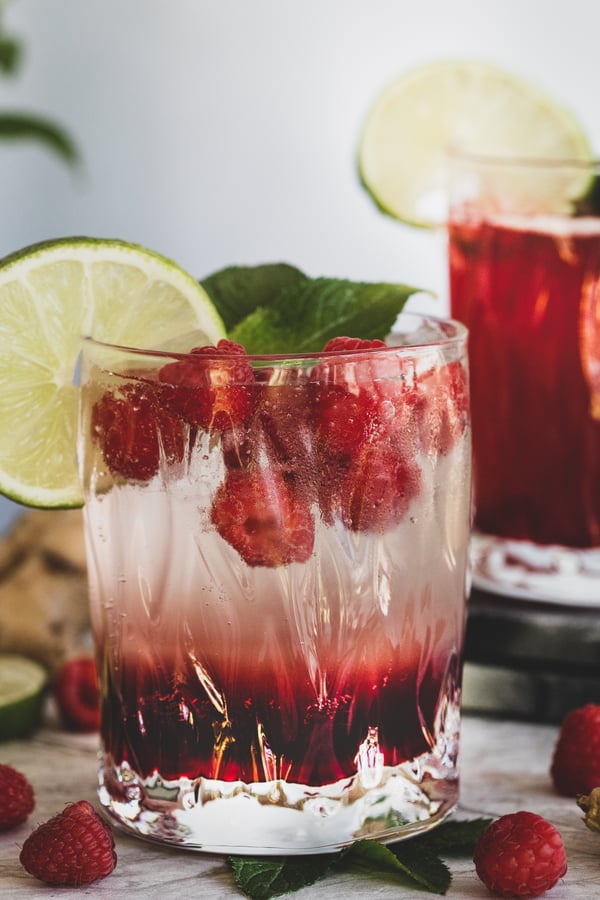 Refreshing Summer Mocktail Recipe
Makes one 8 oz. mocktail
Ingredients
Ice cubes
Ginger beer, homemade or your favorite brand
Tea blend concentrate, above
Berry rose simple syrup, above
Unflavored sparkling mineral water of choice
Organic lime, berries, mint and/or crystallized ginger for garnish
Ginger juice, optional
Directions
Fill an 8 oz. rocks or lowball glass 2/3 full of crushed or cubed ice.
Add 1 1/2 oz. ginger beer.
Slowly pour in 3/4-1 oz. tea concentrate.
Slowly pour in 3/4-1 oz. simple syrup.
Slowly top with unflavored sparkling mineral water of choice.
Garnish with lime, fresh berries, mint, and/or crystallized ginger.
Drizzle optional ginger juice on top.
Appreciate the beautiful layers and then stir if you want to combine flavors.
Want another amazing herb-inspired summer mocktail recipe?
You may also enjoy: