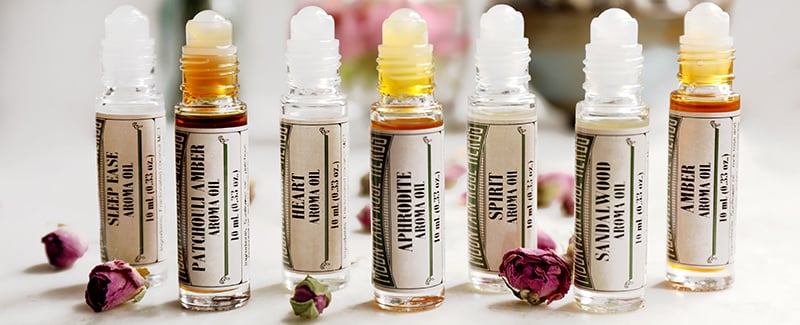 Perfumes can make a statement, evoke fond memories, or add a finishing touch to our special occasion preparations. Our collection of natural aroma oils offers an ideal way to enjoy your favorite botanical scents, without the harsh, synthetic chemicals found in many conventional fragrances. Conveniently packaged in 10 mL roll-on bottles, they are easy to apply wherever a little uplifting energy is desired—whether as part of your home body care rituals, or when you need some essential oil goodness on-the-go!
Exquisite and alluring, our signature pre-diluted essential oil aroma blends make wonderful perfumes that last for hours. These beautiful synergistic combinations are crafted to promote feelings of passion, relaxation, and harmony. Each of our aroma oils are created in small batches right here at Mountain Rose Herbs. They contain a combination of
organic fractionated MCT coconut oil
and
pure essential oils
.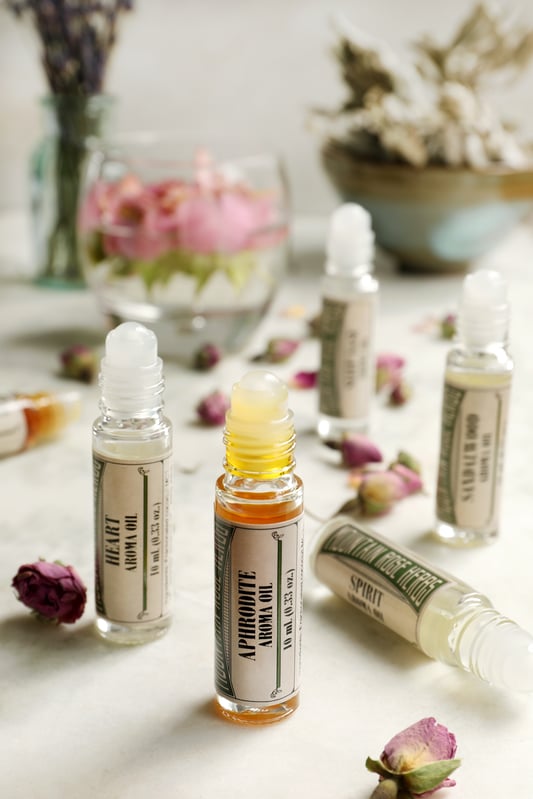 FIND YOUR HAND-BLENDED FRAGRANCE:
Aphrodite Aroma Oil: The essential oils of organic palmarosa, organic patchouli, organic Australian sandalwood, rose absolute, and organic geranium create a sensuous blend that has a perfect mix of floral and earthy notes.
Organic Heart Aroma Oil: A balanced and gentle aromatic embrace, this floral blend includes the essential oils of organic lavender, organic ylang ylang, organic Roman chamomile, and organic sweet marjoram.
Sandalwood Aroma Oil: This resinous and subtle blend highlights organic Australian sandalwood complemented by amyris, organic atlas cedarwood, and organic myrrh essential oils. Our Australian sandalwood essential oil is grown, harvested, and distilled by expert craftspeople who are dedicated to preserving this sacred tree.
Organic Sleep Ease Oil: A soft and gentle blend to help ease you into a relaxed state. Including the organic essential oils of clary sage, bergamot, lavender, sweet marjoram, and Roman chamomile, this mellow and lightly sweet floral blend will inspire sweet dreams.
Organic Spirit Aroma Oil: This beautiful and grounding oil is based on an old recipe that promises to bring visions of fairies and sprites—how bewitching! The organic essential oils of lavender, Australian sandalwood, atlas cedarwood, sweet marjoram, fir needle, cypress, and sage come together in a numinous blend that brings a little magic to everyday life.
Interested in Crafting YOur Own Botanical Perfumes?
You might also enjoy: