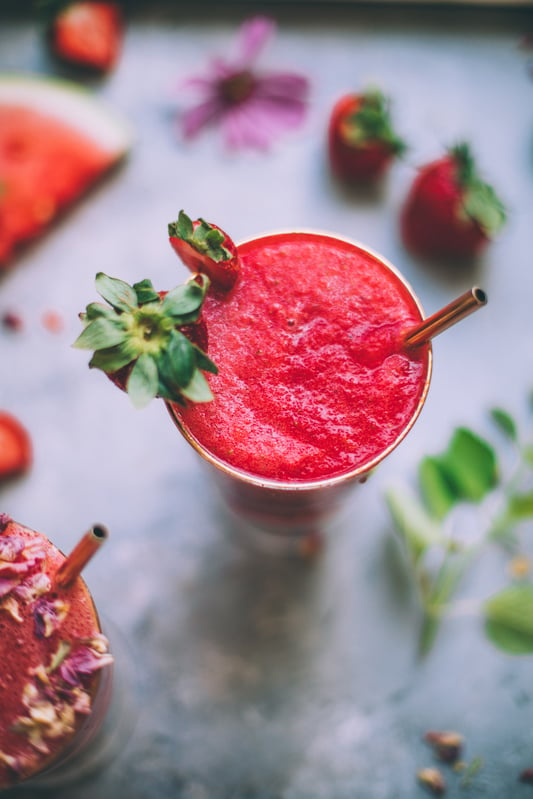 Tulsi tea, lime, agave—served chilled or over ice, it's the perfect mood-supportive cup of joy for a swelteringly hot summer day. Aguas frescas are my go-to warm weather drink, and with good reason! They're incredibly simple and (bonus) very easy to combine with herbal tea for an extra kick of botanical support or flavor. And when the thermometer hits 100, and I can hardly stand to be in the kitchen, throwing fruit, tea, lime, and sweetener into a blender makes for a great, almost-instant snack, not to mention a fabulous natural hydrator.
Aguas frescas hail from Mexico, land of sun and siestas. They're essentially a whole fresh juice—like a cross between a juice and a smoothie. I personally love to eat sweet fruits with the natural fiber, as it helps the body to process the sugars more slowly. And, helpfully, it's a perfect way to work through all of the extra ripe fruit you have lying around from your last trip to the farmers' market.
If you're going alcohol-free this summer, a well-blended agua fresca can be tailored to offer a nutritious alternative beverage featuring the best flavors of your favorite blended margarita, piña colada, or daiquiri.
So let's talk a bit about combining a traditional agua fresca with tea.
Aquas frescas are one part fruit to one part water, so tea is an easy substitution for the water. The idea is to maximize the support you can get out of a glass of cold fruit juice by adding herbs like tulsi, rose, mint, or lemon balm—all of which have traditionally been used for mood support.
You could use any number of herbal teas, from solo herbs like hibiscus to blends like Lemon Tea or Grateful Heart Tea.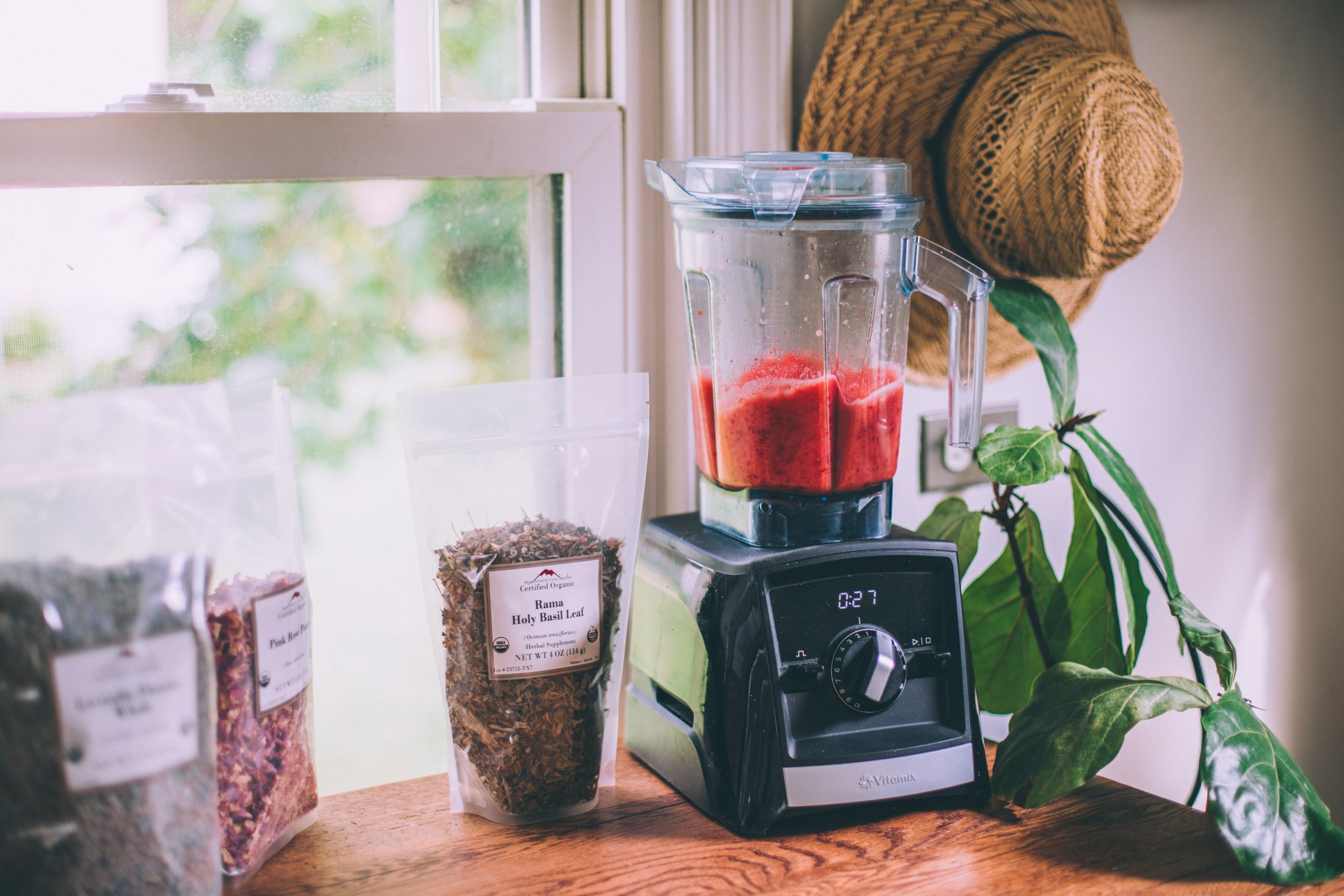 Ideally, choose teas that are light, citrusy, sweet, or minty for the best flavor combinations with fruit. I would shy away from earthy, rich, savory, or spiced teas like dandelion or chai. I also suggest avoiding lavender, as it can have a soapy flavor when combined with many fruits.
The best fruits for aguas frescas, from what I've tested in my kitchen, are smooth, mostly seedless, and the juicier the better. Fruits with more natural acid keep their bright color the best.
Favorite Fruits for Aguas Frescas:
Melons—seedless watermelon, cantaloupe, honeydew
Berries—strawberries and blueberries are the best
Mango
Papaya
Peaches and nectarines
Pineapple
Dragon fruit
Cucumber
These fruits are great as well, but you'll want to strain the juice through a fine mesh sieve to remove seeds:
Blackberries
Raspberries
Seeded watermelon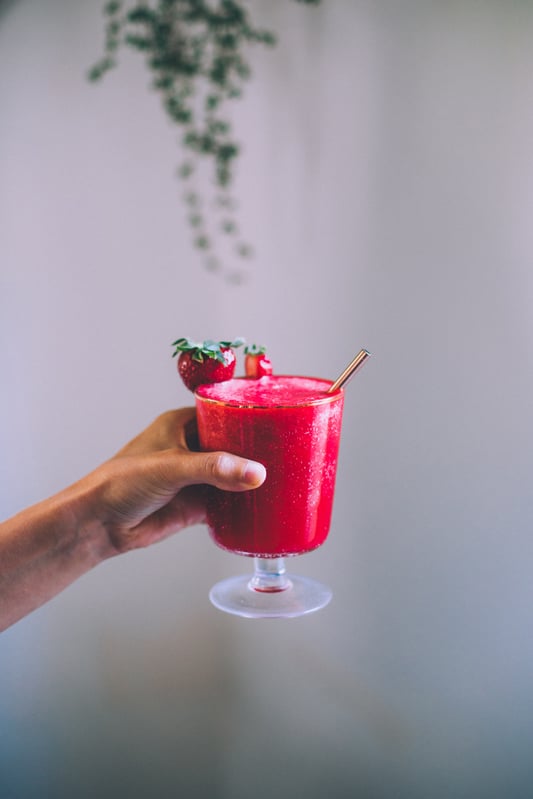 Base Herbal Agua Fresca Recipe
Makes 2 servings, or about 2 cups.
Ingredients
1 cup hot water
1 Tbsp. dried herbal tea
1 cup chopped fruit
1 Tbsp. agave nectar, raw local honey, or maple syrup + more to taste
1 tsp. lime juice (approximately 1/2 lime) + more to taste
Ice
Two of my favorite combinations are a floral watermelon or a minted cantaloupe agua fresca blend, available on my natural lifestyle and recipe blog, Will Frolic For Food. Here, I'm excited to share a third winning combination: holy basil with strawberry, which serves as a nice take on a virgin strawberry daiquiri!
Tulsi Strawberry Agua Fresca Recipe
Makes 2 servings or about 2 cups.
Ingredients
1 cup hot water
1 Tbsp. dried tulsi basil (Rama variety is a favorite for iced tea)
1 cup hulled strawberries
1 Tbsp. agave nectar, raw local honey, or maple syrup + more to taste
1 tsp. lime juice (~1/2 lime) + more to taste
Ice
Directions
Pour the hot water over the tulsi and let steep 5 minutes (or infuse longer for a stronger tea).
Cool to room temperature and strain with a tea strainer, cheesecloth, or funnel with filter.
In a high-powered stand up blender, combine steeped tulsi, hulled strawberries, sweetener, lime juice, and a handful of ice.
Blend until smooth.
Taste and adjust sweetener and lime juice according to your personal taste.
Serve immediately as-is or over ice with a wedge of fruit on each glass for garnish.
Enjoy!
And just in case those aren't enough options for you, here are some of my OTHER favorite flavor combinations!
Pro-Tip: Avoid cherries and bananas, as they both make for unfortunately brown aquas frescas.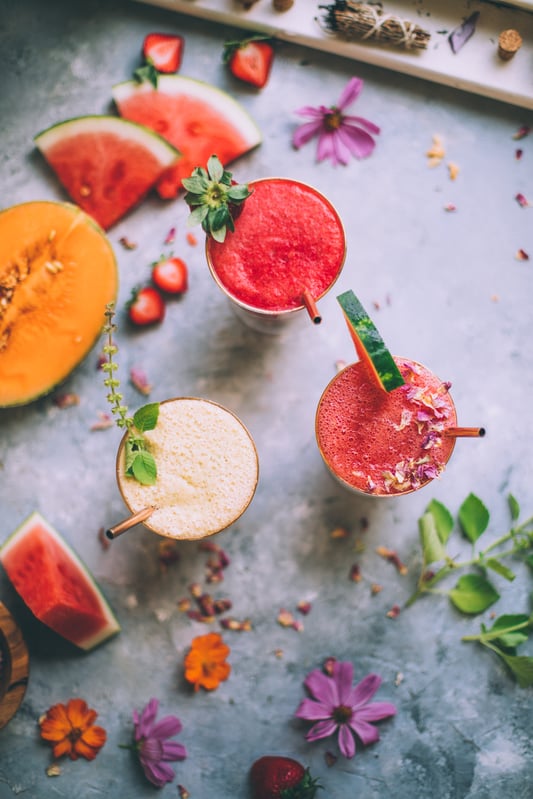 Looking for other fresh and tasty summer drinks?
You may also like: