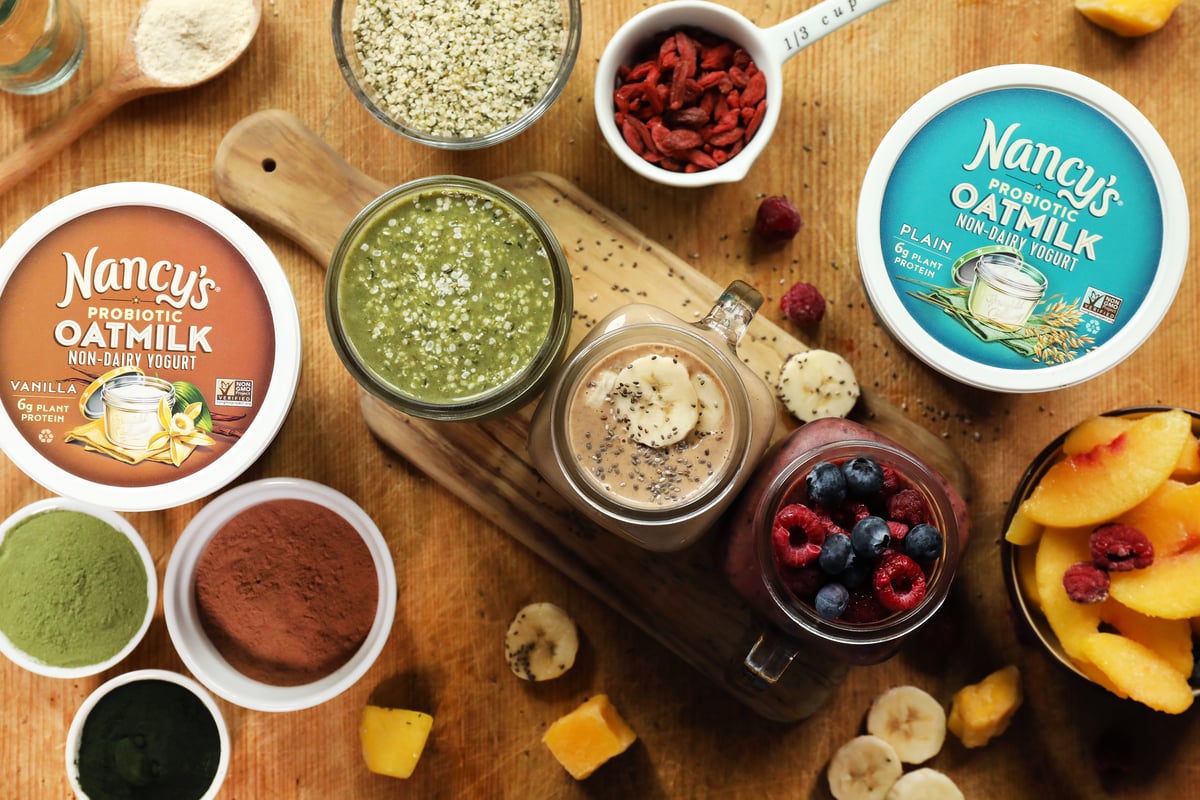 When spring arrives, I turn to my trusty blender and say, "Let's do this." As I move and shake my way out of hibernation (and try to shed some extra winter insulation), smoothies become the perfect breakfast and/or lunch for me. These nutritious drinks keep me feeling light, but still nourished and focused, and I love discovering new ingredients to add to my favorite blended recipes.
For a smoothie that won't leave you craving a snack right after, there's nothing like a creamy yogurt base to give your blend a rich texture and satisfying staying power. When I discovered that our local Springfield Creamery, the makers of
Nancy's Yogurt
, had come out with an Oatmilk Non-Dairy Yogurt, I couldn't wait to try it. I love the soothing nature of oats (one of the most sustainable dairy alternatives) and had a feeling that it would be a wonderful addition to my liquid meal (or snack) repertoire. Turns out, I wasn't wrong!
One of the most amazing things about smoothies is how easily you can "hide" ingredients in them that are good for you, but are not necessarily delicious on their own, and I try to take full advantage of this super power! Fresh fruit will mask a remarkable range of strong flavors, from bitter greens to earthy mushrooms to tart berries—all of which just happen to offer some serious wellness-supporting benefits. Through a little experimentation, I've developed three recipes that combine great taste with great nutrition, and I'm happy to share them with you.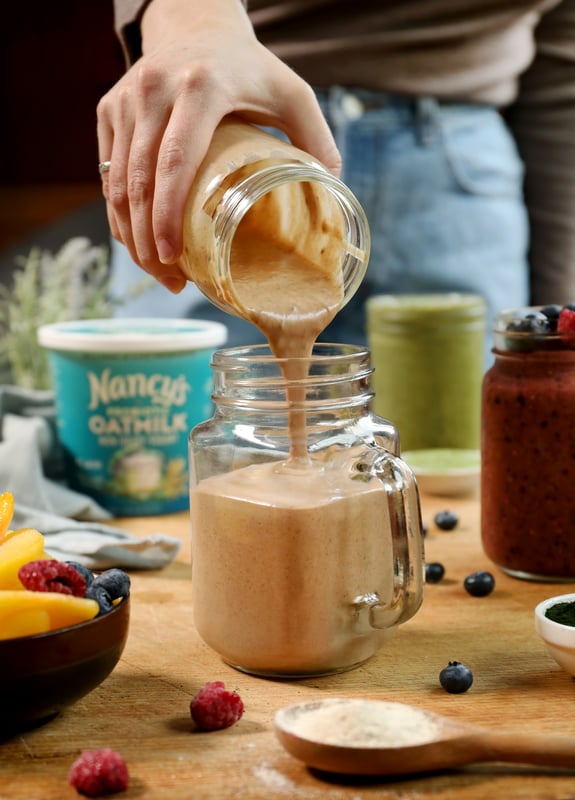 3 Superfood Vegan Smoothies for Summer
Tropical Super Green Smoothie Recipe
Chock-full of chlorophyll goodness, this superfood green smoothie recipe tastes like a tropical escape that is as good for your body as the beach is for your soul!
Ingredients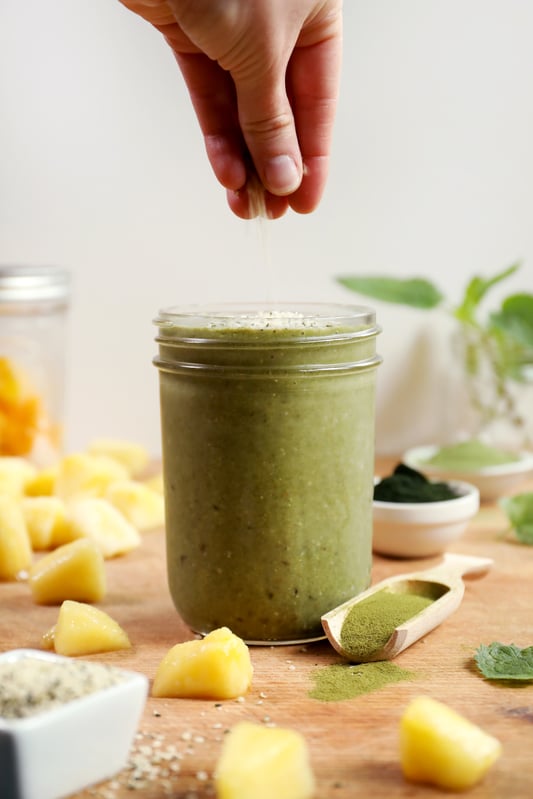 Superfood Berry Smoothie Recipe
The balance of sweet and tart makes this a refreshing afternoon pick-me-up. Bilberry also has antioxidant properties that help maintain good health and fight free radicals.* These wonderful fresh berries also pair perfectly with the tart berry powders and pink peppercorns.
Ingredients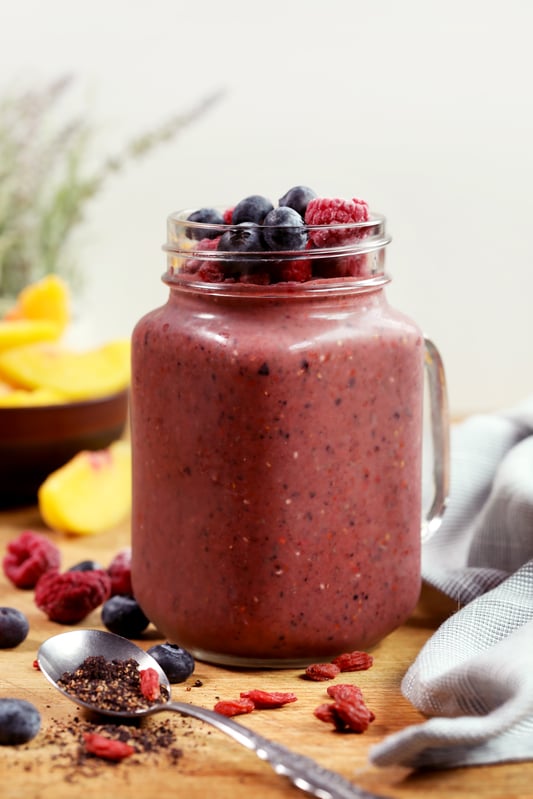 Chocolate Mushroom & Banana Smoothie Recipe
This decadent breakfast smoothie is both filling and comforting. Cordyceps and shiitake mushrooms are also known to support healthy immune system functioning*, and what better way to start your day than sipping a tasty immuno-supportive beverage!
Ingredients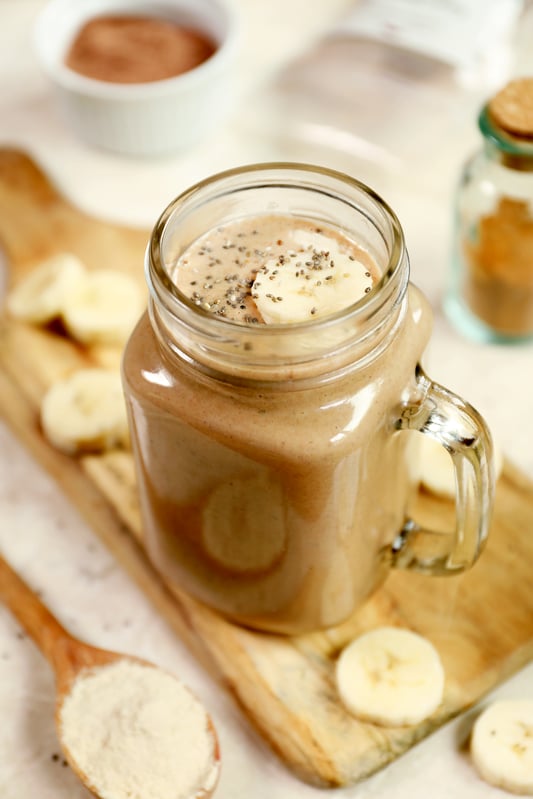 Directions
Place all ingredients in blender in the order in which they are listed. This will help your blender keep its momentum without getting bogged down and also prevents the powders from getting stuck on the bottom.
Blend on high until all frozen ingredients are pulverized, and mixture is well combined. Each recipe makes 3 to 4 cups.
Looking for More Fruity & Refreshing Drinks with Herbs?
You might also enjoy: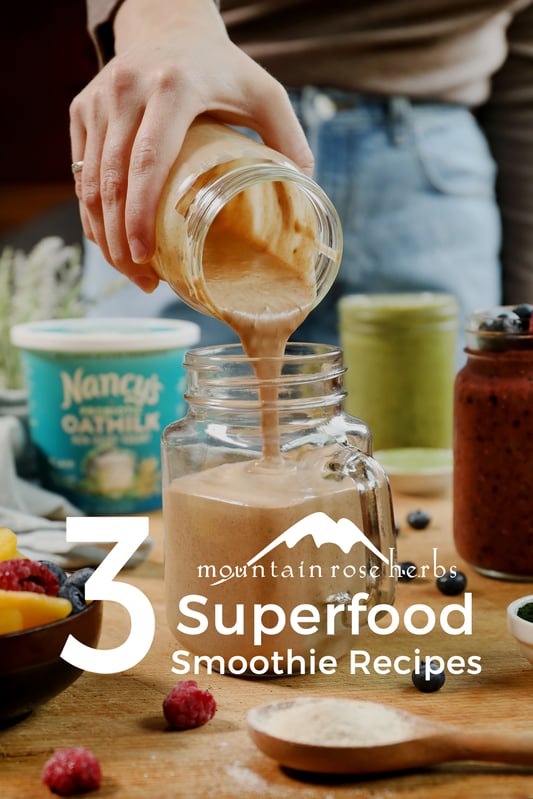 *This statement has not been evaluated by the Food and Drug Administration. This product is not intended to diagnose, treat, cure, or prevent any disease. For educational purposes only.