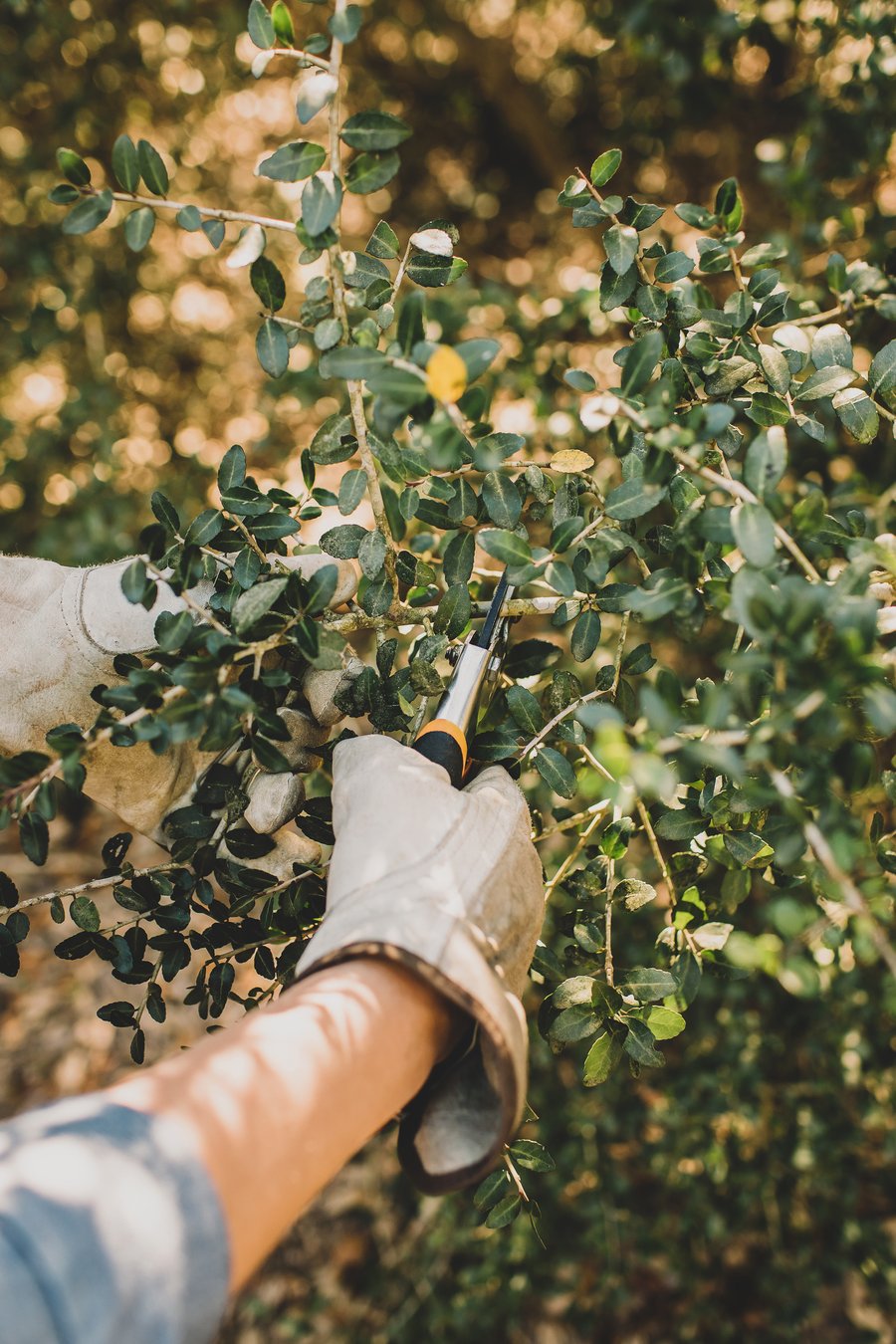 Sooner or later, everything old is new again. This saying has been sneaking into our day-to-day a lot over the last couple of years as people are rediscovering "old" methods of being more self-sufficient and resilient in these challenging times. One of our favorite old-new "discoveries" is yaupon tea. When our Mountain Rose Herbs tea team was introduced to yaupon, we—like most Americans—had no idea that there was a naturally caffeinated tea plant native to North America. This fact is astounding when you consider that yaupon tea was the drink of choice for literally thousands of years. This delicious tea is supremely sippable and, thanks to plentiful theophylline and theobromine (as well as a host of vitamins, minerals, amino acids, etc.), provides a smooth caffeine boost and focus without the jitteriness that can come from coffee.
Also, it contains little or no tannins, so you don't have to worry about bitterness or over-steeping, and you can re-steep the tea multiple times without a change in flavor. And yet, this American wunderkind—which was at one time so popular the British East India Company considered it a threat to their control of the world's tea market—has been completely forgotten for more than 150 years, replaced by coffee and traditional black teas even in regions where it grows wild. What happened?! We reached out to the American Yaupon Association to learn more about yaupon tea and its spectacular comeback.


Yaupon Holly
Ilex vomitoria, or yaupon holly (pronounced "yo-pawn"), is native to the American southeastern coastal plains (yerba mate and Guayusa are its South American cousins). Yaupon is a common, evergreen, understory tree or shrub, distinguished by dense, ovular green leaves and bright red berries, that ranges from the Eastern Shore of Virginia south to Florida and west to Texas and Oklahoma. It also grows in Chiapas Mexico. Yaupon likes coastal areas and well-drained, sandy soil including dunes, marshes, maritime forests, forested wetlands, etc. Today, in the forests and pine flatwoods of the region, it is considered a particularly obnoxious, dense weed that gets in the way of forestry operations. But the plant's dense form also makes it a popular yard planting because it can be grown and pruned into a very nice evergreen hedge. There are a number of horticultural varieties for this purpose.
For consumption, humans are interested primarily in the plant's wonderfully caffeinated leaves. However, yaupon holly berries and leaves are also important food for birds, deer, bears, foxes, raccoons, skunks, armadillos, and more.
Back When Yaupon was King of Teas…
The archeological record tells us that Native Americans began drinking yaupon at least 8,000 years ago in Florida and had established an extensive, well-ordered yaupon trade network 500 years before Europeans arrived, which extended hundreds of miles north. There are indications that these trade routes extended into Mexico as well, where scientists have discovered evidence that yaupon and cacao were combined by the Mayans to make a sacred ceremonial drink.
People like the Timucua of Florida drank yaupon daily, roasting the leaves and infusing them in boiling water, and then drinking the hot tea from carved whelk shells. When the Spanish arrived in northern Florida in 1565, they were amazed at the height and robust health of the Timucuans, and they quickly picked up the daily practice of drinking yaupon. Just a few years later, Spanish court physician Francisco Hernandez de Toledo, who had been sent on an expedition by King Phillip to find medicinal herbs, arrived at the Florida outpost of Saint Augustine and discovered that the Spanish citizens there were consuming so much yaupon, that "…any day that a Spaniard does not drink it, he feels he is going to die."
As colonialism and European immigration spread in the Americas so did the love of yaupon. According to Black Drink: A Native American Tea, by anthropologist Charles Hudson, at the time of the American Revolution, yaupon holly was widely grown for tea on colonial farms and there was an established yaupon tea trade with Europe. It was marketed as "Cassina," "Carolina Tea," and "South Seas Tea" in England and was called "Appalachine" in France. It gained the moniker "Liberty Tea" in Boston when it replaced imported tea in the days of the Boston Tea Party.
In 1783, German botanist Johann David Schöpf noted in his journal that yaupon tea had become so popular, the British East India Company was becoming increasingly alarmed about it as a threat to their control of the world's tea market. By 1789, Britain was actively working to limit the amount of American tea sold in Europe. They found an ally in famed botanist William Aiton, who had been appointed by King George III to be Superintendent of the Royal Botanic Gardens, Kew.
Ilex vomitoria: That awful name
As Britain was working to kill the yaupon trade in Europe, William Aiton was busily "fixing" an error made in 1753 by the "father of taxonomy" Carl Linnaeus. Linnaeus named yaupon holly "Ilex cassine" because Native Americans had called it Cassina for millennia and that had become a common name for the tea in Britain as well. Unfortunately, Linnaeus thought yaupon and a newly discovered dragoon holly were the same plants, so the two different species both ended up tagged with the same Latin name.
Fast forward a quarter of a century to William Aiton: Royal Gardener and friend of King George.
There were a number of reports by Europeans who had come to the "new world" that said Native Americans would drink yaupon tea to the point of vomiting for ceremonial and ritualistic purposes to purify themselves. In order to "fix" Linnaeus' taxonomy error, Aiton bestowed Ilex cassine on dragoon holly and re-named yaupon holly Ilex vomitoria: the holly that makes you vomit.
We'll never know whether or not this famous botanist's decision was vindictive and politically motivated to support the British tea trade or was simply unfair and unfortunate. Either way, it worked in favor of the British East India Company. In spite of the fact that yaupon has no more emetic qualities than black tea or coffee, and Europeans had been happily drinking it vomit-free for at least a century, the new name created fear about potential side effects and gave it an unsavory edge.
As yaupon's popularity declined overseas, it was also fading from use in the United States, replaced by imported Chinese teas and, of course, coffee. By the 1800s, as U.S. government policies and immigration destroyed Native American communities, and indigenous people were being relocated to areas far from the lands where yaupon grew, the traditional relationships with the plant were forcibly severed and fundamental knowledge (like how to roast and brew yaupon) was forgotten. That travesty pushed yaupon to the far reaches of human memory, to be forgotten for more than a century and a half.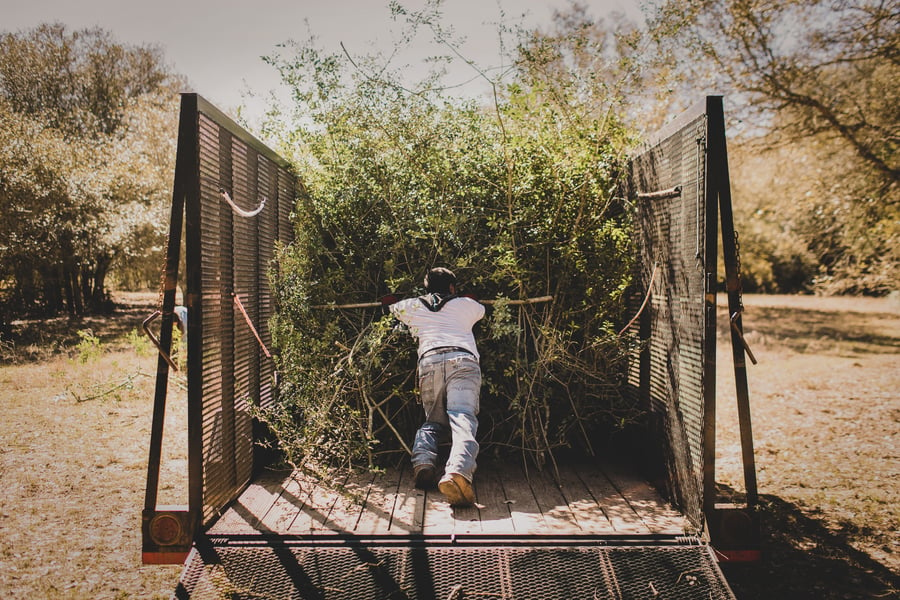 Yaupon: Rising Up Again
Beloved American herbalist Rosemary Gladstar once said she believes plants "step up when they are most needed.… people recognize it and then it spreads like wildfire." Perhaps that is the story of yaupon's reemergence on the tea scene. Yaupon holly didn't disappear; this valuable, precious plant has been right there in front of us, waiting all this time for us to remember. And now, exactly when we need extra focus and resiliency in these challenging times, here is yaupon again. Last year, small-scale farmers and entrepreneurs harvested, roasted, and sold more than 10,000 pounds of yaupon!
The American Yaupon Association (AYA) was founded in 2018 to establish standards, safety systems, and more for this rebounding industry. With a clear understanding of the colonialism and exploitation that was part and parcel of European and American history with this plant and recognizing that these same patterns are woven deeply into the history of coffee and tea production as well, the AYA is particularly focused on promoting sustainability and honoring traditional indigenous relationships with yaupon. They are committed to producing tea without exploitation and in a sustainable way; member companies work with local organizations to promote Native American rights, and to establish rehabilitative employment initiatives to help people learn new trades, and they collaborate with conservation groups to promote biodiversity where yaupon is harvested and to mitigate forest fire danger.
Additionally, through research, funding, and outreach for growers, processors, packers, and distributors, the AYA is working to ensure that the best, most sustainable harvesting and processing practices are standard. Members offer experience with both ethical wildharvesting practices and regenerative organic agricultural models. "We're returning to the true American values of sustainable farming, wild foraging, and good stewardship of the land," said AYA founding board member Abianne Falla.
For Falla, the rediscovery of yaupon came because of a devastating 2011 drought that decimated the land around her hometown of Cat Spring, Texas. "On our family ranch," she said, "we were losing everything from our 100-year-old oak trees to our hay. Except for the yaupon, the yaupon was fine."
Her sister, JennaDee, started to research this resilient plant, trying to understand why it thrived even in the face of a historically severe drought. She found so much more than she had anticipated: a legacy that went back thousands of years.
At the same time, unbeknownst to Abianne and JennaDee, other people were also independently rediscovering yaupon across the Southeast. If we look at this through the lens of Rosemary Gladstar's quote above, yaupon was making itself known again in different places, independently to different people, rising to the occasion, and people were recognizing it and spreading the word about this amazing new-old botanical ally.
It was astounding to discover that the weed-holly that is such a nuisance to foresters can be brewed into a delicious, non-bitter, caffeinated tea to rival some of the best teas on the market today. But the first trick was to figure out how to go about it because the traditional chain of instruction had been broken long ago; there was no one alive who had been taught how to turn the leaves into good tea. So, it came down to what little could be found in colonial diaries and, mostly, trial and error. Abianne Falla roasted her first batch of leaves in her oven and knew she was on to something amazing.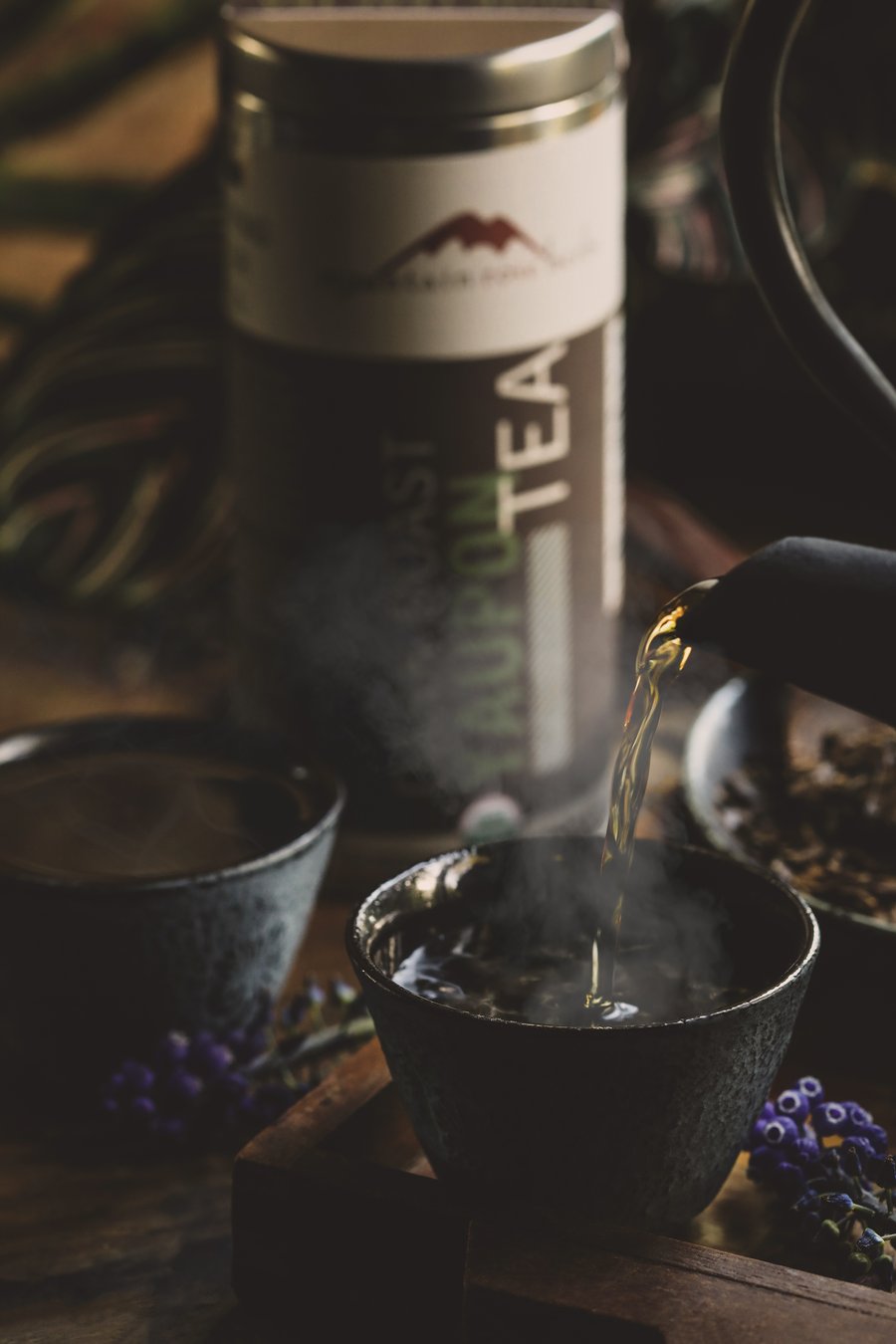 It's a new day…
The AYA now has at least six active members selling yaupon products in a variety of teas, concentrates, and blends. "We didn't invent yaupon," Falla said, "but we hope that we can be stewards to share a beverage and its communal values that have been enjoyed and respected for thousands of years."
I find yaupon tea to be wonderfully earthy with a hint of natural sweetness and an enticing smokiness that reminds me of sipping coffee. I read in one account that the Timucuan people made froth on their brewed yaupon by blowing into it with a hollow reed—which I'm pretty sure makes them the world's first artisan baristas. That image has stayed with me as I've "discovered" yaupon. Someone thousands of years ago settled back with a wonderfully carved whelk shell full of hot, foamy yaupon tea and sighed with contentment, just the same way I settle into my favorite chair with a hot mug and breathe that same contented sigh. I may have used a modern frother rather than a hollow reed but what is old is new again. That, to me, is the heart of yaupon's story.
Interested in another plant with an amazing history?
You may also enjoy: