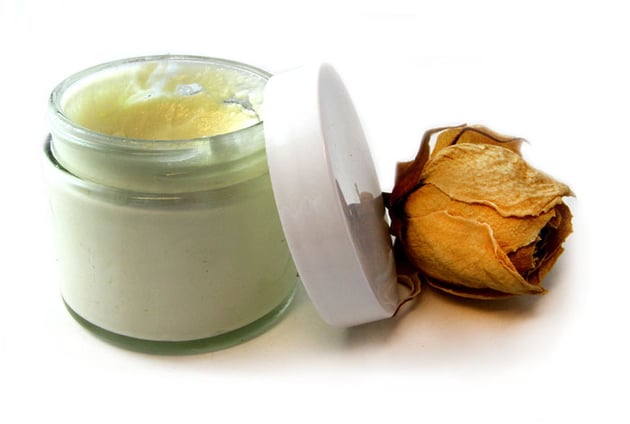 This luxuriously rich and silky face cream recipe is a staff favorite. Our co-owner, Julie Bailey, adapted renowned herbalist Rosemary Gladstar's beloved Perfect Cream recipe to create this DIY face cream that absorbs quickly without leaving a greasy residue behind.
Completely customizable, you can experiment freely with your favorite essential oils, infused oils, and hydrosols. Use this recipe as a base for your own face cream creations. A wonderful gift idea for friends and family, and you'll definitely want to keep some around to treat yourself!
Wildcraft Face Cream Recipe
Ingredients
Directions
Blend carrier oils together in a stainless steel saucepan. Place on very low heat, just enough to thoroughly warm.
In another pan, slowly melt beeswax, just enough to liquefy.
In a separate bowl, blend hydrosol with aloe vera gel.
On low heat, pre-warm a double-boiler or a glass measuring cup set in a heat proof pan filled part way with water.
Have approximately 20 1 oz. (or 10 2 oz.) clean glass jars and lids ready to go.
Pour 1/2 (3¼ oz.) of your warmed oil blend into the top of the pre-warmed double boiler. Add 1/4 oz. of the melted beeswax. The combination of oil and wax should be liquid. If the wax begins to harden, the water under your double-boiler is not hot enough.
In a blender, combine half of the hydrosol/aloe vera gel blend with the vitamin E oil, and if desired, 8-15 total drops of essential oil. With the lid on, blend for a few seconds to mix these first ingredients.
Turn the blender to low. Remove the middle part of the blender lid and very slowly pour the warm oil and wax combination into the center of the "whirling" waters in the blender. It's critical that you pour in a very thin, slow stream. Be patient. The "cream" will look odd until it starts to emulsify and thicken. Listen ... the sound will change as your cream thickens up.
Turn off the blender. Using a spatula, scrape down the inside of the blender and around the blades, thereby thoroughly mixing the cream. Turn on the blender again and "pulse" for a final mixing.
Immediately pour your cream into jars. The spatula is helpful for getting all the cream out of the blender.
Repeat steps 6-10 for your second batch.
Don't forget this important step! Label your jars.
Refrigerate your creams for 2-3 hours before use and keep refrigerated when not in use to prevent spoilage.
Don't Wanna Buy Your Herbal Oils?