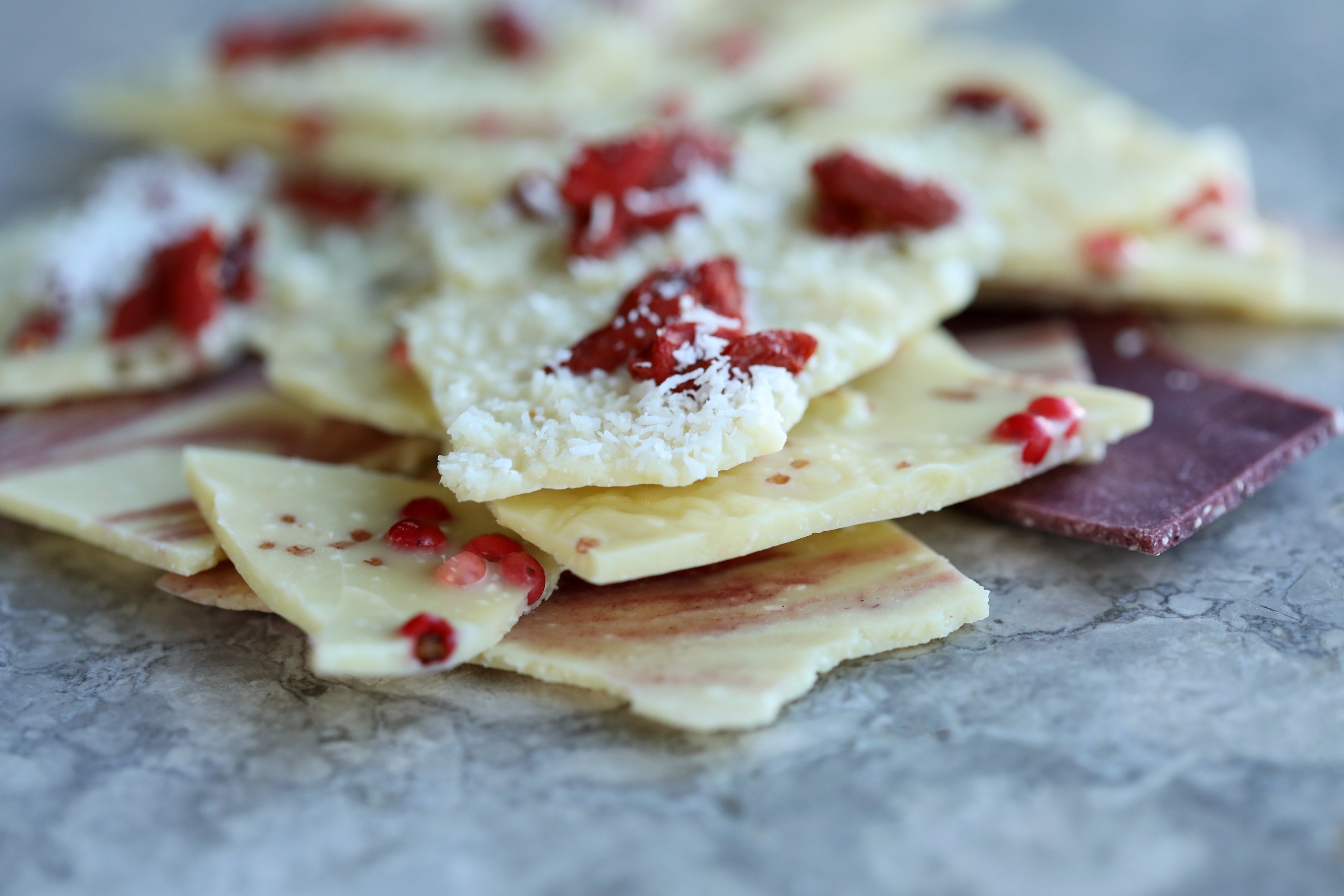 Ever since I laid eyes on the beautiful pink peppercorns we offer here at Mountain Rose Herbs, I knew they would make a perfect garnish for a sweet/savory treat like chocolate bark. Our pink peppercorns have a bright, sweet, and very peppery flavor—the perfect match for one of our gourmet salts. Little did I know that we also had the ingredients to make the homemade white chocolate to go with it! So this winter season, I revisited my my memories of this childhood treat and embarked on a journey to find a few preservative-free herbal variations to share with my friends and family.
What Can You Put in Chocolate Bark?
White chocolate bark makes for a tasty blank canvas for playing with tastes, textures, and colors. You can add dried fruit, nuts, seeds, or even fun foods like pretzels, mini candies, or peanut butter! Of course, crushed peppermint candies and crushed candy canes are classic additions during the winter season. However, there are many other tasty (and preservative-free) natural options you can use to decorate your bark and wow your holiday nibblers.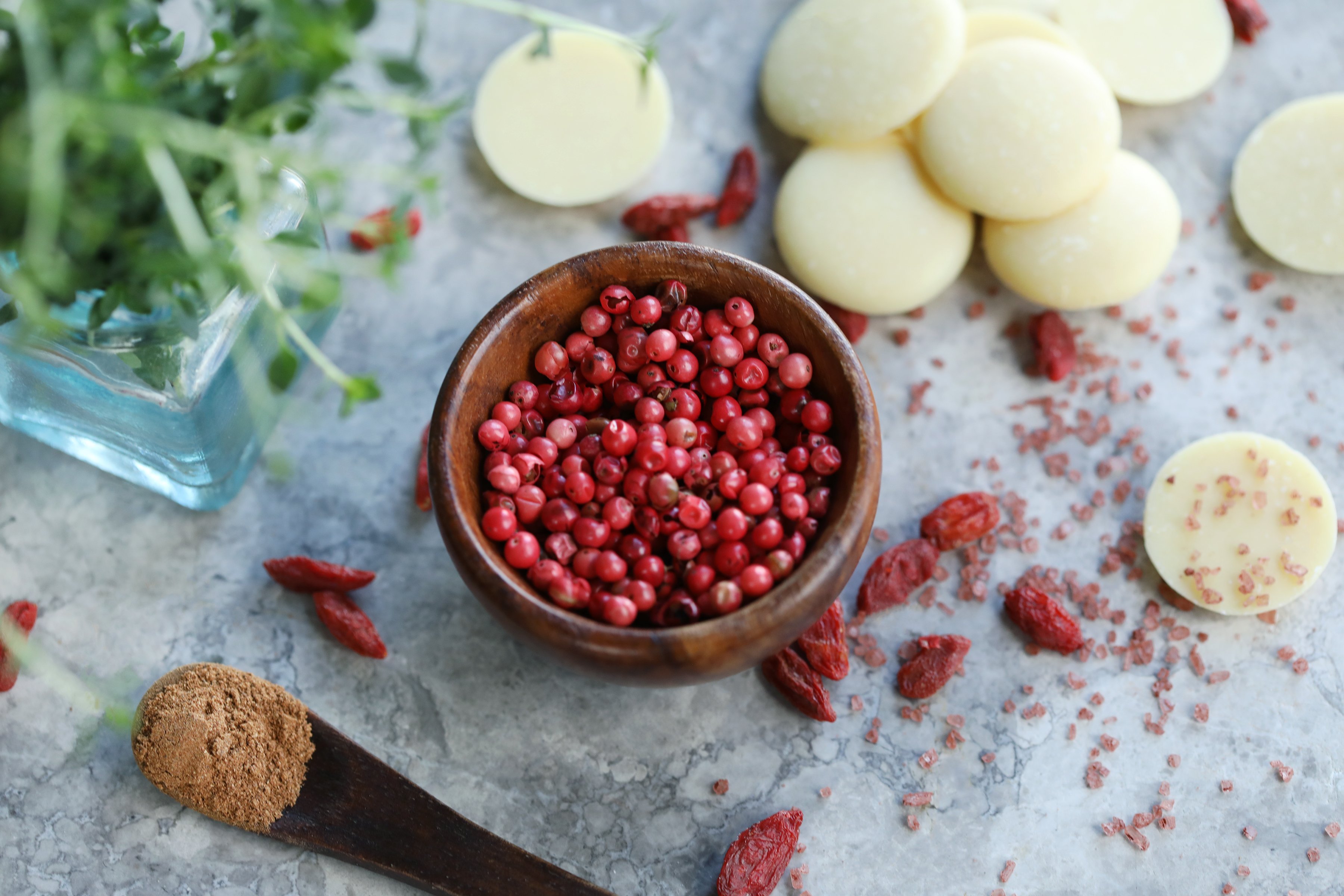 How to Make White Chocolate
White chocolate is easier to make than you might think. The main ingredients are cocoa butter and sugar. Classic white chocolate recipes will use milk powder, but we formulated this vegan version using coconut flour. Another great dairy-free option is soy milk powder. The former adds some texture while the latter keeps the chocolate smooth.
If you're looking to make white chocolate with a natural sweetener, I suggest experimenting with various powdered, natural sweeteners. Note that granulated alternatives like coconut sugar will not melt, and syrups will not mix evenly into the chocolate when it hardens.
DIY Vegan White Chocolate Recipe
Ingredients
4 oz. solid organic roasted cocoa butter wafers (about 55 solid, non-melted wafers)
1/2 - 1 cup powdered sugar (depending on sweetness preference)
Pinch salt
2 Tbsp. coconut flour or 4 tsp. soy milk flour
Directions
Melt cocoa butter wafers in double boiler.
Gently mix in sugar, salt, and pumpkin pie spice
Add in coconut flour or soy milk powder.
Whisk out any lumps and stir until well-combined.
If making chocolate bark, skip to step 3 of the directions below; otherwise, pour melted homemade white chocolate into molds and let cool.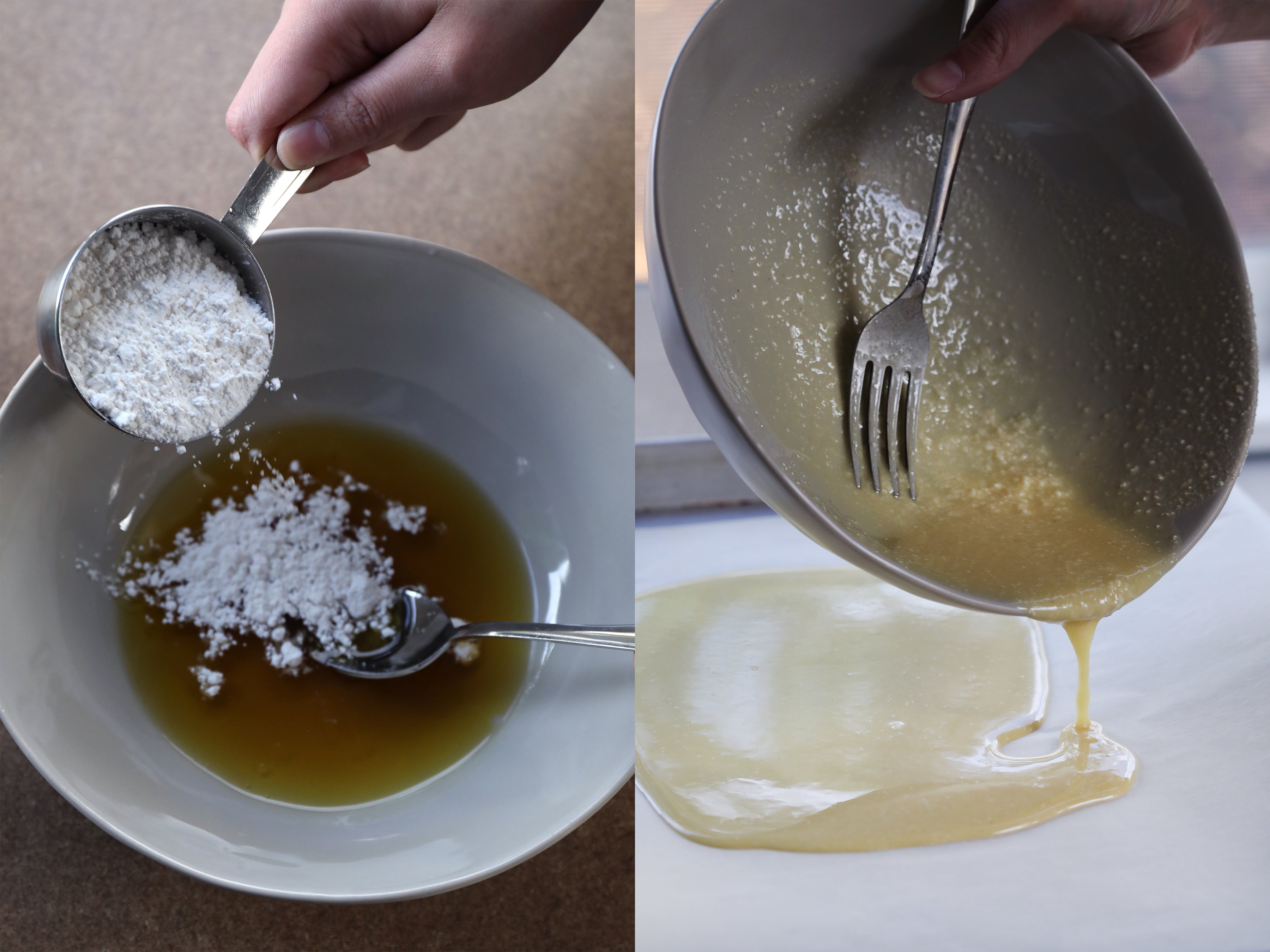 Gourmet Chocolate Bark Recipe
These three delectable and beautiful recipes are our herbal take on traditional white chocolate bark. Further experimentation is encouraged!
Red Salt & Pepper White chocolate Bark
Ingredients
Coco-Goji Bark White Chocolate Bark
Ingredients
Hibiscus Swirl Bark White Chocolate Bark
Ingredients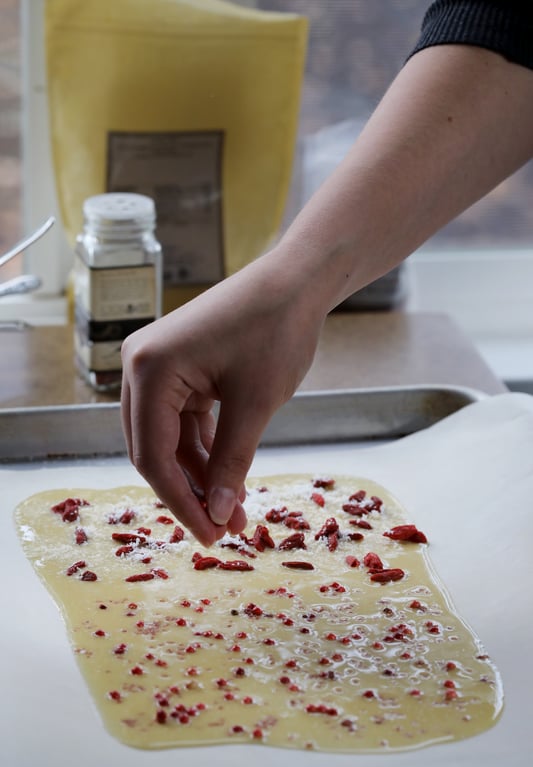 Directions
Melt white chocolate in double boiler, or if you made homemade white chocolate, skip to step 3.
Stir white chocolate to make smooth and get rid of lumps. If making Hibiscus Swirl ark, divide the melted chocolate into two bowls and mix the herbal powder into one of the bowls.
Place parchment paper on cookie sheet.
Pour melted white chocolate onto cookie sheet.
Spread evenly to about 1/4 inch thickness.
Sprinkle toppings. If you're making Hibiscus Swirl Bark, take a fork and swirl the two melted mixtures together.
Refrigerate for 20 minutes.
Cut or break bark into bite-size pieces and serve at room temperature.
Serve with other tasty herbal chocolate treats like ashwagandha chocolate bites or herbal mushroom hot chocolate.
Pro Tips
Thin bark is fun too! If you prefer candies that are not too rich, make your bark 1/8 inch.
Be careful not to mix any water into the melted white chocolate.
If you need the bark to harden quickly, put it in the freezer for a few minutes.
Looking for other vegan Treats on which to drizzle your chocolate?
You may also like: