This sweet, syrupy liquid often comes with a negative connotation, but not all vegetable glycerine is the same. It's true that most vegetable glycerine on the market is a by-product of the soap-making and biodiesel industries, but safe, high quality glycerine does exist. Here at Mountain Rose Herbs, we carry pure organic vegetable glycerine and find it to be a wonderfully versatile ingredient for herbal preparations.
What is Vegetable Glycerine?
Vegetable glycerine (also spelled glycerin) is a clear, syrup-like liquid that has a sweet taste and no odor. It's obtained from vegetable fats found in carrier oils, such as soybean oil or coconut oil. It's also water and alcohol soluble, making it easy to work with. Our vegetable glycerine is USP grade, certified organic, and derived from non-GMO soy.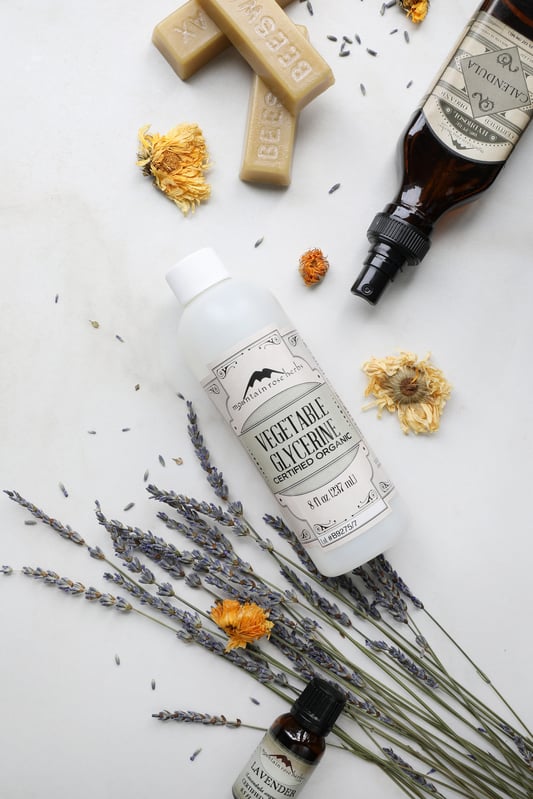 USP-Grade and Hydrolysis Extraction
USP grade is a grade of purity that meets or exceeds the quality standards of the United States Pharmacopeia that are acceptable for food and cosmetic use. USP grade products are often used in laboratories because of their high quality and purity. Our vegetable glycerine is produced through a clean, solvent-free extraction method called hydrolysis, resulting in a product that is 98.5% glycerine and 1.5% water.
Hydrolysis extraction is when a natural breakdown of compounds occurs due to a reaction with water. To produce vegetable glycerine with this method, organic vegetable oil goes through an extraction process with water at high pressure and temperature. This results in layer separation of crude glycerine, water, and oil. The crude glycerine is then vacuum-distilled and filtered to obtain pure, organic vegetable glycerine.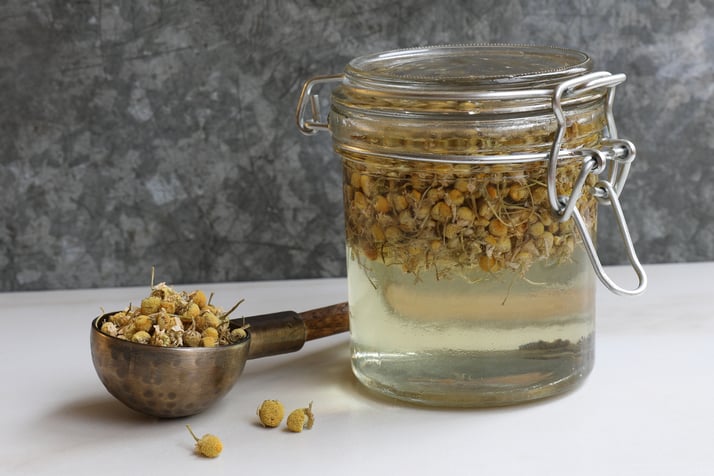 What is Vegetable Glycerine Used For?
Skin Care: Vegetable glycerine acts as an emollient, which means that it helps to soften and moisturize skin, making it useful in a variety of body care recipes. It's often found in toothpaste, hair care products, and shaving cream. Because it's water and alcohol soluble, it mixes well in homemade creams and body sprays. Looking to incorporate its moisturizing benefits into your body care routine? Try this luscious cacao and vanilla body polish.
Herbal Extractions: Used to make alcohol-free extracts known as glycerites, vegetable glycerine offers an alternative to extracts that are commonly made with an alcohol base. While glycerine is not as strong a solvent as alcohol, it still has the ability to extract certain types of naturally occurring constituents. Glycerites are well-suited for people who are sensitive to alcohol or wish not to consume it. Another benefit is that they taste better than most alcohol based extracts since glycerine adds some natural sweetness. You can learn how to make your own herbal glycerites here.
Culinary: Glycerine is able to extract the aromatic volatile compounds found in fresh plants. A sweet and satisfying way to enjoy (and savor) herbs from your garden is to extract them with organic vegetable glycerine. Use fresh flowers and herbs like lavender, lemon balm, or rose to make sweet herbal glycerites to add to baked goods or to flavor your tea. Hint: If you have violet flowers on hand, these will make a beautiful and fragrant purple-colored syrup.
want to start using this awesome herb-friendly product?