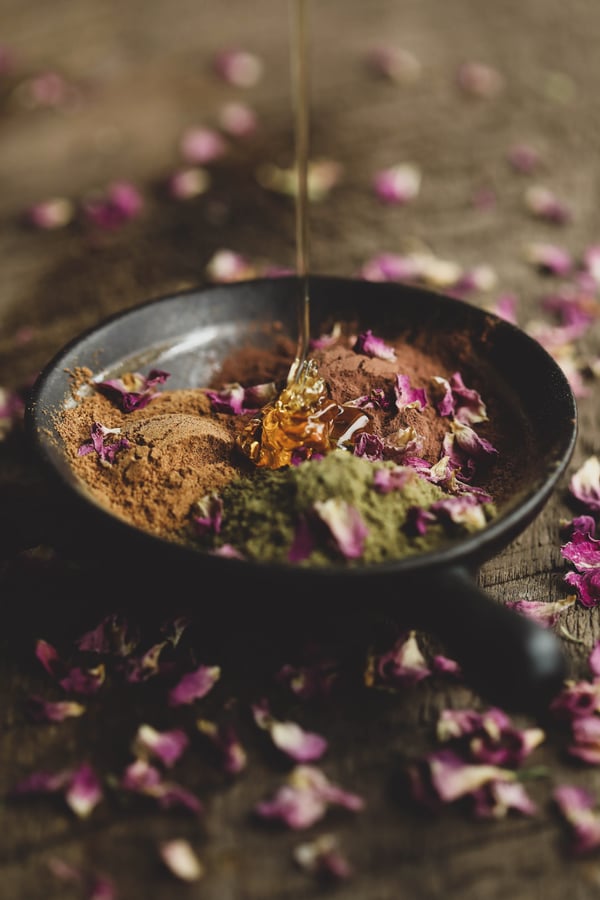 Electuary: just saying it is fun. And after a bit of research, I found out that the word likely comes from the Greek word "ekleikhein", which means "to lick up." Or perhaps that's just one of those constantly regurgitated bits of info that gets passed down from blog to blog. Nonetheless, it's still a fun factoid worth mentioning. I've worked in the herbal industry for a decade now, and over time it's been fun to see what goes in and out of fashion. Just the other day, my herbalist friend Erika Galentin with Sovereignty Herbs posted on social media about her ginseng leaf electuaries (amazing). I've seen a few others post about this ancient herbal tradition over the past few months as well. It occurred to me that after attending countless herbal conferences and taking two herbalism apprenticeships, I've managed to never have made one of the simplest of recipes: the electuary. As I explained to one of our photographers here at Mountain Rose Herbs, "It's basically just powdered herbs mixed with honey."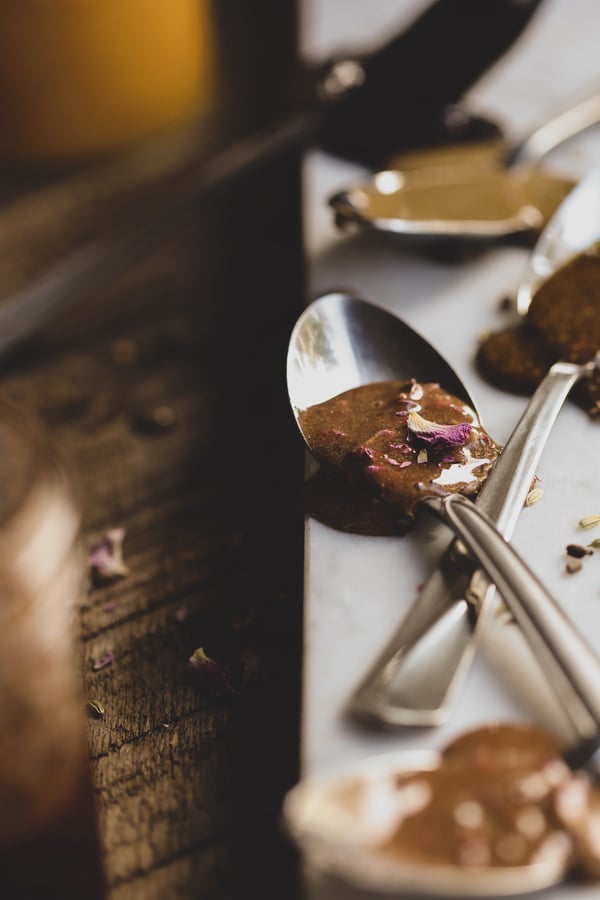 Honey has beneficial properties on its own (buy local if you can!). Combine that with the power of powdered herbs, and you have a potent, shelf stable, and enjoyable way to consume your botanicals, even some of the less palatable ones (see our video of staff trying triphala for the first time). As with any herbal recipe, there are countless ways to prepare an electuary, this is just my take on it. Please feel free to experiment as much as possible and share your results with us. If you're wondering how to take it, a spoonful a couple of times a day would be a good place to start. Also, you can warm up a bit of water and dissolve some of the electuary into it, creating almost an instant herbal tea.
How to Make an Electuary
I decided to measure these ingredients in parts. That way you can decide if you want to make a little or a lot. If it's your first time, I recommend starting with a little!
Ingredients
Powdered organic herb(s) of choice (recipe ideas below)
Organic honey
Directions
Pour herbal powder(s) of choice into a bowl.
Slowly pour honey into the bowl with the herbal powder and stir.
When it becomes a thick paste, you are done.
Store in a clean jar and cap tightly.
Electuaries will keep in the fridge for 6 to 12 months (this is probably a conservative amount of time).
Pro Tips
You can add more honey to the mixture to make a sweeter and thinner product.
Feel free to add herbal tinctures to the mix, too. You'll see I did in a couple of the recipes below. Two to three dropperfuls will probably suffice, but it'll depend on how much electuary you are making.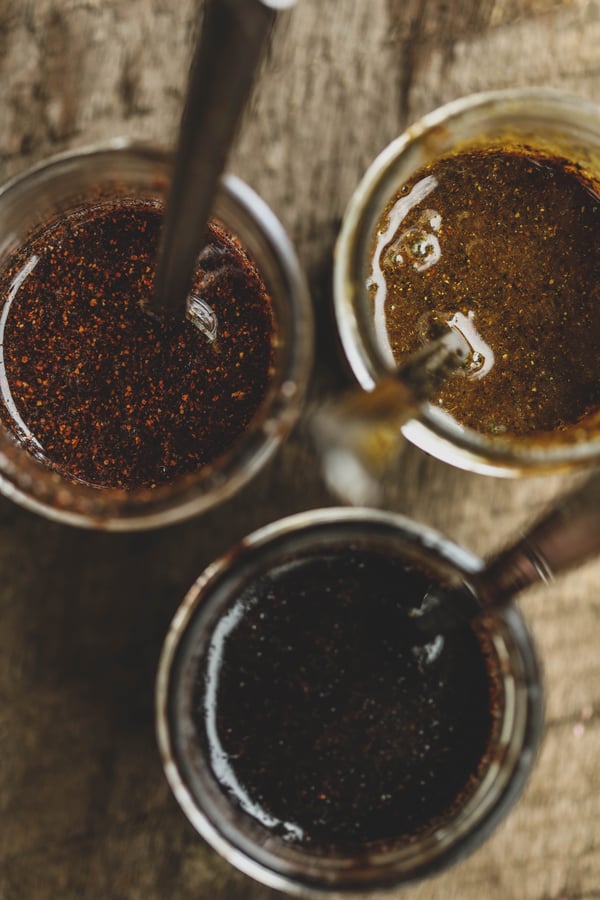 DIY Electuary Recipes

Adaptogenic Herb Blend
Herb Blend for Brain Power
Herb Blend for Lovers
You can also make electuaries with single herbs rather than blends. Here are some of my favorite single herb electuaries to make: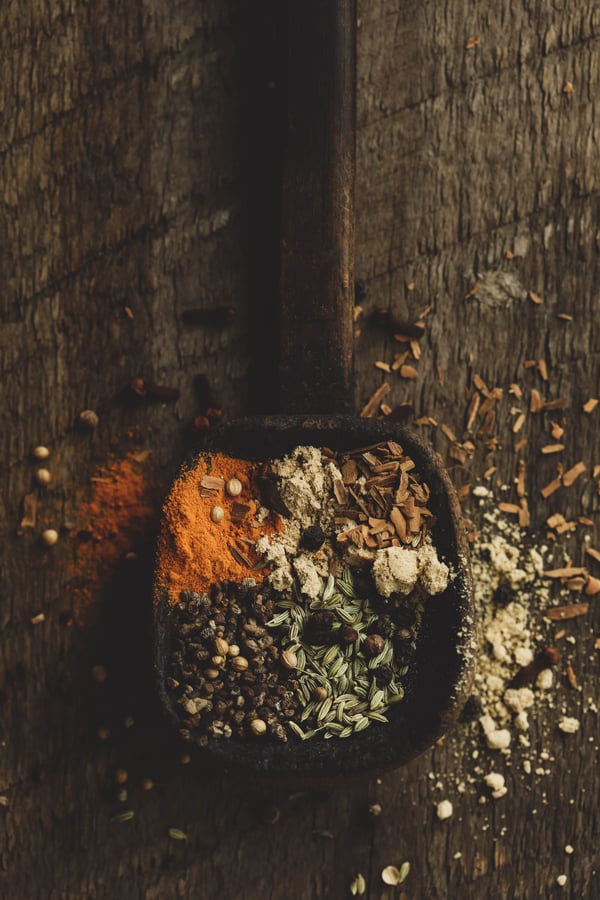 And now here's a popular, warming electuary, reminiscent of chai from herbalist Susan Hess (used with permission). She suggests stirring it into some hot black tea with some cream for an instant chai! For the recipe, she recommends mostly fresh ground and roasted whole herbs. I tried it out and I concur! An added bonus: it makes your house smell wonderful.
Susan Hess's Carminative and Aromatic Electuary
Ingredients
Directions
Preheat oven to 350 °F.
Place whole spices (everything but the turmeric and sea salt) onto a baking sheet and roast in the oven for about 5 minutes or until the spices are fragrant.
Remove and cool.
Grind whole spices together in a mortar and pestle, or an electric coffee grinder if you have one, until finely powdered.
Blend in the turmeric powder and a pinch of sea salt.
Stir in the appropriate amount of honey.
The finished electuary should be rich, dark and a nearly paste-like in consistency.
Store in a clean jar and cap tightly.


Want to discover How Herbs work?
How to Make Herbal Glycerites
Best Herbs for Digestive Function
How to Make Herbal Infusions and Decoctions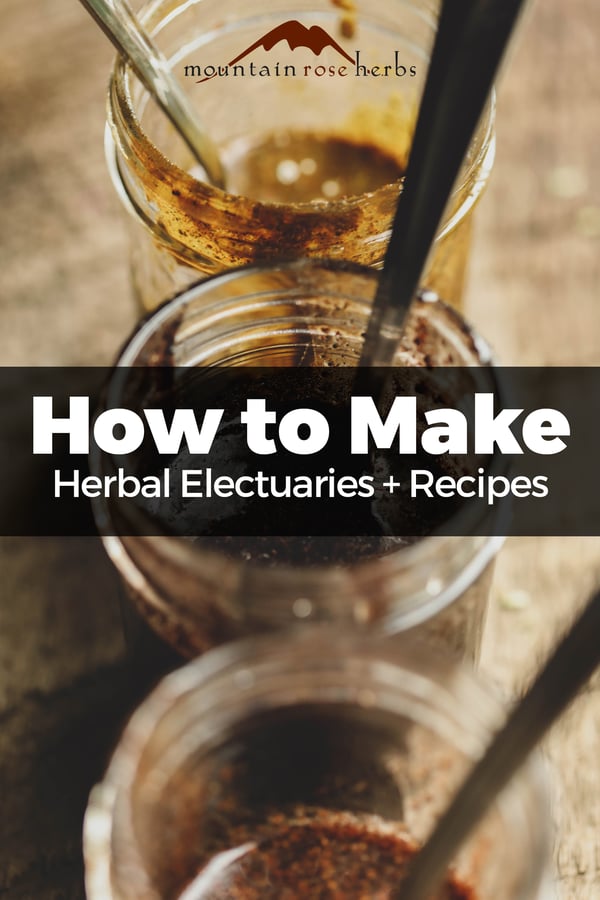 *These statements have not been evaluated by the Food and Drug Administration. These product is not intended to diagnose, treat, cure, or prevent any disease. For educational purposes only