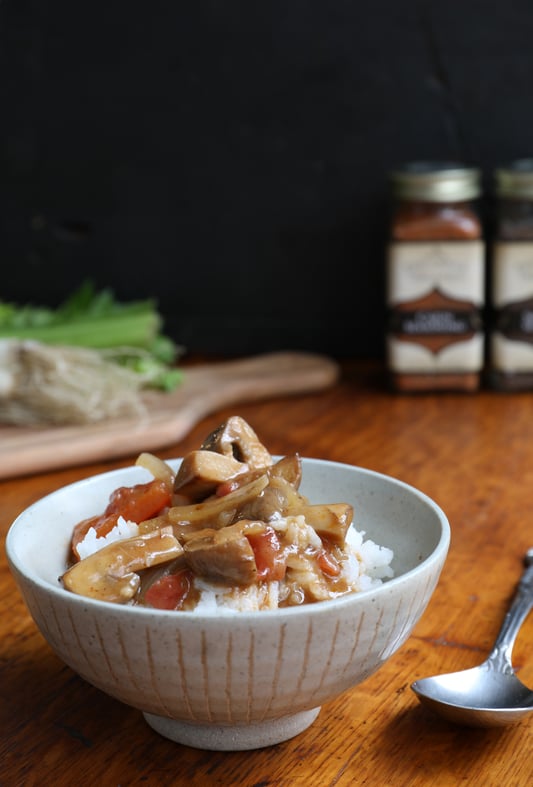 New Orleans is a special place for many reasons. It's a hotbed for music and culture, but clearly one of its shining features is its delicious Cajun and Creole cuisine. New Orleans has countless native dishes, but I'd be hard-pressed to think of one more closely linked with this city or more celebrated than gumbo. I know vegetarian gumbo may sound like an oxymoron, but with the right organic herbs and spices, you won't even miss those traditional proteins. Feel free to call it vegetable stew if that suits you more!
Vegetarian Gumbo Recipe
Roux Ingredients
1 cup organic white flour
1 cup vegetable oil (or coconut oil or butter for an untraditional twist)
Gumbo Ingredients
3 organic bell peppers, diced
2 organic onions, diced
3 ribs organic celery, sliced
Sea salt, to taste
A few cloves of organic garlic, chopped
5 quarts organic vegetable stock (homemade is best!)
1 lb. organic or wild mushrooms or protein of choice
1/2 lb. organic okra (if you can find it, optional)
16 oz. can organic diced tomatoes (optional)
1 tsp. organic thyme
Pinch of smoked sea salt
1 Tbsp. organic garlic powder
1 Tbsp. organic smoked paprika
Organic freshly ground black pepper, to taste
1 Tbsp. organic Cajun seasoning
1/2 oz. of organic marshmallow root (optional)
Vegetarian Worcestershire sauce, to taste (optional)
Your favorite hot sauce, to taste
Organic green onions as a garnish
Sprinkle of filé (powdered organic sassafras leaves, optional but traditional)
1 cup organic white rice, cooked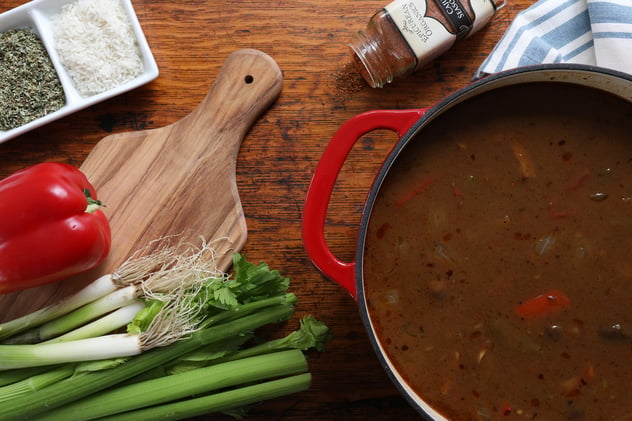 What is Roux?
A roux (pronounced "roo") is equal parts fat and flour. I prefer to use butter as the fat, but you can use coconut oil too. Traditionally, roux is made with vegetable or canola oil, however. Roux is primarily used to thicken sauces and soups. You'll need to make this first before you add everything else on the ingredient list.
Note that it can take up to 30 minutes of whisking to make a nice, dark roux, so why not make it enjoyable? Prepare a nice cup of tea or a cold beverage to enjoy while stirring. Listen to what Chef Isaac Toups says… "If this is your first roux, don't walk away. If this is your second roux, don't walk away!"
First You Make a Roux:
Over medium heat, melt oil (or fat of choice) in a stock pot.
Slowly whisk in flour. Whisk without stopping for 20-30 minutes to prevent burning.
Once the roux is a dark brown (like caramel), it's good to go!
How to Make Vegetarian Gumbo:
Add chopped bell peppers, celery, and onion (they call this the "Holy Trinity" in Cajun and Creole cooking) to the hot roux.
Add a pinch of sea salt to sweat the veggies a bit. Cook until onions start to turn translucent, then add chopped garlic.
Slowly pour in the vegetable stock and stir to prevent lumps. In a separate pan, sauté mushrooms for a few minutes to develop some color then add to gumbo.
Add okra, tomatoes, bay leaves, thyme, smoked sea salt, garlic powder, smoked paprika, black pepper, cajun seasoning, vegetarian Worcestershire sauce, and hot sauce to gumbo.
Hint: If you can't find okra, try a marshmallow infusion! Marshmallow and okra are both in the Malvaceae plant family and can both be used to thicken the soup. Strange I know, but it works! Learn how to make an herbal infusion.
Turn heat to about medium high until the mixture starts to boil.
Then, reduce heat to keep your gumbo at a low simmer.
Cover pot and let cook for a couple of hours. Stir every so often.
Serve with green onions, sprinkle with

filé

(organic

sassafras leaf, powdered), and atop cooked rice.
Laissez les bons temps rouler!


Looking for another classic New Orleans Recipe?