I probably say this about food far too often, but tom kha is easily one of my favorite dishes. It has the perfect balance of sweet, salty, and sour. The backbone of this flavor comes from the Thai food holy trinity: galangal root, lemongrass, and Thai lime leaves. Back in my early twenties, all I knew of Thai food was arguably the cuisine's most famous dish, Pad Thai. When my friend suggested I branch out and try this incredible soup instead, I was skeptical, but took the advice anyway. I am so glad I did! Now it's in regular rotation in my household meal plan, and my daughter gets to benefit from that fateful day I decided to expand my palate.
This dish gets its most distinct flavor from the infusion of the herbs, so I don't recommend substituting those. The fresh galangal root, Thai makrut lime leaves, and lemongrass are essential in order to get that authentic tom kha flavor. That said, there are plenty of other ways to freestyle. I think that there are reasonably acceptable substitutions that can be used in order to make this recipe vegan (e.g., tamari or coconut aminos combined with seaweed as a vegan alternative to fish sauce). I'm certain there will be outcry from purists, but what fun is home cooking if you're not allowed to make a dish your own? Just don't leave out the galangal, lemongrass, or lime leaves…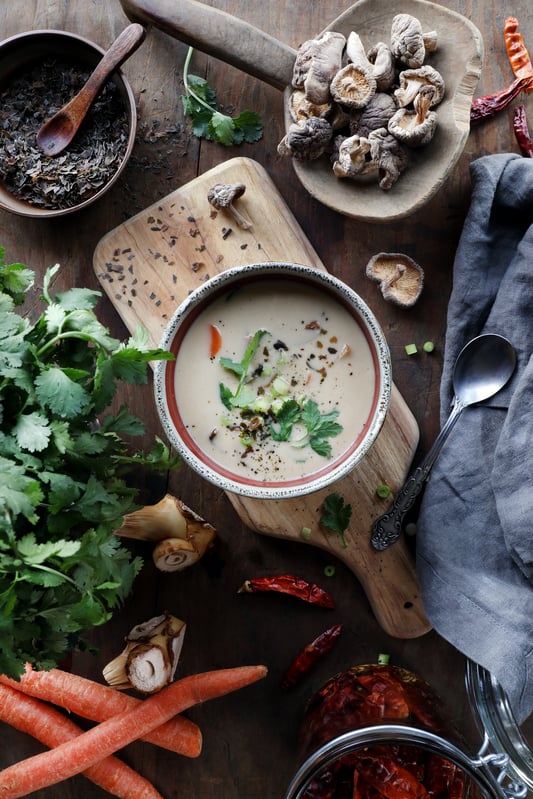 Vegan Tom Kha Thai Soup Recipe
Ingredients
10 – 15 slices fresh organic galangal root (aim for about 1/8 inch in thickness)
1 stalk fresh organic lemongrass
2 cups organic vegetable broth
2 oz. dried organic shiitake mushrooms
5 cups organic full-fat coconut milk

2 dried organic bird's eye chilis
5 – 6 fresh Thai makrut lime leaves
2 cups organic broccoli florets
2 stalk diced organic celery
2 diced organic carrots
1 Tbsp. organic unrefined coconut oil
2 Tbsp. organic tamari (or coconut aminos for a soy-free version)
1 tsp. sugar (optional)
3 Tbsp. freshly squeezed organic lime juice
Sea salt, to taste (keep in mind the salt you're already getting from the tamari)
Freshly ground organic black pepper, to taste
Organic green onions (garnish)
Organic cilantro (garnish)
1 tsp. organic kombu flakes
Directions
Cut 10 to 15 thin, round slices of the galangal root. Set aside.
Peel lemongrass and cut off woody ends.
Use back of chef knife to lightly smash lemongrass, up and down the stalk and on all sides.
Cut lemongrass into 1 to 2-inch pieces and set aside.
Bring vegetable broth to a simmer.
Add shiitake mushrooms to broth.
Stir in coconut milk. Bring back to a simmer.
Add sliced galangal, lemongrass, and bird's eye chilis.
Tear up lime leaves and add to broth.
While the broth is developing, sauté the broccoli, celery, and carrots in some coconut oil in another pan for a few minutes to develop some color and taste.
Toss those vegetables in with the rest of the soup.
Stir in tamari and sugar.
Cook on a low simmer for 30 to 45 minutes. Taste occasionally to make sure the flavors are developing to your liking.
Turn off heat and add freshly squeezed lime juice.
Add sea salt and freshly ground black pepper to taste.
Garnish with green onions, cilantro, and kombu flakes.
Serve as is or with the starch of your choice. White rice is a popular option.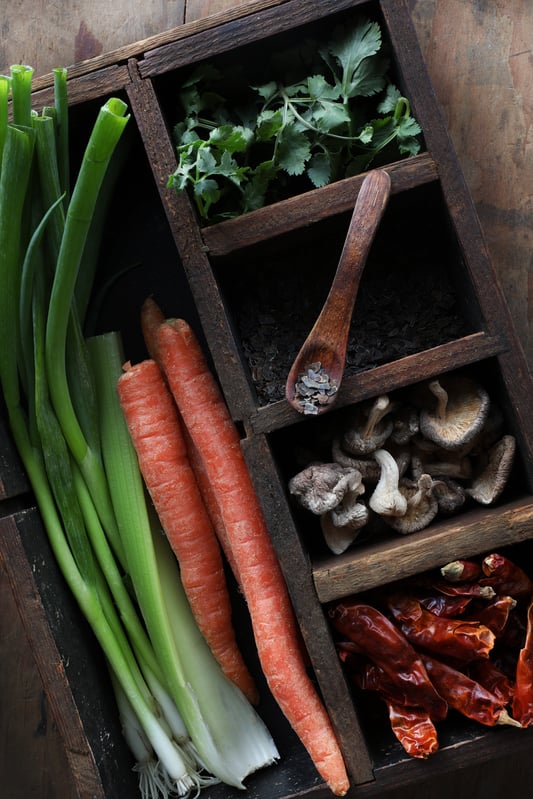 Want More Spoonable Asian-Inspired Goodness?
You might also enjoy: