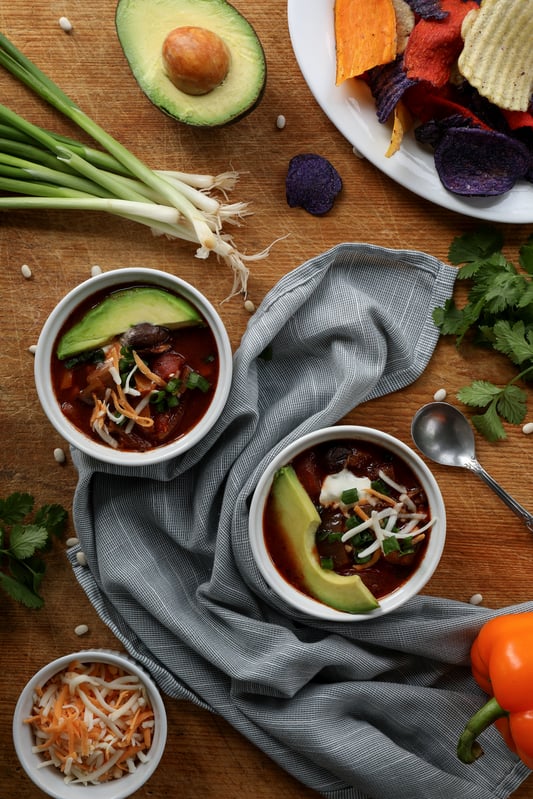 When the work day is done, many of us begin thinking about what to cook for ourselves and our families. On days that I'm hungry as soon as I walk through the door, I am always grateful when my meal is ready for me. It prevents me from eating things I otherwise wouldn't or shouldn't. With my busy lifestyle and Italian appetite, I've developed a real appreciation for slow cookers!
One meal that I find particularly hearty and warming is a vegetarian chili with yummy shiitake mushrooms. The spices help to perk me up and prepare me for the next round of homesteading chores. It's also a forgiving recipe, so you can add additional herbs and spices that you may be trying to work into your diet.
Not only will this dish please your taste buds and your belly, but it's also a one pot meal, making clean up a breeze. The last thing I need after dinner is a sink full of dishes or more things to do! And if that's not enough to make this a winning dinner idea, it's made with ingredients that you can get in bulk, so it's incredibly sustainable, too!
I've created this recipe at a mild-medium spice level, but you can add additional pepper powders if you like a little more spice in your life. If you're not sure what pepper powder to choose, you may find this easy Guide to Pepper Powders helpful.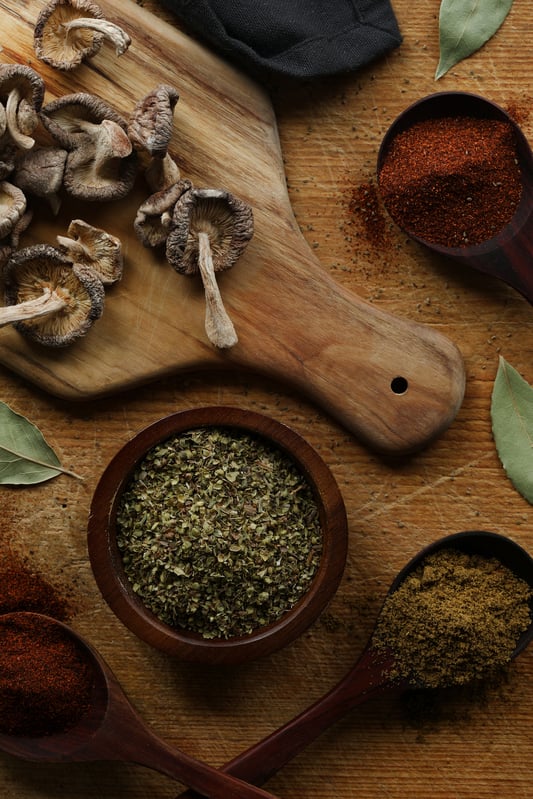 Slow Cooked Veggie Chili with Shiitake Mushrooms
Makes about 10 servings (because who doesn't love leftovers?)

Ingredients
Optional toppings
Organic diced tomato
Organic fresh cilantro
Organic fresh chives
Organic crunchy lettuce
Organic avocado slices
Organic vegan shredded cheese
Organic vegan sour cream


Directions
Measure out dried beans and inspect to ensure there are no tiny rocks or debris.
Rinse in colander and continue to inspect beans.
Soak beans overnight if possible. If you forget, you can still make this recipe but it will take closer to 10 hours to cook.
Add to crock pot with water.
Measure out dried, whole shiitakes and break apart with hands into crock pot.
Juice tomatoes and dice carrots, onion, and bell peppers. Add to crock pot.
Add olive oil, apple cider vinegar, salt, and spices and stir well.
Place lid securely on crock pot and cook on low for about 8 hours. Keep in mind that each crock pot cooks differently, so this time may vary a bit. To determine if it's done, try the beans to ensure they are fully cooked.
Serve in bowls with a lime wedge and toppings of choice.


Pro Tips
If you are new to slow cookers, it is important that you get accustomed to your model before leaving it unattended. Each one is a bit different, so you really want to know the capabilities of your specific unit.
Always follow manufacture instructions for your slow cooker.
If you've made the chili too spicy, you can fix it! I like to serve over rice and/or with organic vegan sour cream to tone it down. Plus, it adds extra textures and flavors!
If you like your chili a little more thick, you can add 1-2 cans of tomato paste.
Want to Learn More About the Fascinating World of Pepper Powders?
You May Also Like
3 Recipes with Smokey Lapsang Souchong Tea
3 Easy Shiitake Mushroom Recipes
Sweet and Spicy Honey Chipotle Caramel Corn