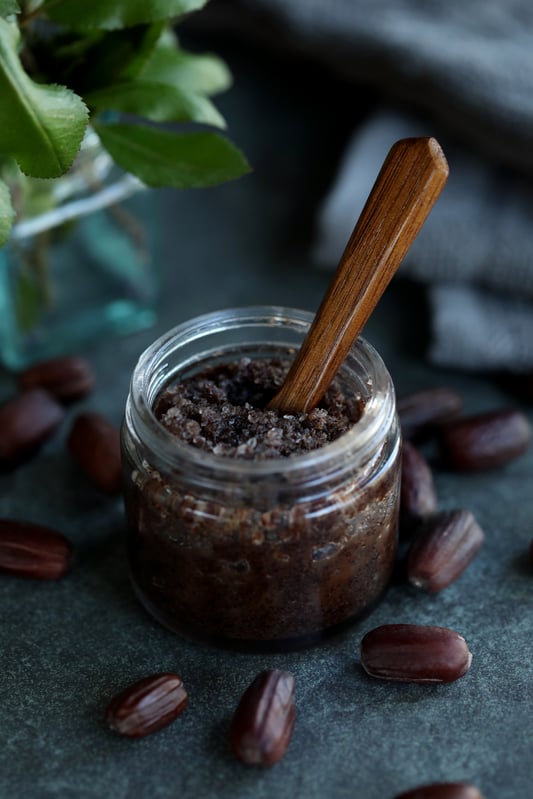 A fantastic scrub butter like Neroli or Awapuhi leaves the skin feeling moisturized, exfoliated, and loved—these body scrubs are a wonderful way to practice self care! However, for some people (like me), salt- and sugar-based body scrubs aren't as ideal. No matter how gentle I am, the intensity of salts and sugars rubbed into my skin always leaves me feeling like I lost some epidermis that I actually wanted to keep. This has become truer as I've aged. Exfoliation is important for happy skin, but I want a gentler touch these days… which explains my recent quest to perfect a DIY "microderm" body scrub that does a good job, but dials back some of the scrubbing fierceness of sugars and salts.
Going into this project I knew I wanted to include both organic raw honey and sweet almond oil. Honey may very well be the oldest skincare ingredient known to humans, and for good reason. Its properties make it particularly nurturing to our sensitive skin. Sweet almond oil is an ideal base for scrubs and facial masks because its monounsaturated fatty acids give it a thicker texture that deeply moisturizes and is a great exfoliant for the skin.
I also wanted to incorporate jojoba. Structurally, jojoba oil is very similar to human sebum, and offers absorption properties that support the epidermis's natural processes. This is why it's such a hugely popular ingredient in so many over-the-counter and DIY skin and hair care applications. Happily, jojoba meal creates exactly the gritty sensation I was looking for in an exfoliating body scrub, and can be substituted for some of the salt or sugar! The meal is created from finely grinding jojoba seeds after they've been pressed for their oil. Mountain Rose Herbs' jojoba meal typically ranges between a 30-60 mesh size, and when it's added to liquids like sweet almond oil, some of the finer seed particles absorb the liquid and become softer. Combined with a fine sea salt, rather than the more typical coarse salts, jojoba meal is perfect for the scrub I had in mind.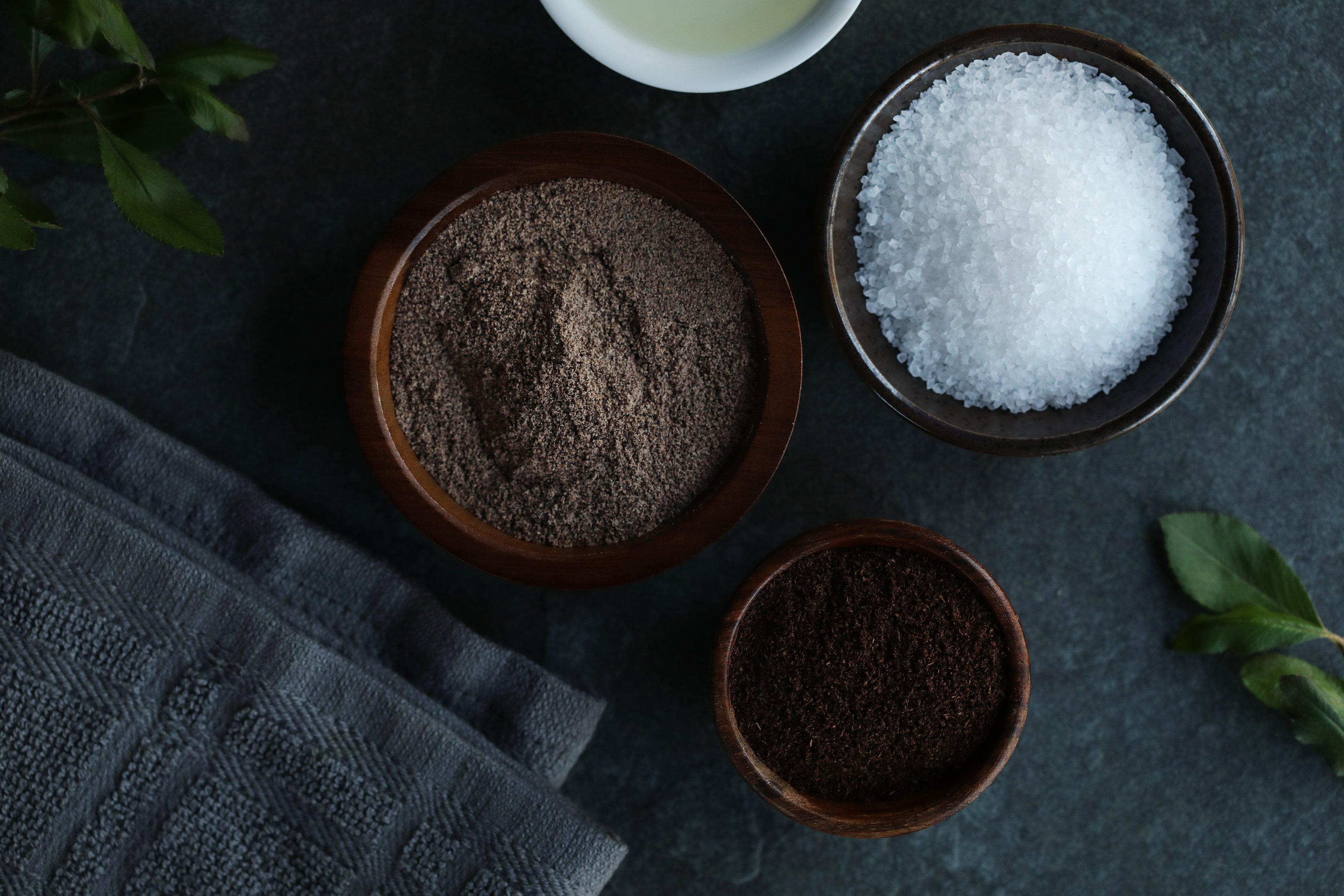 The resulting body scrub is ridiculously easy to make and is wonderfully exfoliating, without being too aggressive. With the addition of a little organic vanilla bean powder and a drop of organic peppermint essential oil, it also offers your nose and skin the homey comfort of vanilla and the refreshing tingle of mint. However, if that scent combination isn't your particular happy place, feel free to create your own aromatic blend. You can also go entirely scent-free with this scrub.
Because the jojoba meal and fine sea salt absorb the almond oil and soften, it is most effective if you make this scrub shortly before you want to use it. The longer it sits, the softer the jojoba meal and fine salt will be. When you have the ingredients on hand, it only takes a few minutes to stir up a batch. Your skin will thank you!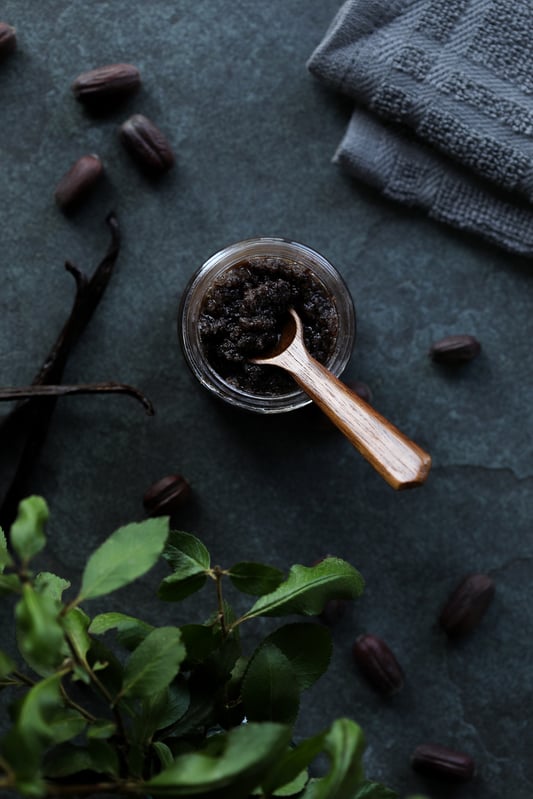 Exfoliating Vanilla-Honey-Jojoba Body Scrub
Makes enough for one full-body scrub
Ingredients
Directions
In a small bowl, mix together honey, sweet almond oil, fine sea salt, jojoba meal, and vanilla bean powder until well blended.
Add peppermint essential oil and mix well.
Take out a bit of the resulting paste and rub between your hands to check consistency. It may seem oily in the bowl, but you'll find it absorbs nicely when rubbed into the skin. If still too oily, stir in more jojoba meal or fine sea salt.
To use, gently massage a palmful of scrub into wet skin. Rinse after 2-5 minutes.
Pro Tips
If you add too much jojoba meal, the scrub will ball up on your palms like cookie dough instead of spreading evenly with motion. If you are adding more meal, add 1/4 teaspoon at a time (just until you reach a grainy paste consistency that easily spreads across the skin).
If you'd like more vanilla scent, you can leave out the peppermint entirely, or split a vanilla bean and scrape some of the pulp into the scrub with the vanilla bean powder. Alternatively, you can add a bit of vanilla extract with the peppermint oil.
WANT TO Try more fun skin care projects at home?
You may also enjoy:
6 Ways to Use Jojoba Oil for Skin and Hair
DIY Herbal Salt Scrub for Merry & Bright Skin