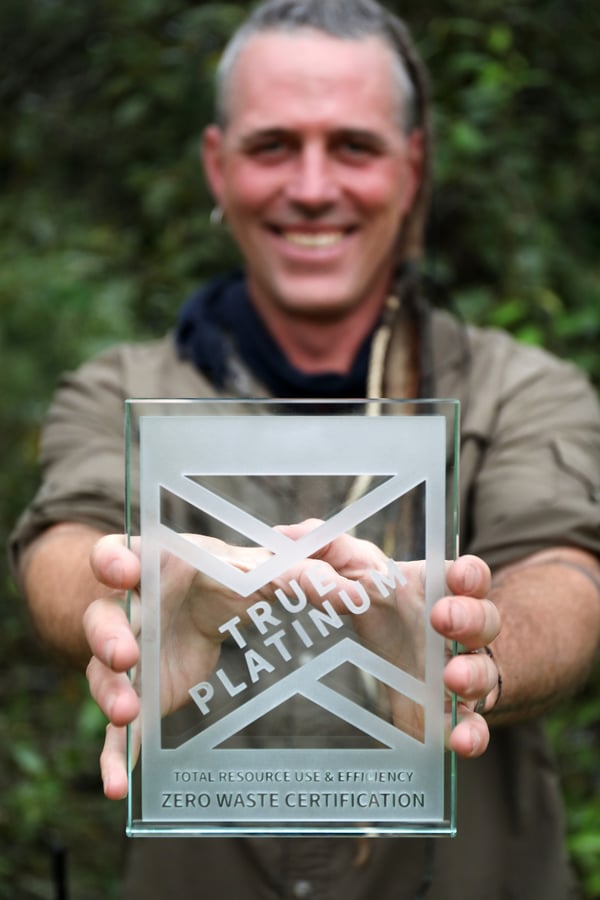 In 2015, Mountain Rose Herbs became the first company in Oregon to receive a TRUE Zero Waste Facility Certification. The TRUE program is part of Green Business Certification Inc. (GBCI), the premier organization independently recognizing excellence in global green business industry performance and practices. TRUE is a whole systems approach aimed at changing how materials flow through society and encourages the redesign of resource life cycles so that all products are reused.
Bringing those goals to a facility like Mountain Rose Herbs means that GBCI assessors consider the entire lifecycle of all the products used within the facility, with the concrete goal of diverting any solid waste from landfills and incineration. Companies achieve certification by meeting seven minimum program requirements and attaining at least 31 points in a variety of areas. We are certified at the "Platinum" level. To be certified in this topmost tier, a facility must divert at least 90% of materials through reduction of resources, upcycling, recycling, composting, etc., and submit waste diversion data to GBCI annually. Currently, we are diverting approximately 96% of all waste. Or to put it differently, in 2007, we were sending approximately one dumpster a week to the landfill; now, even though the company is considerably larger than it was thirteen years ago, we empty one dumpster a month, thanks to our zero waste initiatives.
We don't commit ourselves to positive initiatives in order to win awards, but the awards we've won over the years are testament to the endurance of our commitments. These awards are assurances to our customers, employees, and farm partners that we are committed to "triple bottom line sustainability", supporting people and planet with profits. Our annual Platinum TRUE Zero Waste Facility Certification sits in a place of pride next to the other third-party certifications that recognize Mountain Rose Herbs as a leader in socially and environmentally responsible business practices. We are USDA Organic certified, Oregon Tilth Certified Organic, Non-GMO Project Verified, and both Fair for Life and Salmon-Safe certified. We are also the proud recipients of the Oregon Ethics in Business Award, the Oregon Organic Coalition of Excellence award, a Beyond Toxics Visionary Leader Award, and have been selected as one of the Best Green Companies to Work for in Oregon, to name a few. You can learn more about our certifications on our website.
Today, we're excited to share with you what we do to earn and maintain these certifications.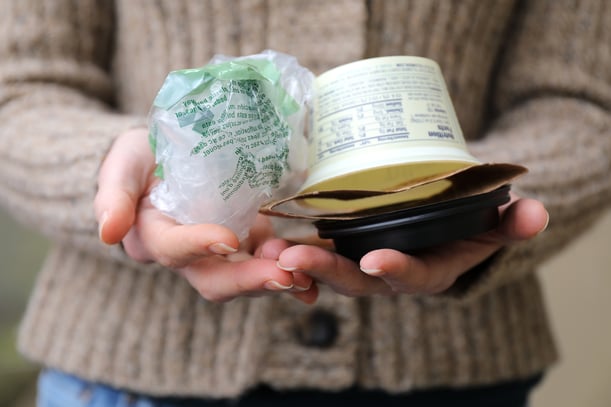 A WHOLE SYSTEM APPROACH
To maintain Zero Waste Platinum certification, "Companies must go beyond diversion, and work upstream with vendors, closed-loop policies, and total participation of employees to meet very stringent standards," says Stephanie Barger, director of market development at GBCI. In other words, TRUE Zero Waste Facility Certification is a whole systems approach and creating zero waste products starts at the very beginning with purchasing and procurement. Our staff in these departments address "upstream" waste by working with our vendors to reduce unnecessary packaging and other product waste at the source before they are delivered to Mountain Rose Herbs.
Once materials arrive at our properties, our Facilities staff is responsible for diverting any packaging, plant, or food waste. Their priority is to upcycle all reusable materials—they are so committed to this goal, they hand-sort everything if necessary. The Facilities team also works with a local company to compost leftover plant and food waste in cooperation with the City of Eugene's Love Food Not Waste program. Waste haulers collect food waste from grocery stores, restaurants, and commercial food handling facilities, and the usable food waste is recycled into quality compost material, which is then offered back to the Eugene/Springfield community for gardens and yards.
When our facilities staff has separated all reusable and compostable materials, they then recycle as much as possible. Happily, our city has excellent resources that help us upcycle and recycle more effectively. Some of our favorite participating local businesses and nonprofits include:
For us, this is just the beginning. Our commitment to the plants we love and the planet we call home requires that we never rest on our laurels; we must continually strive for new levels of excellence.
Interested in learning more about our sustainability efforts?
You may also be interested in: