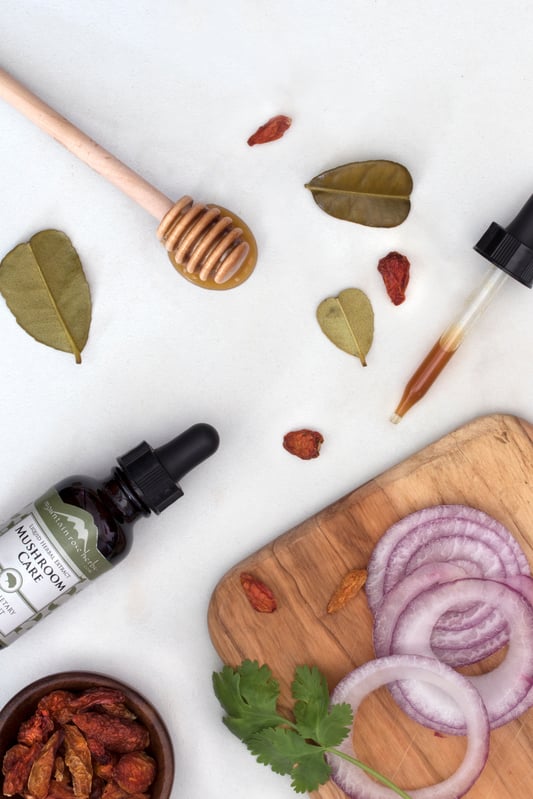 Who doesn't love a hot bowl of Tom Kha? I'm yet to encounter such a person. I first discovered this tasty Thai soup back in college at a local Eugene, Oregon joint. The trifecta of fresh and traditional herbs completely blew my mind. Lemongrass, Thai makrut lime leaves, and galangal root (where the "kha" in "tom kha" comes from) give this soup its incredible and unmistakable flavor.
Since becoming infatuated with this dish, I decided to attempt cooking it. I became reasonably skilled at making it, if I do say so myself. Now, every year for our Mountain Rose Herbs winter solstice employee party, it is requested that I make it (and I usually oblige). To be honest, it's not that difficult to make. The excellent flavors come from the botanicals used more than from the cook.
One of the things I love about cooking and herbalism is the ability to freestyle and create new concoctions. One such herbal recipe that's a staple in my home apothecary and gives me lots of freedom to experiment is … fire cider.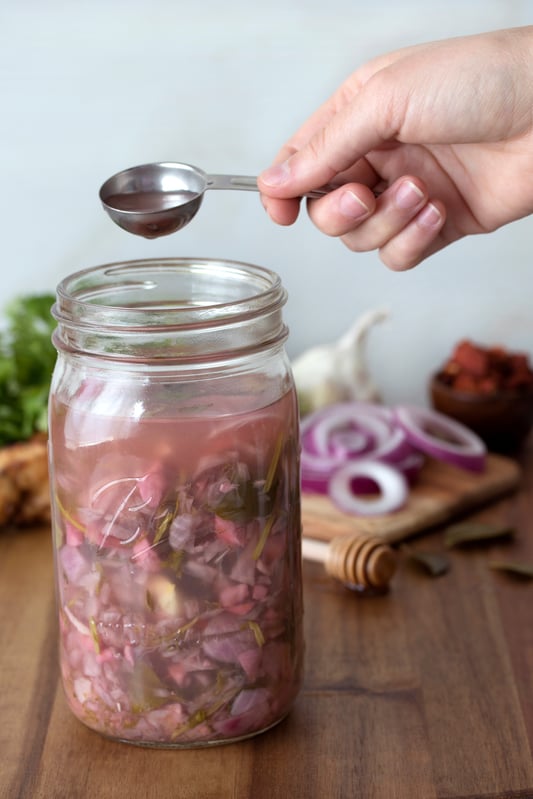 About Fire Cider
Fire cider, a vinegar-based tonic, has been gaining in popularity these past few years, perhaps partially due to the whole trademarking fiasco. This tasty combination of vinegar infused with herbs is an especially pleasant and easy way to boost natural health processes, stimulate digestion, and gets me warmed up on cold days. One day I thought, "I love fire cider, and I love tom kha. Why not make a tom kha fire cider?". It seemed to me to be a brilliantly delectable idea, so I decided to approximate what I thought would be an adequate recipe for combining the two. The only traditional Thai ingredient I decided to omit, perhaps obviously, was the coconut milk.
What resulted was exactly what I was hoping for: a fire cider that had all of the bold yet delicate flavors from the soup with all the complementary subtleties and healthful ingredients from the more traditional remedy. Here's how I did it, and you can too!
Tom Kha Fire Cider Recipe
Ingredients
3/4 medium organic red onion, diced
10 cloves organic garlic, crushed
1/2 cup fresh, organic galangal root, chopped
5 organic, whole bird's eye chili
13 fresh Thai makrut lime leaves, crushed and ripped
1/2 stalk fresh, organic lemongrass, bruised and diced
1/4 cup fresh, organic cilantro, chopped
Juice and zest of 1 organic lime
Organic apple cider vinegar
1/4 cup honey, or to taste
1/4 cup of tamari
Directions
Prepare the first eight ingredients, and place them in a clean, quart-sized glass jar.
Use a piece of natural parchment paper under the lid to keep the vinegar from touching the metal, or a plastic lid if you have one. Shake well.
Store in a dark, cool place for a month and remember to shake daily.
After one month, use cheesecloth (or a sprout screen) to strain out the pulp, pouring the vinegar into a clean jar. Be sure to squeeze as much of the liquidy goodness as you can from the pulp while straining.
Next comes the honey. Add and stir until incorporated.
Taste your cider, and add more honey until you reach the desired sweetness.
Add the tamari and mushroom care extract.
Pour a shot glass full. Cheers to vitality!
Looking for More Fire Cider Inspiration?