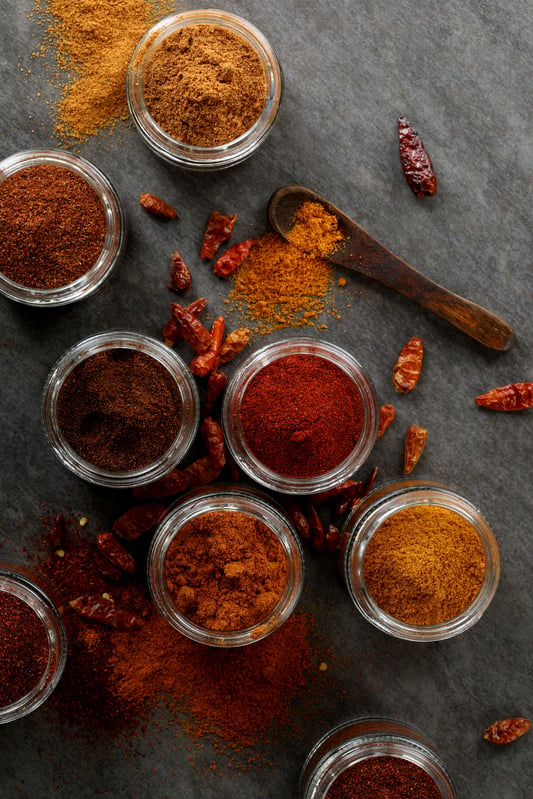 I didn't grow up eating spicy foods. As embarrassing as this is to admit now, the thought of eating food that was spicy was actually scary to me. I felt like I never knew what I was getting into and as far as I was concerned, eating something too spicy was crossing the line of no return and would ruin my whole meal. That is, until I learned how to properly cook with them!
I still don't love exceptionally hot food, but I do appreciate a little kick, and it turns out that peppers add more to a dish than just heat! Each pepper powder has its own flavor profile—some are fruity, while others are earthy. Some are smoky and some are sharper. It wasn't until I began working at Mountain Rose Herbs that I learned there was a whole new world of spicy possibilities! Seeing all of the different varieties we carried from our farm partners around the world, I wanted to learn more about this topic that was as mystically foreign to me as fire breathing dragons.
How To Tell How Spicy a Pepper Powder Is
I suppose we should first consider what we mean when we say something is spicy. The term spicy means that something has the fragrance and flavor of spices, not only the "hot" kinds of spice we are trying to describe. What we really mean when we refer to something as spicy is that it is pungent.
The pungency of peppers found in the chili family is measured on a scale called Scoville Heat Units, or SHU. You will commonly see this shortened to HU, or heat units. These heat units are referring to the concentration of capsaicin, which is the constituent that makes peppers pungent.
How Do You Know How Much Heat You Can Tolerate?
Since everyone's palate is entirely different, there is no exact science to what is preferred. Rather than define what may be a comfortable level of spice, let us look at an overview of what most people report.
Very highly pungent (70,000+ SHU)
Highly pungent (25,000-70,000 SHU)
Moderately pungent (3,000-25,000 SHU)
Mildly pungent (700 to 3,000 SHU)
Not pungent (0-700 SHU)
How To Find Pepper Powders In Your Comfort Zone
Now that you know what the SHU ranges look like, here is where some of the commonly used pepper powders fall on that spectrum.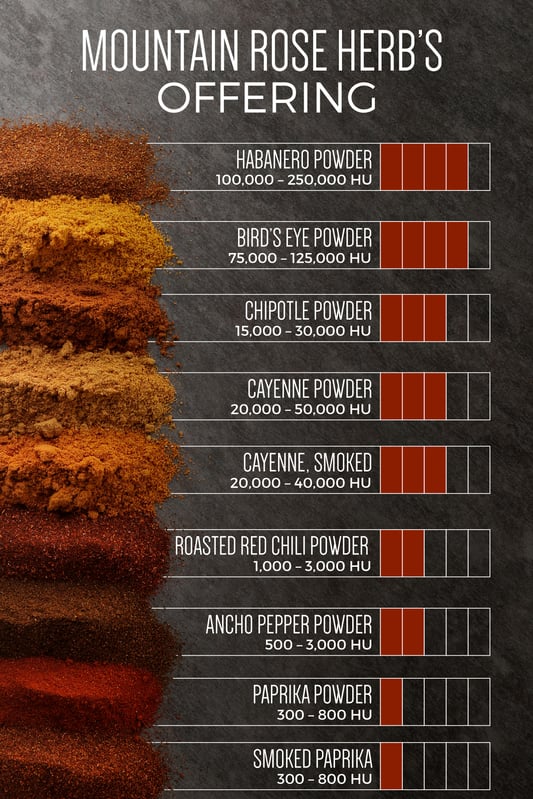 Flavor Profile of 7 Popular Pepper Powders
Habanero powder: While habanero is the most pungent pepper powder that we offer, its flavor also imparts a fruity, almost tropical kind of flavor with just a kiss of smokiness. (100,000 – 250,000 SHU)
Bird's Eye Chili Powder: Bird's Eye Chili peppers are smaller in size than many others, and pack quite the punch for their tiny size. This pepper powder is also known to be bright and fruity and is commonly used in Thai cuisine. (75,000 – 125,000 SHU)
Chipotle powder: Did you know that chipotle peppers are actually jalapenos that are slowly smoked over a wood fire? The flavor of this powder is earthy and smoky and is often used in chilis and barbecue sauces. (15,000 – 30,000 SHU)
Cayenne powder: Cayenne has a strong bite and is one of the most common household pepper powders used. One thing to note about cayenne is that the flavor intensifies as you cook it, so you may want to start with a little less than you think you'll need.
Smoked cayenne is about the same in terms of SHU but offers a slightly more complex flavor profile for dishes begging for a little more smoky goodness. The smoked cayenne powder we offer is slowly smoked over a blend of 7 different hardwoods for a complex and full-bodied flavor. (20,000 – 50,000 SHU)
Roasted red chili powder: Roasted chili powder is perfect for those who are new to pepper powders. Having the complexity of the smokiness, paired with its lower heat level, it's a good gateway to using pepper powders. This is not to be confused with a chili powder blend, which is a blend of chili powders and other culinary spices that are mixed perfectly for a quick, ready-to-go spice blend. (1,000 – 3,000 SHU)
Ancho pepper powder: Ancho is another great powder for those just beginning to add some spice to their life. It is mildly fruity and is considered one of the sweetest of the pepper powders. It is known for the characteristic flavors found in traditional Mexican mole. (500 – 3,000 SHU)
Paprika powder: As the mildest pepper powder available, this is a great family friendly option for those looking to add just a little bit extra to household dishes. It is a smooth and earthy powder and adds beautiful color when sprinkled on the top of finished dishes. Smoked paprika is also lovely for garnishing and is a suitable heat level for most people. (300 – 800 SHU)
Pro Tips
The reason HUs are shown as a range for each pepper is that there is a fair degree of natural variation. Two plants on the same farm can have two different heat units. A range accounts for some of these differences that mother nature gives to us.
If you've added too much pepper powder and need to tone it down, you can try adding dairy or a vegan alternative to help. You can also add nut butters, vinegar, or sugar to help mellow the fire.
Pepper powders are also used in topical ointments to help bring circulation to an area. These topical applications are commonly used for occasional tired muscles.
Fun Fact: Chili pepper powder can also be used as a natural pest repellent in your garden!
Want a Behind the Scenes View of Where Our Pepper Powders Come From?
You May Also be interested in:
Sweet & Spicy Chipotle Caramel Corn