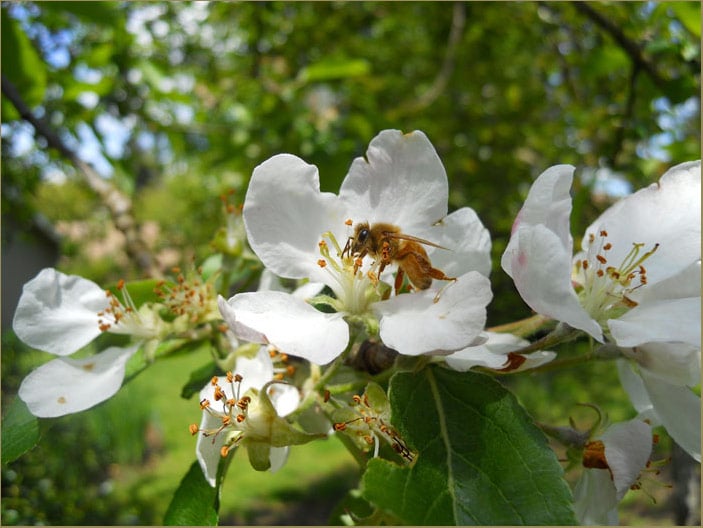 I just finished mowing the grass in the back garden and flopped down on the hammock to survey my fine work. Watching the busy honeybees zooming in and out of the hive and flying up over the sprawling rose hedge gave me an idea for this delicious tea recipe. I feel so fortunate that seasonal allergies do not keep me indoors during this beautiful time of year, but where I live in the Willamette Valley of the Pacific Northwest, the sneezing and sniffles that come with tree and grass pollens are common. Many folks add Bee Pollen to their diet to help. Bees coat their legs with pollen while they are out gathering nectar and I love seeing our bees working around the yard with these golden yellow "saddlebags"--spreading pollen from plant to plant.
This combination of herbs and black tea makes for an aromatic and delicious cup of caffeinated tea, but feel free to substitute another tea base if you'd rather not have the caffeine.

Buzzy Spring Season Tea with Bee Pollen
Combine all ingredients in a tea infuser, nest or bag. Pour 1 1/2 to 2 cups of boiling water over and allow to steep for approximately 3 minutes (you won't want to let the Mango Ceylon Tea steep for too long as it can become bitter.) Add honey to sweeten, if you'd like and enjoy!
This post was originally published for the series "The Sunday Steep."