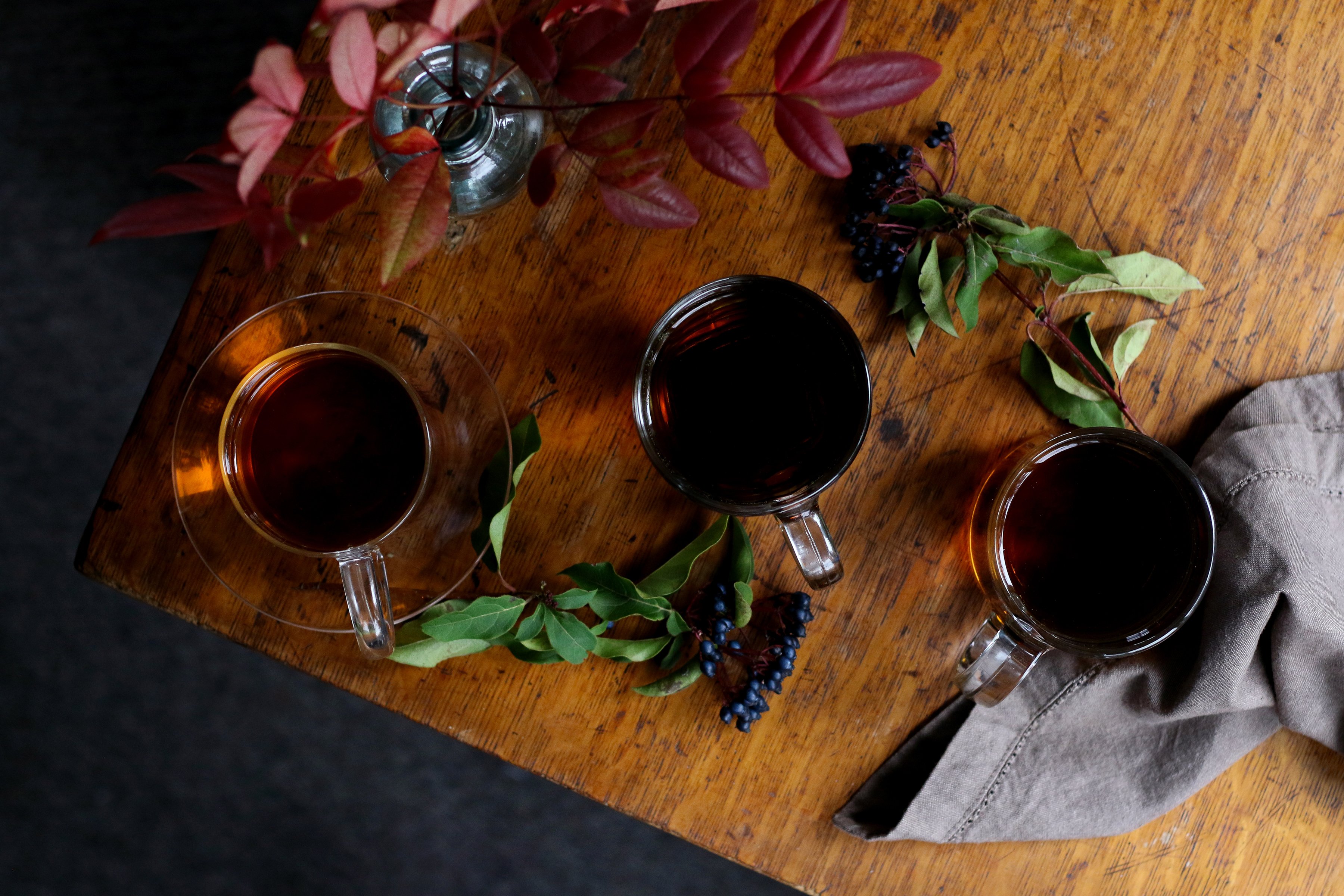 Everyone deals with stress. In fact, stress is said to be the top health problem in America. To keep ourselves healthy and happy, some are turning to the practice of mindfulness. I'm one of those people that thought mindfulness might be worth a try. Since I'm also a fan of tea, I naturally wondered if tea recipes could help with relaxation.
What is mindfulness? Simply put, it's when you're fully present to everyday moments and sensations. It's a kind of ongoing meditation that can help you be less reactive or overwhelmed by what's going on around you. There are herbs that can help do the same thing, so it certainly made sense to me that tea could help increase mindfulness.
The recipes I've selected here extend my sense of calm throughout the day: morning, afternoon, and evening. Feel free to play with the ratios to find the best cup of tea for your needs. Also, when preparing tea throughout the day, I try to remember to slow down and appreciate the aroma and the warmth of the mug as the tea steeps. Then, the best part is savoring that first sip. Preparing and drinking tea can be a mindfulness practice in and of itself.
Lately I've been enjoying specific herbal tea blends to help with mindfulness and stress reduction. They include herbs that have both nervine and adaptogenic properties. These are herbs like skullcap, schisandra berries, holy basil, lemon balm, and chamomile.
Feel free to comment below with some of your favorite ingredients for your own stress busting tea blends.

Good Morning Tea
Coffee is great, but for me it's rather overpowering. I've found this tea blend to provide a mellower alternative that keeps me attentive to the task at hand without the jitters.
Ingredients
Skullcap not only has a cool name, its nutrients support the nervous system and thus helps ease away everyday stress.
Peppermint has a refreshing taste that eases my digestion and gently amplifies my mental focus.
Yerba Mate is packed with vitamins, minerals, amino acids, antioxidants, and caffeine for a stimulating boost that is mellower than coffee.

Midday Mellow Tea
Need an afternoon reminder to mellow out? This sweet tea combines lemon balm and holy basil with a splash of berry. Personally, I enjoy sweetening up this tea with some stevia leaf to really bring out the fruity flavors.
Ingredients
Lemon balm can elevate mood and reduce restlessness.
Holy Basil is an important adaptogenic herb in Ayurvedic healing traditions, where it is used to help the mind adapt to incoming stressors.
Schisandra berries are said to calm the heart and quiet the spirit.

Sunset Tea
Ready to wind down? To prepare my mind for sleep, I find this tea a delicious way to peacefully slow down and drift into dreamland. Start sipping on this relaxing blend one hour before bed.
Ingredients
Hops have a wonderful way of inducing a sense of inner-peace and calm before bedtime.
Mugwort is a powerful sleepy-time tonic which can assist in manifesting pleasant dreams.
Catnip has calming properties which also can help ease digestion during the night.
For me, incorporating all of these herbs into my daily tea rituals has enhanced my everyday mindfulness. Wherever you are on your journey to greater health and wellbeing, herbal tea preparation and consumption could prove an effective stress reduction strategy for you, as well. Give it a try, or if you do this already, let me know in the comments.
Curious For More Recipes To Help You Relax?
You May Also Like
Calming Marshmallow and Rose Tea
How to Create Your Own Herbal Tea Blends
A Guide to the Basic Herbal Actions