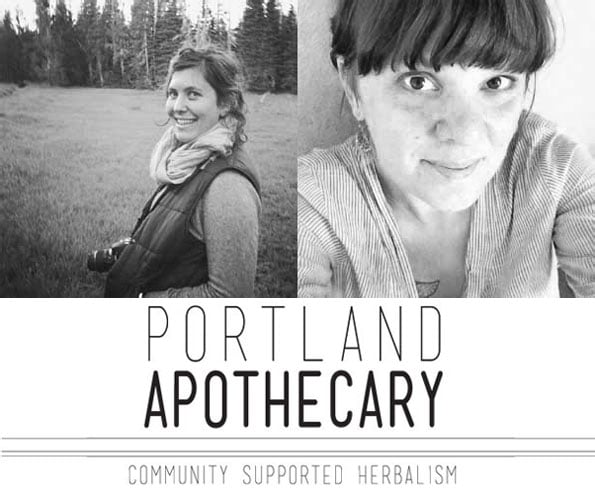 In celebration of this year's Spring Equinox, we are excited to partner with our customers Elie and Kristen of the Portland Apothecary for this very special recipe and giveaway! That's right...they are offering up an entire Spring Share of handcrafted herbal goodies to one lucky reader, plus a gorgeous infused vinegar recipe for us all to enjoy.
Let's meet the herbalists! Elie grew up on a biodynamic farm in the hills of Pennsylvania, where the rhythms of the four seasons were her first teachers. She helped her mother brew elderflower syrup in the spring, harvested wild raspberries in the summers, pressed apples for cider in the fall and helped her father tap maple trees for sap in the late winter. Since then, her intrigue with the magic and medicine of plants has been a calling and a journey. Elie interned on farms all over the world, attended Aprovecho Center for Sustainability, and completed her course in native plant herbalism at the Columbines School of Botanical Studies.
Kristen was first drawn to Western Clinical & Energetic Herbalism and has studied with amazing teachers for over a decade. Then came gardening and more gardening, and then exploring the wilds to see plant families and their environments. Her studies led to a master's degree in Traditional Chinese Medicine, which took her down a path so rich in history and plant knowledge that she has committed to being a perpetual student. Kristen is also in private practice as a licensed acupuncturist.
Together, Elie and Kristen created the Portland Apothecary with a vision to help maintain and restore the health and vitality of folks in their community.
The Recipe!
Here at Portland Apothecary we love to make seasonal vinegars as a tasty way to get in our daily herbs! For spring, we've made our Spring Tonic Vinegar which is nutrient dense and full of minerals, so you can take full advantage of the vitality of the herbs as they emerge from their winter slumber.
The alkalizing nature of the Apple Cider Vinegar is another healthy addition to your diet, as we're all trying to clean up a bit from winter's excesses. As with all of our remedies we like to make them versatile in use and also in the way they're made. With this recipe, we used a variety of fresh and dried herbs that we had on hand, so feel free to do the same. You can easily use all fresh herbs or order them all dried and beautiful from Mountain Rose Herbs for this recipe. We used the following: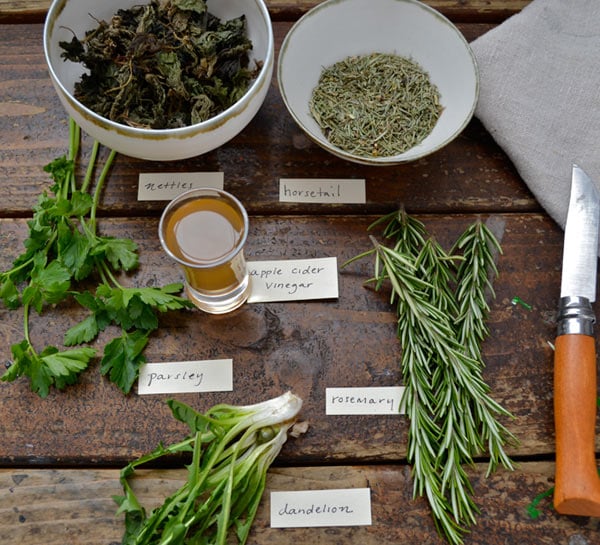 Spring Tonic Vinegar
Ingredients
¼ cup dry organic nettle leaf
¼ cup dry organic horsetail
½ cup organic parsley
½ cup organic dandelion leaf
½ cup organic rosemary
Apple Cider Vinegar
Quart Jar
Directions
**If you are using all dried, or all fresh herbs, simply use equal parts.
Coarsely chop all herbs and combine in a quart jar.
Cover with Apple Cider Vinegar. Place cap on tightly and shake vigorously. Label your jar with your ingredients and the date. You think you will remember, but believe us, you may not! Place in a dark, dry place and shake daily. After a month, strain herbs through cheesecloth into a clean quart jar, squeeze out the herbs to get every last drop, and you're done. Oh, apart from labeling again. We like to layer our cheesecloth to avoid particles getting through and leaving sediment. Also, if you have a plastic cap, use it, as it will be less reactive with the vinegar than the usual metal caps.
You can either take this Spring Tonic Vinegar straight, a couple of tablespoons a day, or you can toss it with some spring greens or pea shoots to make a really delicious salad.
The Giveaway!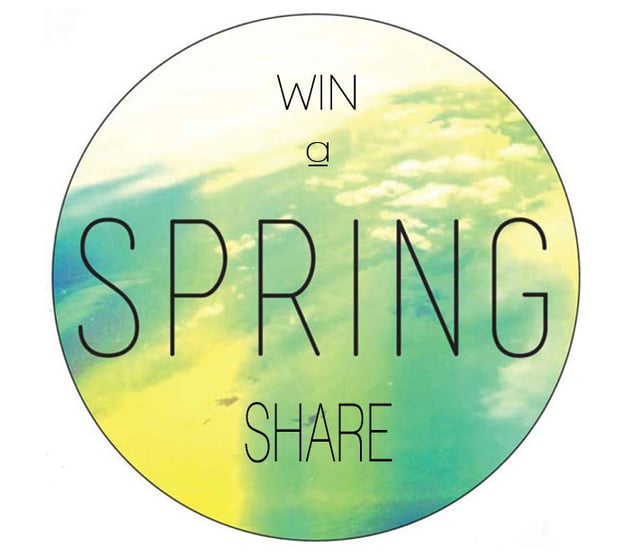 There are two prizes!
One very lucky winner will be chosen to win the Spring Share ($120 value) from Portland Apothecary including: spring tonic vinegar, muscle liniment, nutritive herbal tea, Wild Rose, White Peony & Hawthorne Flower Elixir, Forest Soap, detoxifying salt scrub, a seasonal tincture formula, and a Spring Equinox Aroma Mister. You can read more about each wonderful item here.
Another lucky winner will receive a big bundle of herbs from Mountain Rose to create the Spring Tonic Vinegar recipe at home! Prize includes 4oz of nettle leaf, horsetail, parsley, rosemary, and dandelion leaf.
And the winners are...
#144 - bamacheryl ~ You are the winner of the Portland Apothecary Spring Share!
#10 - seanna ~ You are the winner of the organic herb package from Mountain Rose Herbs!
You will receive an email from us soon with more details. Congratulations!
How to Enter:
There are several ways to enter the Spring Equinox Giveaway! You can submit up to five entries for a chance to win these prizes.
1. Leave a comment here telling us about your favorite spring herb!
2. Post a link to our Spring Equinox Giveaway on your Facebook page and leave a comment here to let us know you've shared.
3. Tweet about our Spring Equinox Giveaway on Twitter using the hashtag #HerbalSpringGiveaway and leave a comment here to let us know you've shared. Be sure to follow Portland Apothecary and MtnRoseHerbs!
4. "Like" the Portland Apothecary on Facebook or Pinterest! Leave a comment here to let us know you're following.
5. Subscribe to the Mountain Rose Herbs YouTube Channel, "like" our new Free Herbalism Project page on Facebook, get on the mailinglist for our recipe-packed newsletter, or follow us on Pinterest, and leave a comment here to let us know you're following.
You have until Tuesday, March 19th at 11:59pm PST to enter. We will pick two winners at random on Wednesday, March 20th! Prizes can only be shipped within the United States.
Best luck!