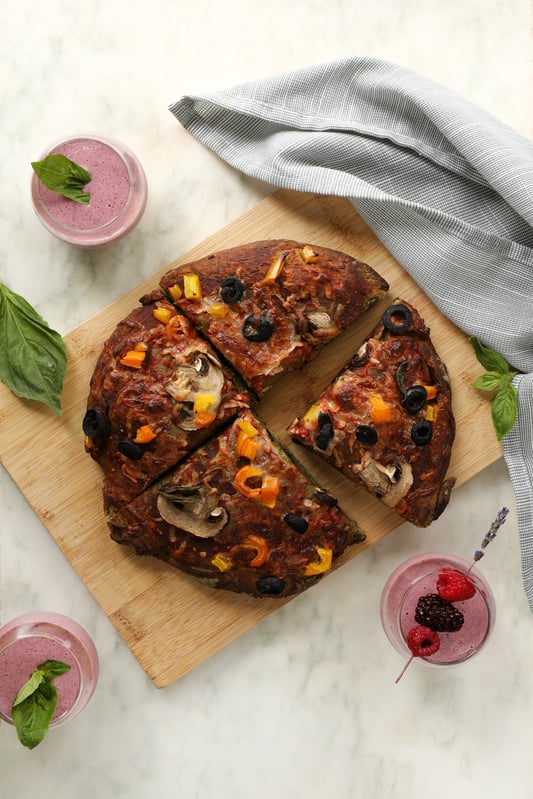 Gloriously green and endlessly versatile, you can look to spinach for a variety of healthful antioxidants (carotenoids, lutein, and zeaxanthin) and a veritable alphabet soup of other nutrients, from vitamin A to zinc with plenty in between (vitamins C, E, K, B2, B3, B6, and B9, plus magnesium, iron, calcium, potassium, phosphorus, and selenium, to name a few!). Unsurprisingly, studies also show that this popular green has loads of health benefits, making it a staple salad base for health enthusiasts worldwide. However, if you aren't always inspired by a bowl of raw greens, or if you happen to have a health condition that is irritated by the oxalates found in uncooked spinach, then dried spinach powder might be your perfect worry-free way to enjoy all that green goodness!
It's believed that spinach originated in ancient Iran approximately 2,000 years ago and was cultivated extensively in the Middle East and North Africa. In 647 CE, it was introduced into Nepal, India, and China. One of its notable nicknames in the Mediterranean was "Captain of Leafy Greens," and most spinach fans will happily salute this rank! Spinach slowly began to appear in countries around western Europe between the 11th through 15th centuries, where it became increasingly popular as an early spring green.
10 Uses for Spinach Powder
Our organic and finely-ground spinach powder goes well with many different dishes, and incorporating it is as easy as measuring out and mixing in a few scoops! Most dishes that are complemented well by spinach powder are savory or have the ability to effectively neutralize its flavor. Here are a few of our favorites:
Homemade noodles
Hummus
Mashed potatoes
Quiche
Homemade tortillas
Spinach Powder vs. Spinach Flakes
Organic spinach flakes can often be used interchangeably with spinach powder—both will work well for just about any of the uses listed above. The main difference in your result will be a matter of appearance, with flakes imparting green flecks rather than a uniform green hue (a difference worth considering if you plan to use spinach primarily for coloring purposes, such as to create natural dye, soap, or green baked goods).
However, there are occasions when one form will have significant advantages over the other. For example, if your goal is to create an extract or cold infusion for wellness support, you'll find it difficult to filter out powder, so we'd recommend using flakes for those particular preparations. On the other hand, the fineness of spinach powder makes it easier to encapsulate and also allows for a smoother texture in skin care formulations like nourishing face masks.

Easy Food Processor Spinach Pizza Dough
Makes enough dough for 2 to 3 personal pizzas.
This lovely green dough recipe is simple, quick, and easy on the hands—ideal if you aren't the most diligent kneader! I typically use a large cookie sheet (about 15 by 21 inches) for baking, and the dough's hearty texture tends to stay rather thick for a finished pizza with an ample crust.
Ingredients
Directions
Whisk room temperature yeast with sugar and warm water in a small bowl
Let mixture sit 5 to 10 minutes to activate. A thick foam should form on water's surface, indicating mixture is ready; if this does not happen, discard ingredients and repeat until desired result is reached (see Pro Tips below).
In a food processor, combine flour, spinach, and salt and pulse a few times to mix.
Add oil to yeast mixture.
Add yeast mixture to dry ingredients in food processor, secure lid, and turn processor on.
Ingredients will come together to form a ball, which may cause food processor to become unbalanced. Hold on to food processor to stabilize as needed.
Blend for at least 3 minutes.
Once dough looks thoroughly blended and can be touched without too much sticking to your hands, remove it from processor.
Shape dough into a smooth ball with your hands, place in an oiled bowl, and seal with a lid or bag.
Refrigerate sealed bowl for at least 4 hours and up to two days before using (the longer end of the range will make for a better texture!).
The day you plan to make pizza, remove dough from fridge and unseal the bowl, either leaving the bag slightly open or replacing the lid with a damp towel, to allow for air circulation.
Place dough on counter to rise, giving it ample time (about 2 hours) and space (see Pro Tips below).
Pro Tips
If you plan to use your hands rather than a food processor, follow steps above but instead, knead dough thoroughly for at least 10 minutes (until smooth and pliable) after combining wet and dry ingredients and before refrigerating.
Yeast mixture not activating? Old yeast may be to blame! Your dough won't get far without an active rising agent, so purchase a fresh batch if difficulties persist.
Dry yeast is best stored in the refrigerator, but be sure to let it come to room temperature before use.

I like to purchase the small glass jars of dry active yeast so I can use more or less as needed, as single packets of yeast only contain approximately 2 1/4 tsp. of yeast. The reusable glass jars make great spice containers, too!

The temperature of your house will affect the rising time of the dough, so a good rule is to let it nearly double in volume. Don't let the dough rise for too long, or it won't bake properly.
For a greener crust, use up to 1/2 cup spinach powder. The flour and spinach powder blend should equal 3 cups total, so adjust flour accordingly.
For more flavor, add a teaspoon or two of spices to the dry ingredients, such as garlic granules, thyme, oregano, or sesame seeds!
An oven temperature of 400 to 450 degrees Fahrenheit for 20 to 30 minutes usually works for most homemade pizzas. Check the bottom of the pizza dough for crispness and make sure the cheese in the middle is bubbling and slightly golden!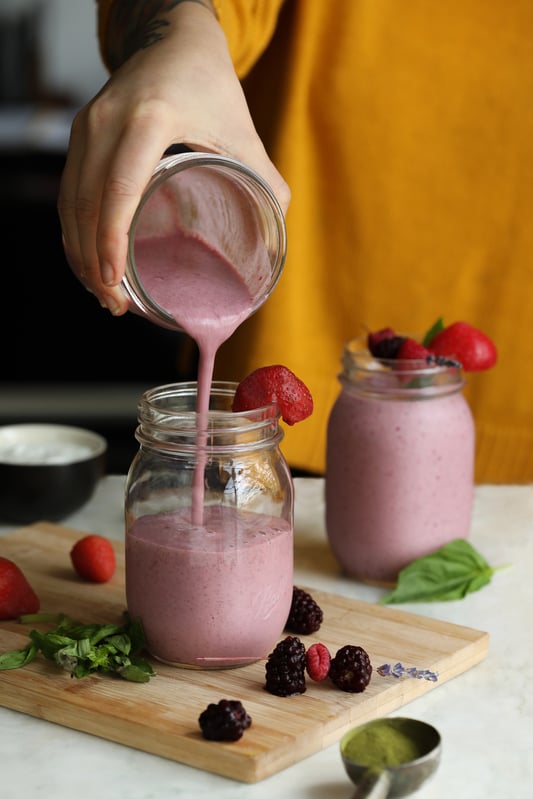 Super Berry and Spinach Smoothie Recipe
Makes 1 serving.
For something a little sweeter, this super simple smoothie recipe is easily altered to fit your dietary needs and personal taste!
Ingredients
1 organic banana
1/3-1/2 cup fresh or frozen organic fruit of choice (we like strawberries, blackberries, raspberries, blueberries, or pineapple)
1 Tbsp. organic nut/seed butter of choice (peanut, almond, sunflower, etc.)
1 Tbsp. organic dairy or non-dairy yogurt (flavored or plain)
2 tsp. organic spinach powder
1 tsp. sweetener of choice (optional)
Directions

Combine all ingredients and blend until they reach a smooth consistency. Drink up!


Pro Tip: It's truly amazing what you can "hide" in a smoothie! Try adding other superfood ingredients to the recipe above to take your healthy and sippable snack to the next level, such as:
Need Some More Veggie Inspiration For Healthy Snacking?
You might also enjoy: