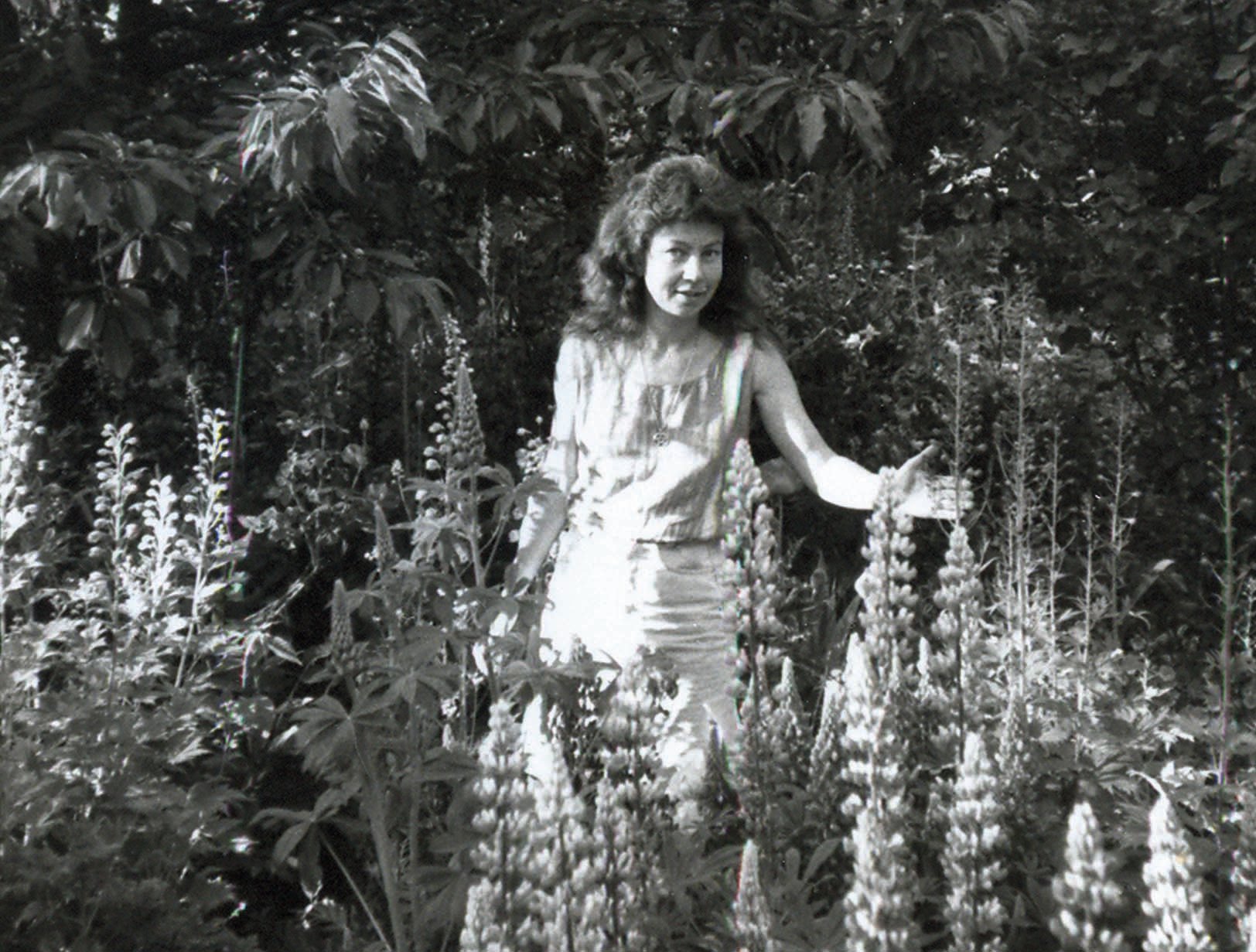 Every Fourth of July for nearly two decades, Mountain Rose Herbs' co-owner, Julie, headed into the mountains to collect St. John's Wort flowers for our certified organic infused herbal oils.
"Instead of going to parties and fireworks (I don't much care for fireworks), I would harvest St. John's Wort while everyone else had the day off," Julie said. "That was when the flowers were ready. It took me a full day to gather them all."
While in the wilderness, Julie would carefully place the brilliant yellow flowers in brown paper grocery bags. After the bags were full, she'd bring them back to our Test Kitchen where she'd dry the blooms on screens or hang them on clothesline. After they were wilted, Julie dropped the herbs into sterile glass jars and topped them with organic extra-virgin olive oil. Each jar would then get covered by the same brown bags she used to collect the flowers—repurposed for protecting each infusion from the sun's harmful UV rays.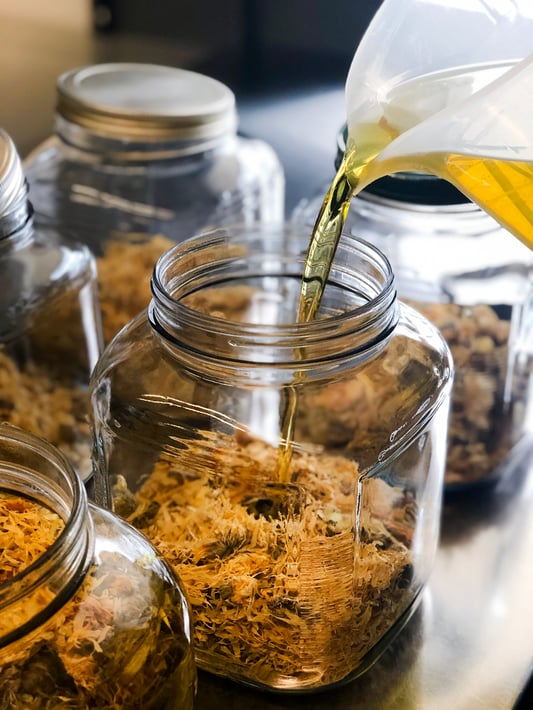 Of the 15 small-batch herbal oils we now offer, calendula is our most popular single-botanical infusion. As with the St. John's Wort flowers, for the first few years Julie hand-collected all the calendula blossoms, but with growing demand, that quickly became an impossible feat. Instead, we soon began sourcing dried organic calendula from growers we could trust.
While our harvesting methods have changed in the last decade, we still maintain the same human touch and low-tech recipes Julie created those many years ago.
Toni, Production Kitchen Manager, now oversees the crafting of our infused oils and other body care products, which are still based on Julie's original (and simple) recipes. Each item is carefully handcrafted in small batches, hand-poured into containers, and hand-labeled.
"Personally, my favorite part is working with the raw ingredients," Toni said. "The colors change from lot-to-lot. I love seeing how everything comes together."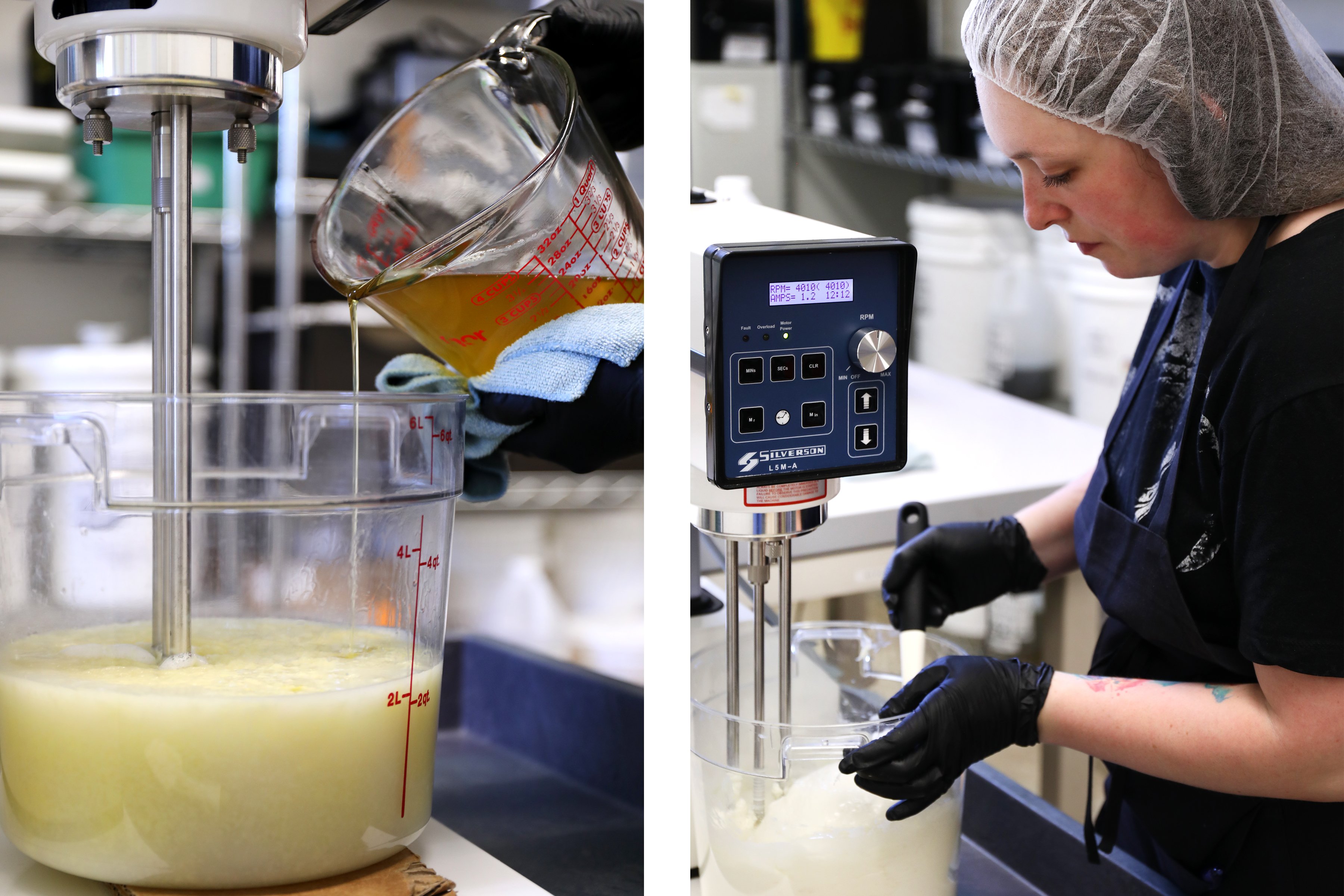 Members of the Kitchen staff must undergo an extensive apprenticeship with Toni in order to take on full-time body care crafting. Paige, one of three Kitchen staff, recently completed a one-and-a-half-year apprenticeship in The Kitchen, and on a recent sunny day in our Test Kitchen, she started a batch of Calendula Herbal Oil.
Donning a hairnet, apron, and rubber gloves, Paige plopped a handful of dried, organic North American calendula blooms into one of six one-gallon sterile glass jars. She topped each jar with organic extra-virgin olive oil, just as Julie did a decade before, and stirred the mixture with a spatula. The yellow petals seemed to dance in the luscious oil as she stirred—it was a beautiful sight. Paige then screwed a metal lid on each jar, and placed the finished concoction in a sunlit windowsill. She set a brown paper bag over the top of each jar, just as Julie did—the bags are used for multiple batches until they're so worn, they tear. Paige does this once a week in our busy autumn/winter season, so that we are always offering the freshest possible infused herbal oils, massage oils, ear oils, and other handcrafted creations in our shop.
Our recipes are made with old-fashioned techniques using clean, simple recipes.
"Thirty years ago, the market was full of complicated body care products stuffed with extra ingredients so companies could claim expensive, proprietary formulas," Julie said. "I wanted to offer something that was way less expensive and way simpler to make. Why add a bunch of stuff you don't need? My approach has always been to offer a high-quality product that uses the fewest ingredients possible."
"It's essentially how someone would make a recipe in their home," Toni added. "If you're using automated equipment, you're not visually inspecting each pour. It means more to us that we're doing everything by hand, ensuring every customer gets a high-quality product."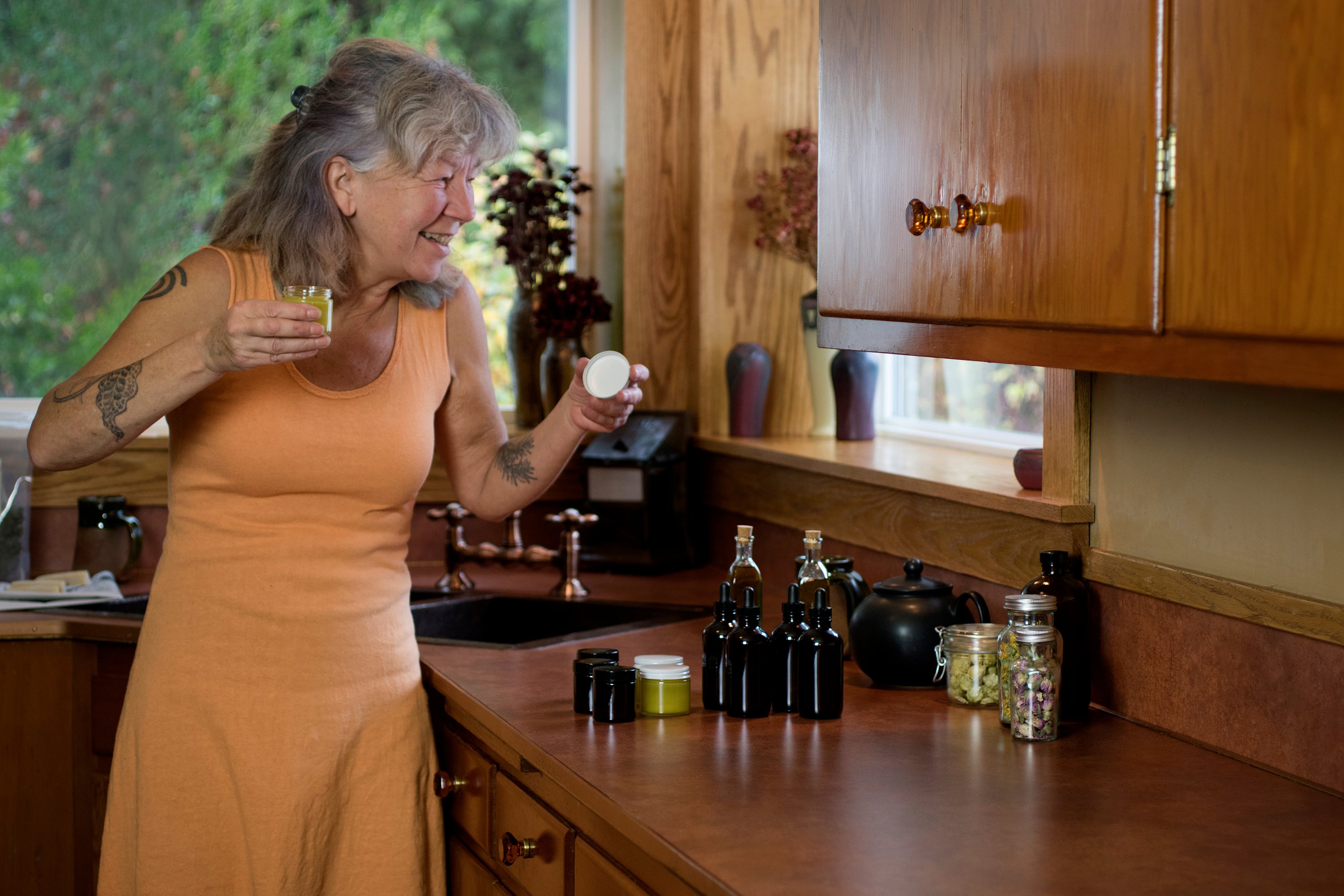 Most of what we offer are raw ingredients to empower customers to make their own herbal blends and natural body care products. But we continue to craft high-quality, organic balms, herb-infused oils, and other handmade items for those who are too busy or don't have the inclination to do it themselves.
"We love what we do in The Kitchen," Toni said. "Some days we laugh that we get paid for it."
Want More Behind-the-Scenes Peeks at Mountain Rose Herbs?
You may also enjoy: