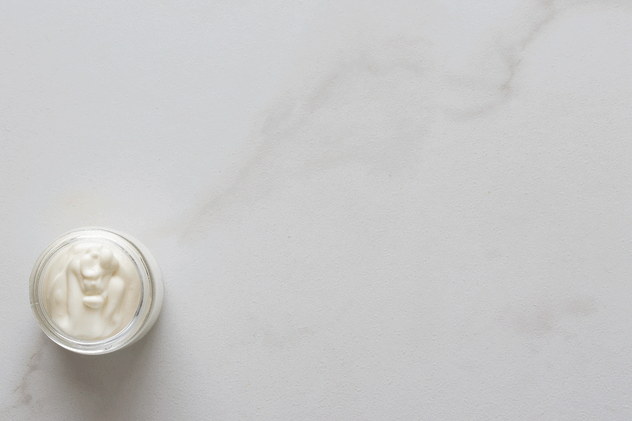 The first time I ever created a lotion or cream, I was dazzled by how incredibly easy it was. As an avid cook, I quickly realized it was quite similar to making a sauce or dressing - and the results are nutrition for the skin! High quality and luxurious skin lotions can be incredibly expensive and we may not know if all the ingredients are safe and non-toxic. Fortunately, since it is so easy to make our own, we can choose the best ingredients for a fraction of the price and concoct botanical masterpieces!

I created this rose-infused lotion from ingredients I love and that work well with my skin.

Grapeseed oil

because I love the silky texture and it works well with other oils to help the skin absorb.

Coconut oil

because it helps to retain moisture and won't irritate,

Cocoa butter

because of the creaminess and the deep cocoa aroma, and the

Rosehip Seed

and

Vitamin E

oils because my skin (like me) is a little, uh,

seasoned

and these oils give it some extra love.

Aloe Vera gel

is great for those of us who spend a fair amount of time in the outdoors.

This particular recipe is all about the skin rejuvenating properties of rose - utilizing our floral Rose Hydrosol and Aphrodite aroma oil for an intoxicating and spirit-lifting aromatherapy. If rose isn't your thing, you can easily try different scents like lavender or citrus or even a woodsy aroma might be more your style! This particular lotion works quite nicely as a face and body lotion since it absorbs into the skin quickly and leaves your skin soft and silky smooth.

Feel free to use this recipe as a guide and experiment with substitutions to create your ideal face and body lotion.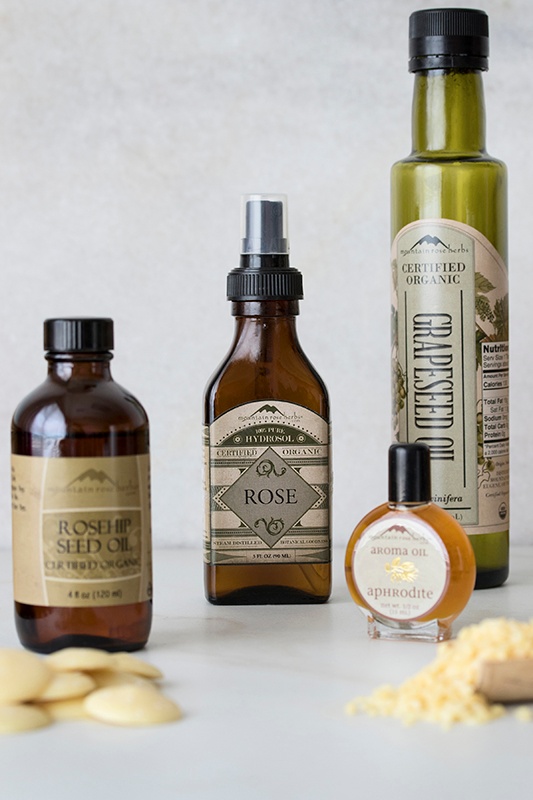 Silky Rose Face and Body Lotion
Ingredients
Directions
1. In a glass Pyrex bowl or large glass Pyrex measuring cup (at least 4 cup size), combine Grapeseed oil, Coconut oil, Cocoa Butter wafers, Rosehip Seed oil, Vitamin E oil, and Beeswax pastilles. Heat over boiling water until melted and mixed together.
2. Remove from heat and allow to cool for about a half hour. You may be able to speed up the cooling process by setting the bowl in the fridge or freezer for several minutes.
3. Combine Aloe Vera gel and Rose Hydrosol in a separate bowl.
4. Once the oils have cooled a bit, it is time to mix! If you are using a traditional blender, pour the melted oils and beeswax into the blender pitcher and turn on medium, gradually add the Aloe Vera/Rose Hydrosol mix in a slow steady stream. If you are using a hand mixer or hand immersion blender, you will do the same thing only hold the mixer/blender with one hand and do the pouring with your other hand.
Depending on the temperature of your ingredients, the mixing until thick and creamy may take anywhere from a few minutes to 5 or 10 minutes. Don't get discouraged. The texture will be like a medium thick pudding when it is ready.
5. Add the Aphrodite aroma oil and the Peru Balsam essential oil. The Peru Balsam serves as a great base note and fixative for the rose scents. It combines well with the other scents and I think it brings out the softness of the rose. You can, however, leave it out or make a substitution (Lavender essential oil would also be nice.)
6. Pour the finished lotion into containers and allow to cool completely before putting on the lids. This recipe makes enough for about 2-3 cups of lotion (we filled three 4-ounce jars). If kept in a cool place, out of direct sunlight, the lotion should last just fine for a month or so, although you will likely use it up long before then!
*If you would like to make a thinner lotion, use 1 Tablespoon of beeswax, melted with the oils in the first step.
Looking for more Body Care?