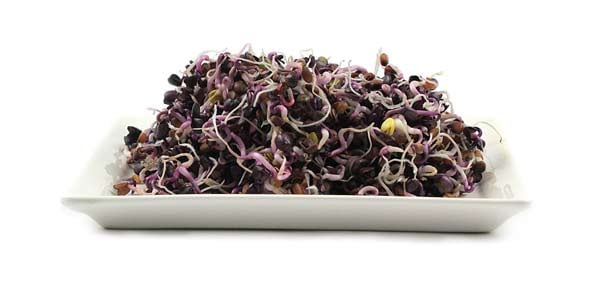 We are pleased to unveil the newest addition to our line of certified organic sprouting seeds: the spicy Rambo Radish Sprouting Seed! While our Daikon Radish Sprouting Seed has a mild flavor, eating even a pinch of Rambo Radish sprouts is a spicy endeavor, as this radish variety is more akin to the colorful radishes that adorn our spring salads.
This variety of radish contains anthocyanin, which gives the stems and leaves a distinctive deep red to purple color. In addition to their robust flavor, these sprouts are sure to add visual appeal to your favorite recipes such as salads, soups, and sandwiches. These sprouts really shine in Japanese cuisine, especially in sushi rolls or as an edible garnish with sashimi.
Click here for more information about our line of organic sprouting seeds.
Our full line of sprouting accessories can be found here.