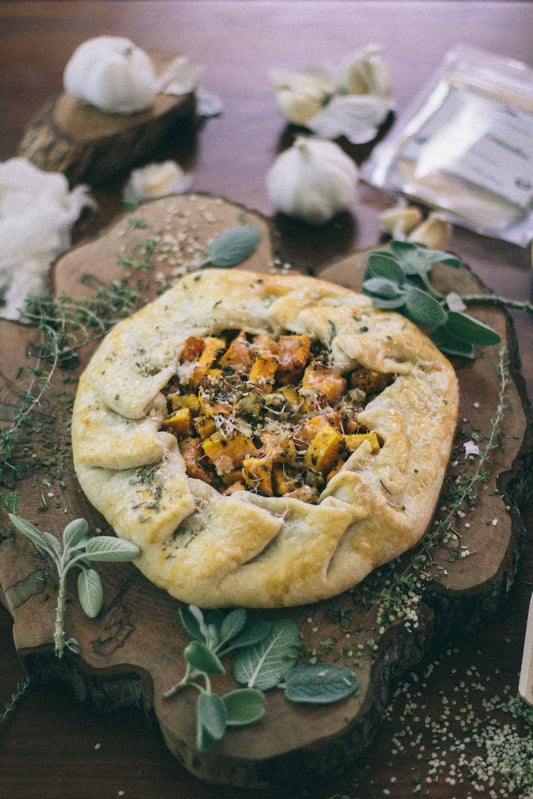 This little butternut squash galette is the perfect seasonal accompaniment for a winter lunch or an intimate dinner gathering. Made with local butternut squash and infused with savory herbs like thyme, sage and garlic, not only does this recipe make your house smell amazing, but it's a delicious dip into the bounty that this time of year brings. Adding hemp seeds and parmesan cheese creates an extra umami pop, and the hint of lemon zest is a subtle reminder of summer's gifts.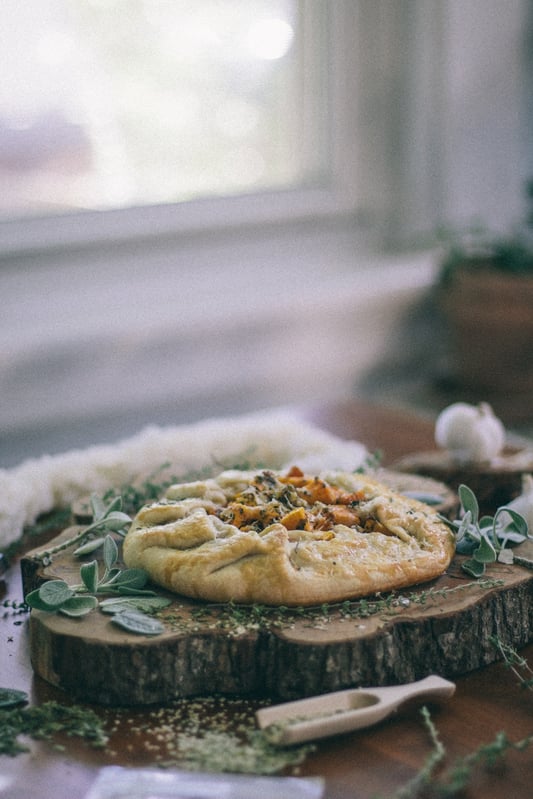 Savory Butternut Squash Galette Recipe
Makes 1 galette. Serves 4-6.
Ingredients for the crust:
Ingredients for the filling:
Directions:
In a food processor, add the flour, butter and salt; pulse until small pebbles form.
Add in the water, 1 Tablespoon at a time, and continue to pulse until it creates a dough-like consistency.
On a lightly floured surface, kneed for about 1 minute, then form into a disc and cover tightly in plastic wrap.
Refrigerate for 30 minutes.
When ready, preheat oven to 400 degrees Fahrenheit.
In a small pan, heat 1 teaspoon olive oil and sauté the shallot for 2 minutes on high heat, lightly browning.
In a large bowl, add the butternut squash, sautéd shallot, olive oil, thyme, sage, garlic, salt, hemp seeds, lemon zest and parmesan cheese and mix well to combine.
Roll out the pastry crust on a lightly floured surface into 1/4 inch thickness.
Transfer to a parchment-lined baking pan and fill the center with the butternut squash filling.
Gently fold over the edges of the crust to cover the top of the filling halfway.
Lightly brush the top crust with some of the egg wash.
Bake for 40 minutes, until the top is golden brown.
Remove from heat and let cool 10 minutes before serving.
Looking for more savory winter recipes?