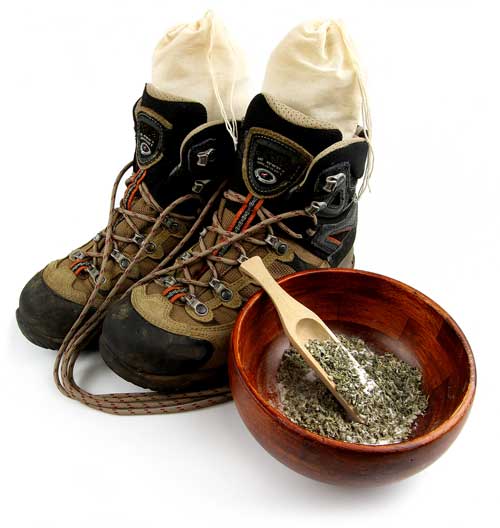 With a tightly pinched nose, I've found myself once or twice carrying pairs of hot, sweaty boots out to the garage after a long summer hike. Desperate for an all natural odor-defying solution, I did my research. At first I considered making a foot powder, but hate the way it can gunk up your shoes and clump between toes. A spray just wouldn't cut it. Then, I got crafty!
Ingredients
Directions
Mix all ingredients together in a bowl.
Fill the tea bags with the mixture and then stuff inside the cotton drawstring bags (tea bags will keep the powder from seeping out, but you can skip this step if you don't mind a light dusting).
Place one bag inside each boot.
Makes enough for 3 pairs of stinky shoes and lasts up to 3 months.

Pro Tip: The baking soda will absorb the rosemary scent after a while, so feel free to add a few more drops of essential oil when needed.
Happy Hiking!