This recipe has quickly become one of my favorite treats for those sunny days that become warm nights. If rooibos tea is new to you, then something very special awaits...
Rooibos or Aspalathus linearis is a beautiful yellow flowering shrub in the Fabaceae family that's a source of antioxidants, vitamins, trace minerals, and is caffeine-free. When the green needle-like leaves are oxidized, the color changes to a gorgeously rich garnet. This oxidized Red Rooibos is lusciously smooth, with a mellow sweetness of honey and caramel that pairs perfectly with sliced vanilla beans.
The velvety flavor and stunning color of rooibos seemed to whisper this magical little recipe to me. With pure cacao powder and thick local honey, this is a great alternative to chocolate syrup that tastes extraordinarily decadent!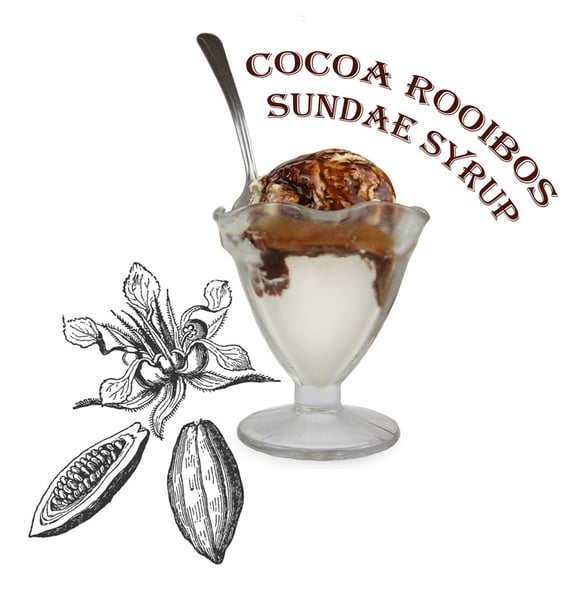 Cocoa Rooibos Sundae Syrup Recipe
Ingredients
1 ½ cups organic cacao or cocoa powder
1 ½ cups prepared Vanilla Rooibos tea (brew using 2 Tbsp loose tea)
1 ½ cups local honey
¼ teaspoon organic vanilla extract
1 pinch of fine sea salt
Directions
Brew the rooibos tea as directed above. Strain the tea and stir with all remaining ingredients over medium high heat. Bring just to a boil and then reduce heat to a very gentle simmer, stirring constantly, until the honey is completely dissolved and the mixture thickens to coat a spoon, about 10 to 15 minutes. Pour into a glass jar and refrigerate. Drizzle this gorgeous syrup over ice cream, cake, fresh fruit, or simply indulge by the spoonful!
Variations: This would also be wonderful with a base of chaga mushroom tea, rose petal tea, roasted dandelion root tea, damiana tea, or ginger tea! You could also make this a healthful syrup by adding elderberries or Echinacea to the tea base.
Enjoy!