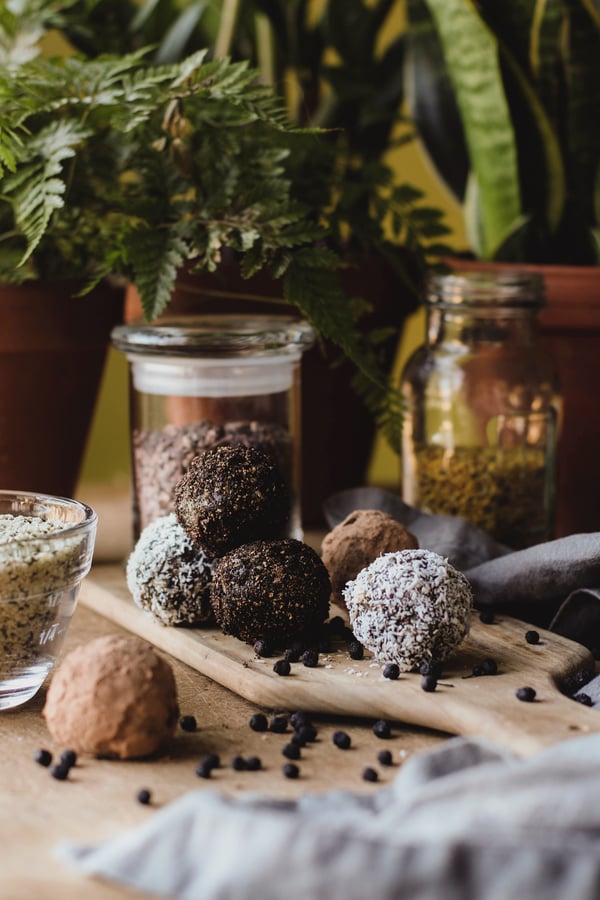 As herbalists, we regularly combine a variety of healthful, supportive botanicals in infusions, extracts, elixirs, etc. With each herb bringing its own superpower to the mix and working in unison with the other ingredients, we ideally end up with a product that is greater than the sum of its parts. We use this wisdom in herb-based foods as well, stirring in a bit of herbal goodness here and supportive botanicals there to create a dish full to the brim with flavor, health, and healing. Homemade protein balls (or maybe we should call them energy balls? They're both!) are a perfect example of this. With a base of healthy oats (which also happen to be gluten-free) and packed with nut-butter protein, they provide a good mix of protein, carbs, vitamins, minerals, and healthy fats, and are a perfect, oh-so-delicious vehicle in which to add the extra benefits of high quality herbal powders.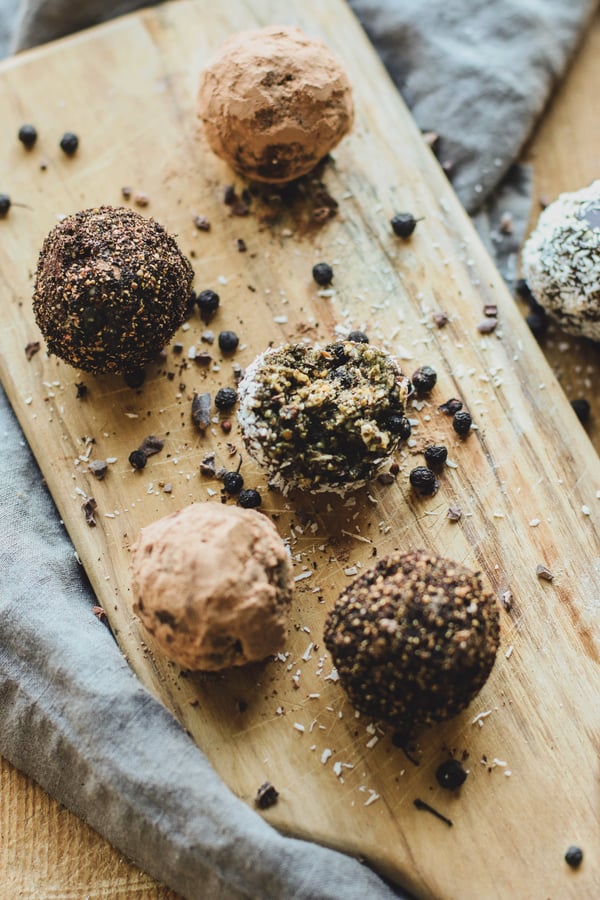 "Protein balls" and "energy balls" have been around in a variety of forms probably since someone discovered nut butters, but at least since the 1960s and '70s. They can have just a few ingredients or a lot, but they all share two excellent traits; they are ridiculously easy to make and they tend to freeze well, which means they are also crazy-convenient snacks to keep on hand.
Mountain Rose Herbs' protein/energy balls recipe with maqui berries combines oats, nut butter, and coconut with some of the healthiest body-and-mind-supporting herbs. They are supremely portable, delicious little nuggets of long-lasting energy. They are perfect for throwing into a pocket or a bag for a hike or a town trip and are good energy boosters when you're dragging at work. I've found them to be particularly helpful for warding off a case of "hangry" until I can get to a real meal. Also, kids love them.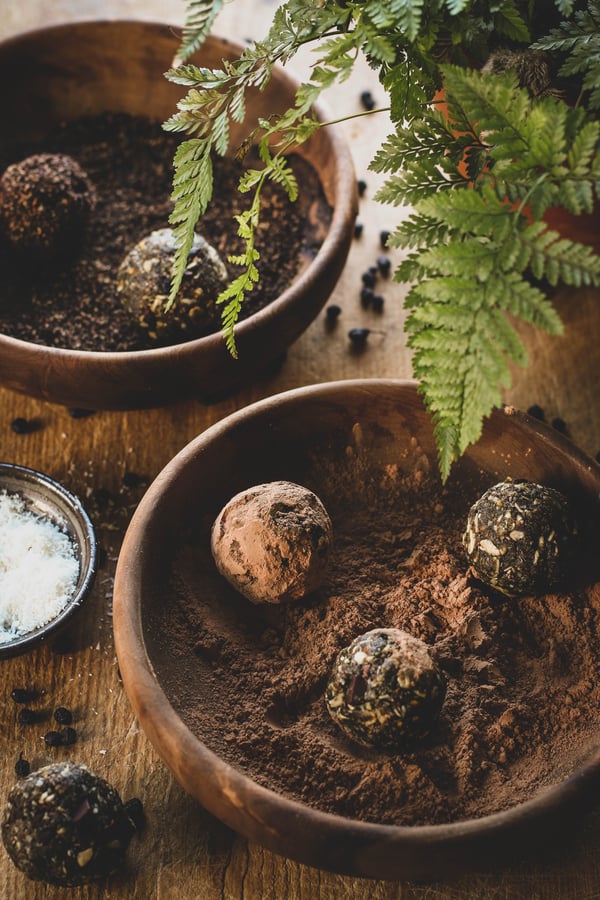 No-Bake Protein & Energy Balls with Maqui Berries
Makes about (20) 1-inch balls

Ingredients
Directions
Lightly toast the coconut flakes under a broiler or in a dry frying pan. This helps keep the balls from being too sticky.
Toss toasted coconut in a bowl with the rolled oats.
Add remaining dry ingredients: flax seed meal, maca powder, maqui berries, cacao nibs, hemp seeds, chia seeds, bee pollen, spirulina powder, salt, cinnamon, and optional chocolate and stir until fully blended.
Pour nut butter, honey, maple syrup, and vanilla on top of oat mixture.
Using a heavy spoon, thoroughly stir the wet ingredients into the dry ingredients to create a dense, homogenous mixture.
Cover bowl and refrigerate for 30 minutes.
Roll mixture into approximately (20) 1-inch balls.
At this point you can place the balls on a parchment-lined cookie sheet and put in the refrigerator or freezer to cool through before putting into an airtight container for longer storage.
Optionally, you can roll the balls in a light dusting of maqui berry powder, cocoa/cacao powder, and/or coconut flakes before putting on the parchment-lined cookie sheet to cool.
Stored in an airtight container, balls can be kept for a week in the refrigerator or up to 3 months in the freezer. They make a fun frozen treat on hot days, but also thaw nicely. They are delicious either way!
Pro Tip
You can pretty much use any dried berry, raisins, currants, or finely chopped dried fruit in place of the maqui berries.


WANT more healthy, herby snacks?
You might also enjoy: