Our farm liaisons travel to America's northernmost state to visit the pioneering farmers working to cultivate organic rhodiola in Alaska's rugged landscape.
Arriving at a property that looks across the water to Kachemak Bay State Park, we have our first rendezvous with a group of farmers engaged in a bold agricultural experiment: cultivating organic Rhodiola rosea in the rugged Alaskan countryside. These folks have staked years of work on the hope that this much-prized adaptogen hailing from Siberia and northern Asia can thrive in the challenging agricultural conditions of their wild home state. For us, it has already been a long day of travel that's left us more than ready to cozy up with some hot tea and take in the incredible views. But we are here to help with the harvest, and there's work to be done.
The excitement and energy of this special time (harvest time) is infectious. Our partners are eager to show us the plants they have been nurturing for the last five years, sometimes right in their own backyards. Rhodiola is a very slow growing crop, requiring up to five years in the ground to reach the desired size for commercial harvest. In addition to time, this succulent also demands a very particular constellation of conditions to thrive, including high elevation, a lengthy cold cycle, and specific soil conditions. Consequently, much care and commitment is required to cultivate this crop—five years in the ground on this organic farm equates to five patient years of manual weeding, observation, experimentation, and adjustment—and we stand in awe of the passion and perseverance of those who have chosen to grow it.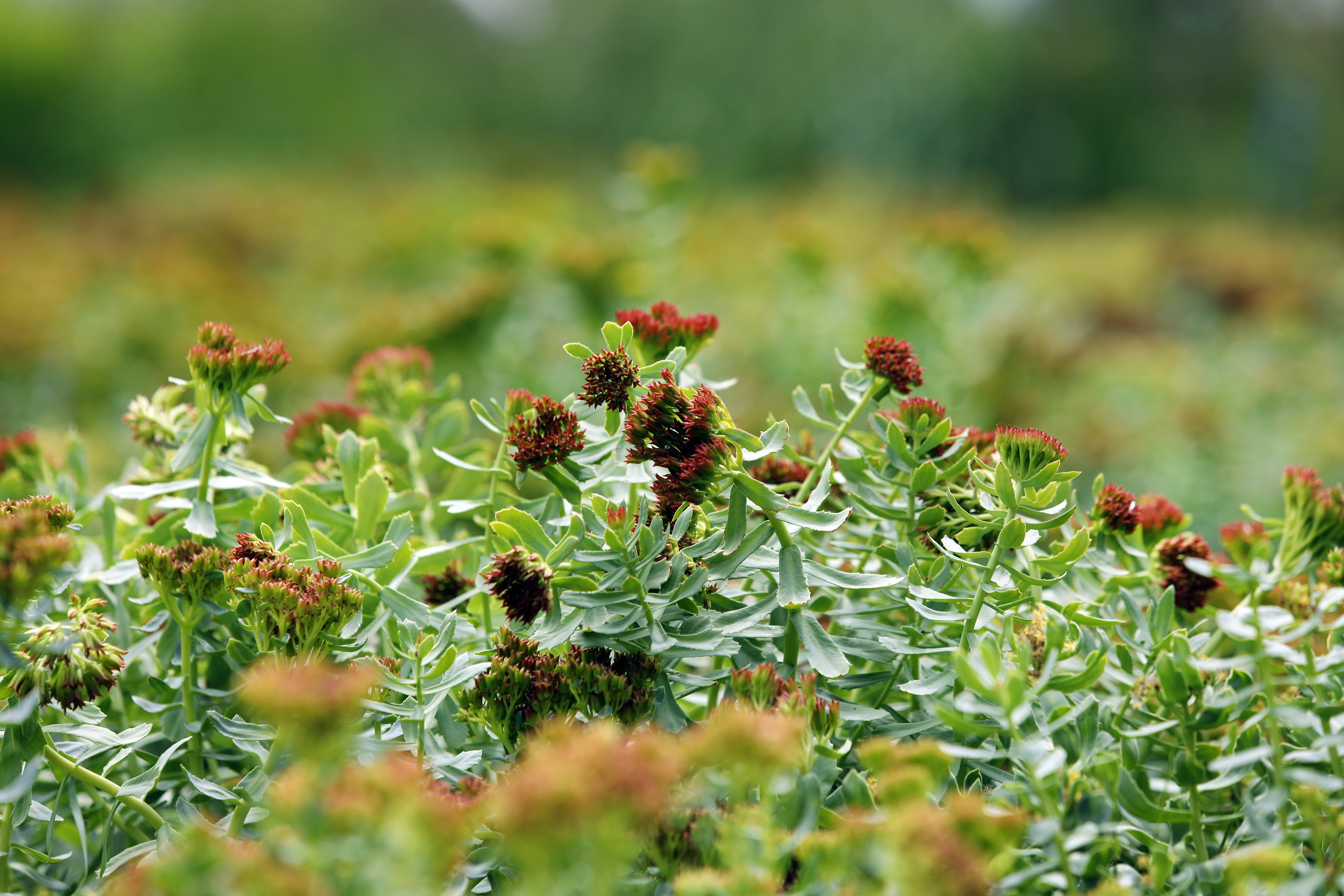 Organic Rhodiola rosea ready for harvest on the remote property of co-op member Colleen, an herbal educator dedicated to spreading the word and the roots of this beneficial adaptogen.
How the plant is harvested depends on the terrain of the field and size of the crop. I assisted with the harvest on the property of our rhodiola growing partner, Colleen, an herbalist and passionate herbal educator by background and training, who brings her own valuable and unique expertise to a group largely comprised of lifelong farmers. The portion of her property blanketed in rhodiola was relatively small, so all of our harvesting was done by hand. The aerial portions of the plants were trimmed off with garden shears to make digging the root portion out of the ground easier. The roots are carefully excavated from the soil to ensure that the clumped mass of root balls stays intact.
Rhodiola, also called "golden root" or "arctic root," has historically been a wildharvested crop. The majority of this botanical available on the market today is sourced from northern Russia and certain Chinese provinces, where our certified organic Chinese Rhodiola is hand-collected. However, as this valuable dietary supplement has gained worldwide recognition, growing consumer demand has increased pressure on wild populations. Ever seeking ways to diversify our supply for the benefit of the environment and our customers, our farm liaisons turned their attention on a few groups of North American growers looking to do rhodiola differently (and closer to home).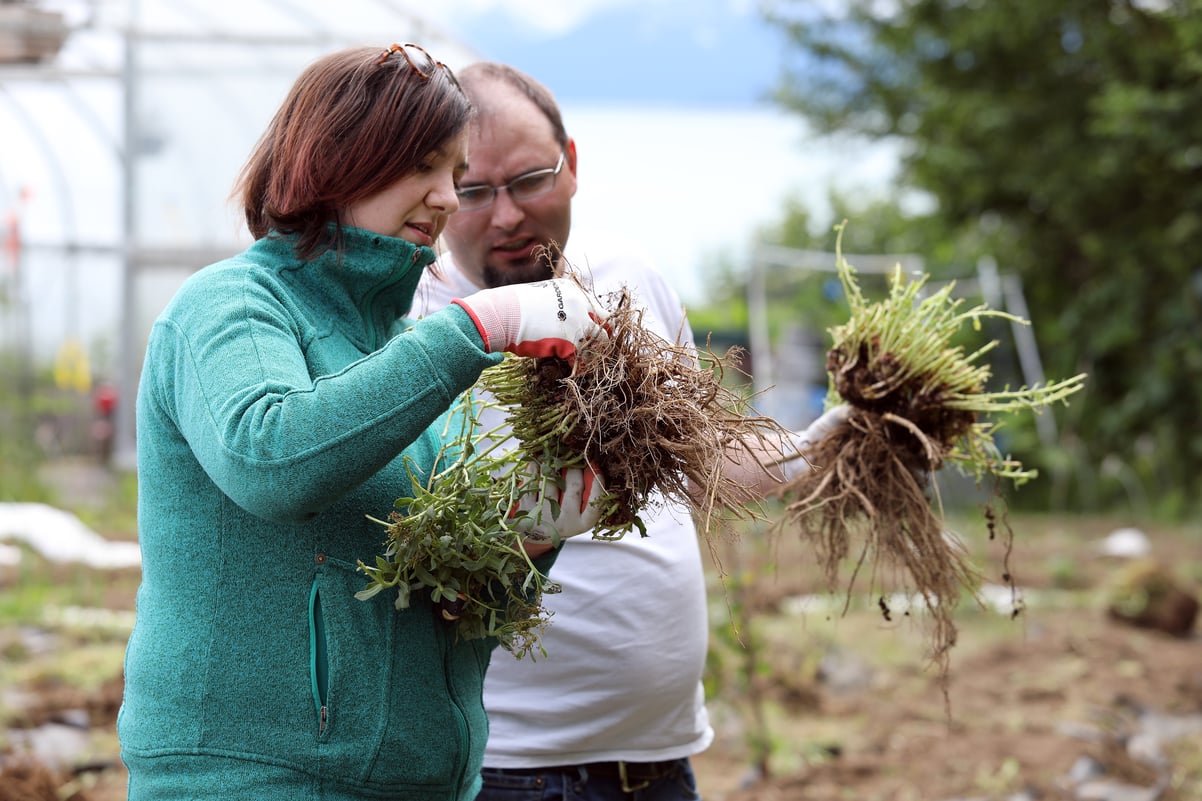 Grower Jason shows Mountain Rose Herbs farm liaison Kat how carefully harvesting our organic rhodiola by hand helps preserve the root clusters and rhizomes of each plant.
Domestic cultivation of this high-altitude plant is a relatively new endeavor, presenting significant opportunities and challenges to those breaking new ground with this stonecrop. As one might imagine, few crops are well suited for the harsh weather patterns and terrain of Alaska. Beautiful as it may be, it poses many challenges for agricultural operations.Luckily, the same factors that would hinder other crops make Alaska an unusually likely place to grow Rhodiola rosea.
Rhodiola prefers the rocky soils and long periods of freezing temperatures. In fact, the plant won't germinate without going through a significant vernalization period. Of course, one of the biggest challenges facing the continued cultivation of this crop in Alaska is the continually shifting weather patterns. When I spoke with our farmers, they explained that they feel that the historically reliable patterns are becoming increasingly difficult to predict, and the cold season that this plant relies upon has been growing shorter. However, opportunities for agriculturists to make a living are few and (literally) far between in this state, and rhodiola's impressive reputation in the natural health world has made it a high-value crop. Driven by the promise of a consistent and sustainable agricultural economy (and the desire to offer a valuable nutritional resource to folks near and far) these intrepid cultivators are determined to forge ahead with this adventure, and Mountain Rose Herbs has elected to come along for the journey.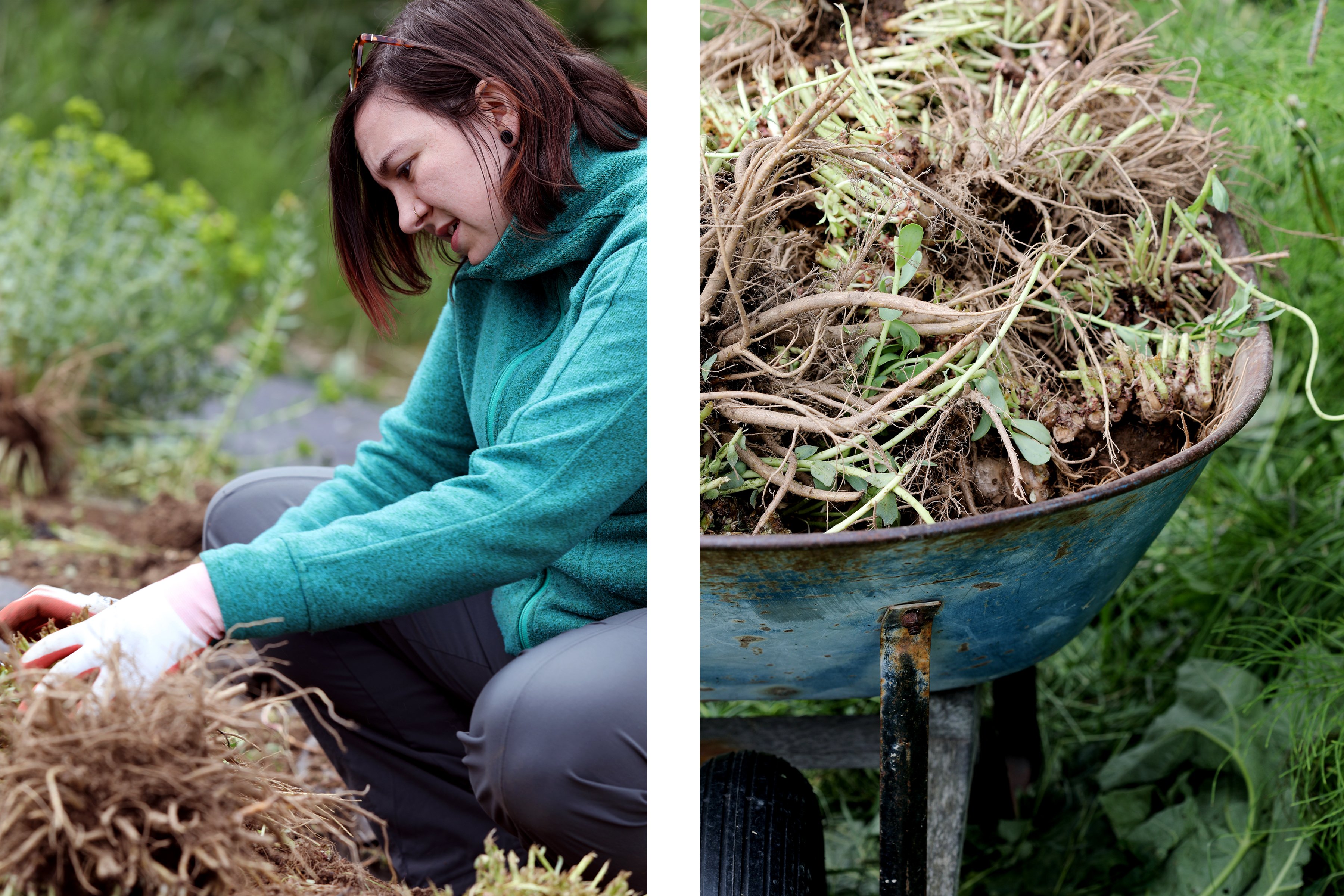 Farm liaison Kat pitches in to help the co-op growers bring in the harvest during Alaska's endless summer days.
Our first relationship with North American rhodiola farmers was forged with a Canadian cooperative founded in 2007, and this 2018 visit marked our second year of partnership with the Alaskan growers proudly presenting us with the fruits of their considerable labor. We aspire to source from both cultivation projects annually and on an ongoing basis, helping to provide the consistency needed for these North American growers to bring these unique, time- and energy-intensive ventures to maturity. Their harvests have varied in size from season to season, and the scale of their plantings reflects the still quasi-experimental nature of their work.
The growing partners that we work with in Alaska function within a cooperative. As such, co-op members provide support to one another in all parts of the process, from acquisition of seed and planting all the way up to harvest and post-harvest processing. When we visited, one of the farmers even had childhood friends out to help with the harvest and processing. This cooperation between the group members is crucial to advancing their collective work.
There has not been much research done on cultivating this plant in this region, or on a larger scale, so sharing and learning from one another's experiences is indispensable.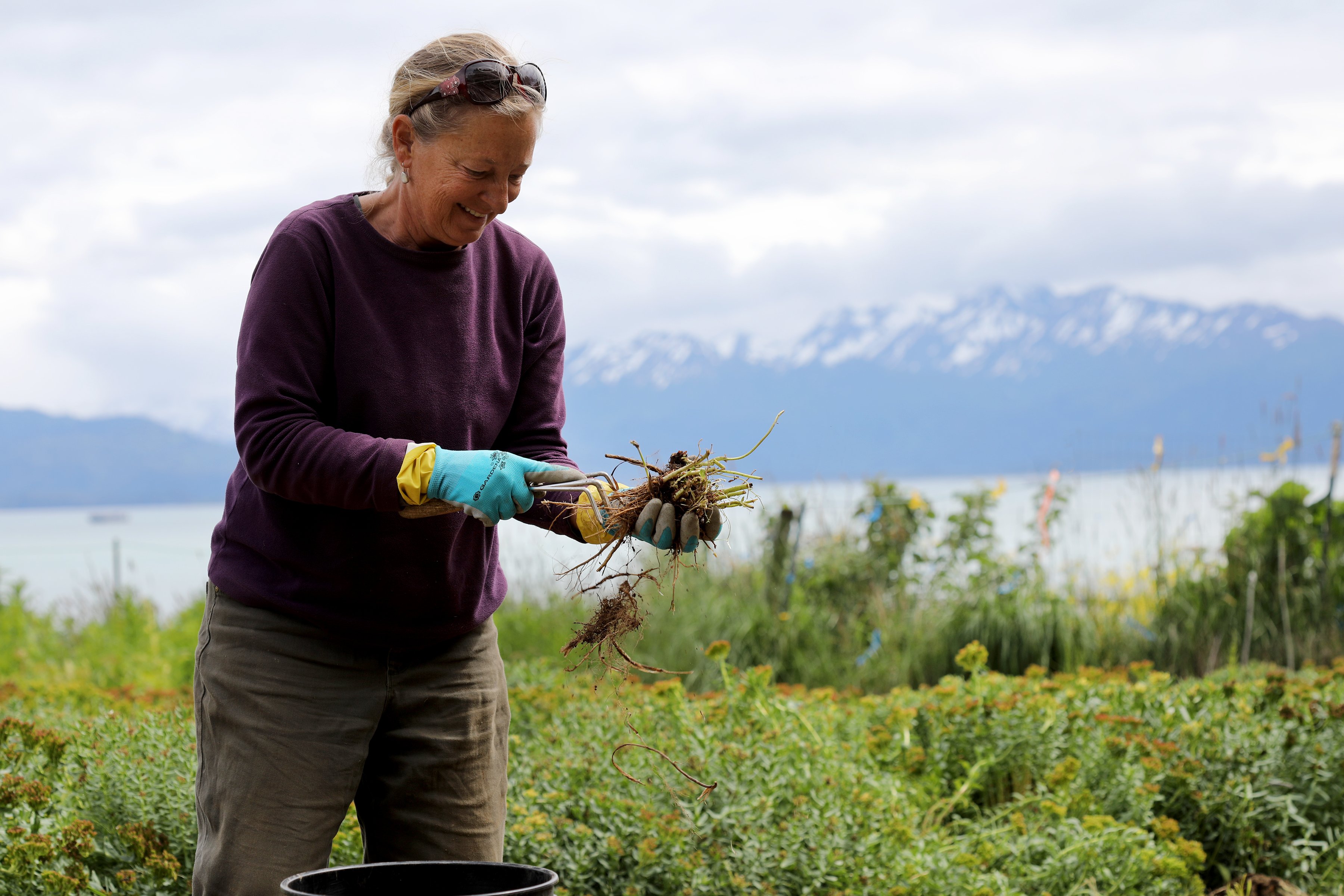 Against the stunning backdrop of Kachemak Bay State Park, Colleen gently cleans soil off a harvested rhodiola succulent in preparation for final processing.
In spite of the uncertainty inherent in such a young and ambitious venture, our team feels that supporting these endeavors is well worth the effort. Like these farmers, we understand the value of patience, which is why we consider ourselves fortunate to be able to provide a consistent demand for their harvests. We believe that with time, our investment in these determined growers will allow us to provide the herbalists we serve with a sufficient supply of top-quality rhodiola, while simultaneously achieving greater quality control and visibility in our supply chain, promoting environmentally responsible cultivation practices, and reducing our carbon footprint by sourcing this precious succulent closer to home.
WANT MORE AMERICAN HERB STORIES?
You Might Also Enjoy: