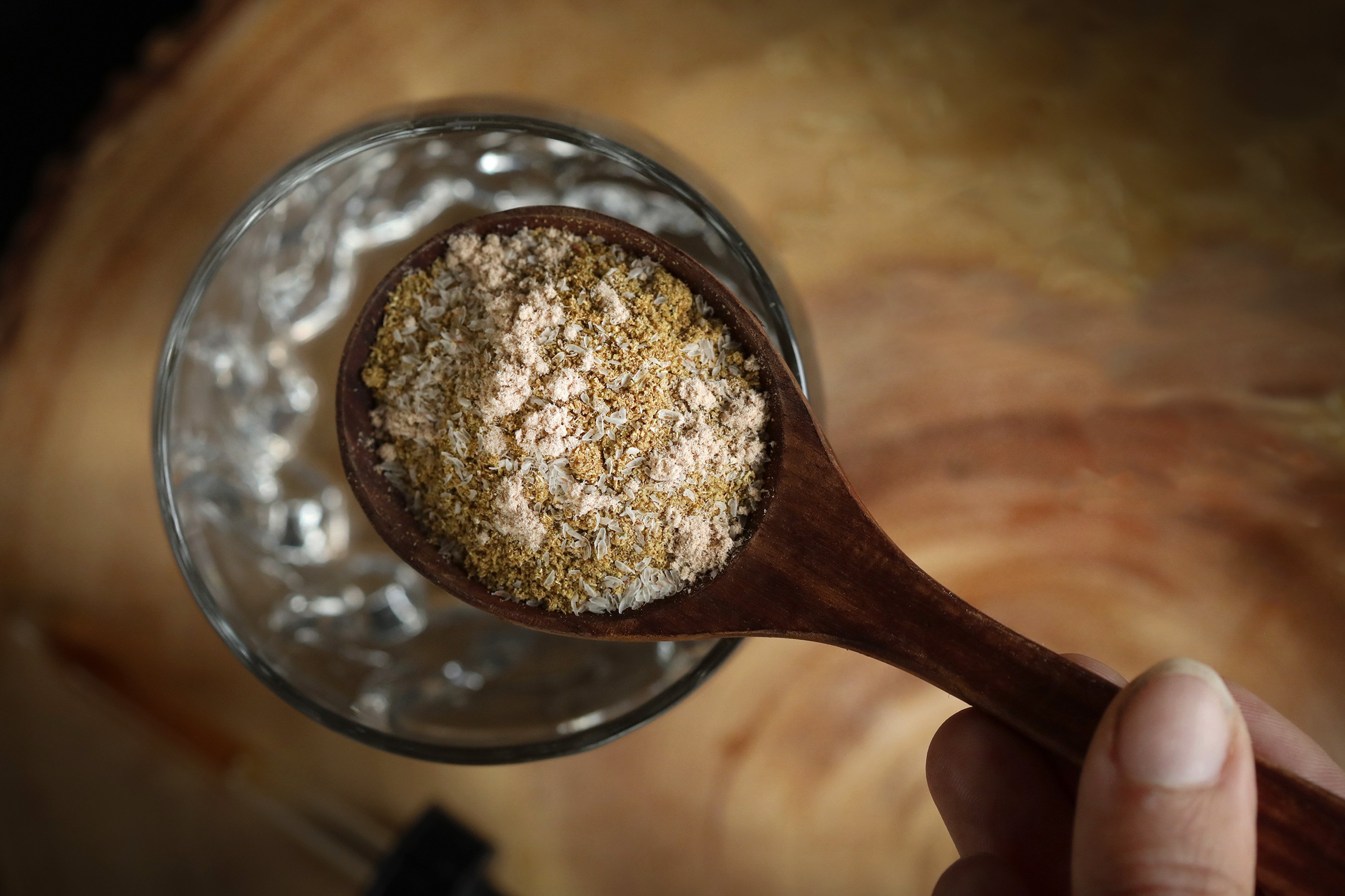 In 1974, I ran into a woman who claimed my chronic sinus problems came from my colon. She showed me an illustration created by pioneering nutritionist and iridologist, Bernard Jensen, which showed a distorted colon encrusted with hardened fecal matter. She also quoted Jensen's famous line, "death begins in the colon." This wasn't unusual thinking among the Utah midwives and herbalists I began to associate with in the late 1970s. They all believed that one key to keeping healthy was to stay regular. Although I no longer believe that colon cleansing is a therapy everyone needs, I do see value in keeping the colon regular. All of us suffer from time to time with the affliction one of my friends jokingly called "stucky-gutsies." He also referred to it as the Chinese affliction "hung-chow".
Seriously, the colon is far more important to health than many people realize. For starters, we now know that a large part of the immune system resides in the gastrointestinal tract. This makes sense, since one of the easiest ways for infection to enter the body is through the mucus membranes of the GI tract or lungs. This is why Henry Bieler, M.D., a doctor who primarily used nutrition in his healing practice, called the intestinal membranes the first line of immune defense. (Food is Your Best Medicine, Henry Bieler, Random House, 1965)
The colon's primary job is to recycle the water used in digestion. It absorbs liquid and minerals to create the solid waste material that the body evacuates. It's also the primary home of the friendly bacteria, collectively known as the microbiome, which play a critical role in our health. They are not only part of our immune defense, they also aid in the synthesis and absorption of vitamins like B1, B2, B6, B12, folic acid, and biotin. The synthesis of B12 by probiotics is particularly important for vegans who are not otherwise getting this vitamin in their diets.
When it comes to staying regular, water and fiber are the two primary things we need for a healthy colon. One of the reasons people aren't regular is that they are simply dehydrated. The body needs water so badly that it absorbs water from the material in the intestine, a process which can turn this material into a hardened mass that isn't always easy to eliminate. If you've got to strain when you go and you pass little hardened balls, you're probably dehydrated.
Fiber plays a role in this because fiber helps hold onto the water in the stool, keeping it soft. It also feeds the friendly bacteria, which helps keep the microbiome healthy, too. So, if you want to improve your regularity, make sure you have plenty of fiber and water. If you're eating a diet rich in fresh, raw fruits and vegetables, that's not a problem. If you're not, try taking some herbal fiber and drinking more water.
Fiber-rich herbs are sometimes referred to as bulk laxatives or bulking agents, because the mucilaginous, water soluble fibers they contain absorb water and swell, creating a slimy, gel-like substance. Most people think of fiber as roughage, which is true for coarse fibers like wheat bran, but herbs that contain mucilage should really be thought of as "smoothage" instead of roughage because of their slippery, slimy quality.
Mucilaginous Herbs
Smoothage is great for helping to lubricate the gastrointestinal tract to keep things moving properly, but not so great when you're trying to take it. The secret to taking these mucilaginous herbs is to add them to liquid, stir them until they barely mix in, and then drink them quickly. You want to get them down before they turn into a slimy gel that you have to eat with a spoon because it's undrinkable.
One of the best mucilaginous herbs for the colon is psyllium. Psyllium comes from the seeds of a species of plantain that is native to India. You can take the seeds or the seed husks. The seeds are a gentler bulking agent, the husks are far more mucilaginous and bulking. Psyllium is pretty tasteless, so I prefer to mix in in juice.
I also prefer not to take it by itself. My favorite bulking formula is to mix equal parts psyllium husks with freshly ground flax seeds. The oily and moistening flax seeds further aid the process of "greasing" the movement, especially if you tend to have a dry constitution like me. I make this in small batches and refrigerate the mixture to keep the flax from going rancid.
For people with more sensitive GI tracts, use psyllium seeds, marshmallow and/or slippery elm instead of psyllium husks. You can also substitute chia seeds for flax seeds. I've also mixed equal parts psyllium, flax, and triphala. Triphala is a blend of three fruits from Ayurvedic medicine that acts as a tonic to the bowel and has a gentle laxative action from a small amount of anthraquinone glycosides (which I'll explain shortly).
Whatever mixture you decide on, I'd recommend starting with a small amount and working your way up. Start with half a teaspoonful mixed in 4-6 ounces of water or juice. Drink the mixture quickly as suggested above.
I recommend apple or grape juice when taking fiber. It generally makes it easier to drink. Citrus juices like orange and grapefruit aren't recommended. You can also add a small amount to a morning smoothie if you like.
Gradually work up to a heaping tablespoon taken in 6-8 ounces of liquid and follow with another 6-8 ounces of water. The best times to take this fiber mixture are:
First thing in the morning
At least 30 minutes prior to eating
Right before bedtime, provided you haven't eaten for two hours before
When taking fiber, make sure you drink plenty of water, non-diuretic herbal teas, or other liquids during the day so you stay well-hydrated. Without the water, the fiber won't help get things moving.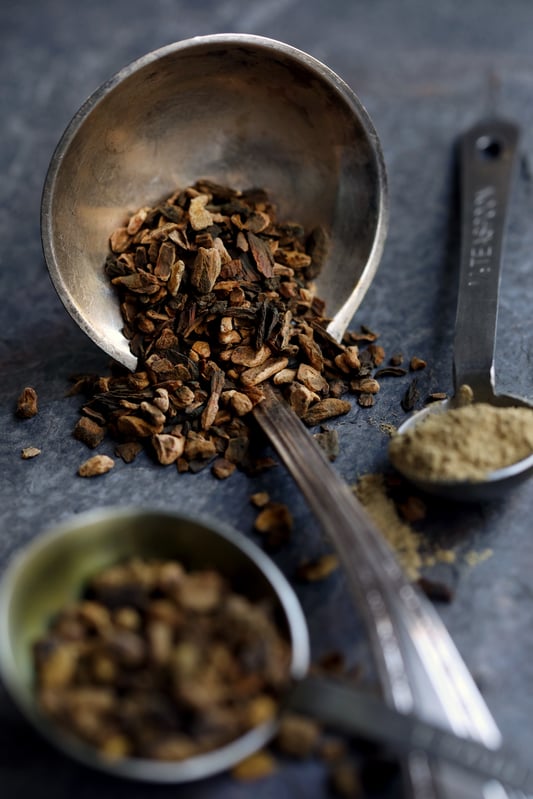 Anthraquinone Glycosides
If you find that things don't move so easily, you can also take an herb containing anthraquinone glycosides. These anthraquinones are found in herbs like buckthorn, cascara sagrada, Turkey rhubarb, cape aloe (the green part of the aloe leaf, not the gel) and senna. Very small amounts of anthraquinnones are also found in yellow dock and triphala.
Anthraquinones are yellow-brown dyes that intestinal bacteria (that wonderful microbiome) metabolize into anthranols. These, in turn, inhibit the absorption of water, sodium, and chloride in the colon, which helps to hydrate the stool. They also cause a localized stimulation of prostaglandins, which increase the force and rate of peristalsis. So, in small amounts, anthraquinone glycosides act as tonics to the colon. In larger doses they act as laxatives.
It takes about eight hours for these herbs to take effect, which means that an ideal time to take them is right before bed. This helps ensure a normal movement when you wake up the next morning. According to traditional Chinese medicine, the colon meridian is most active from 5-7 a.m., which is why many people have a bowel movement first thing in the morning. That's why bedtime is an ideal time to take these herbs.
An alternate time is to take them first thing in the morning before breakfast, along with your fiber and water. Depending on what time you wake up, this should result in a bowel movement in the late afternoon or early evening.
None of the plants containing anthraquinones are particularly tasty. In fact, they're quite bitter. So, most of them are taken in capsule form. One or two capsules of buckthorn, cascara and/or Turkey rhubarb is sufficient for most people.
Senna is the exception. It's usually taken as a tea. Use a teaspoon of senna per cup of water and steep. The suggested amount per day is about one cup.
If you need to take these herbs in liquid form, I recommend disguising the taste with herbs like licorice root, anise, and/or fennel. You'll have to experiment with the amounts. Another reason to mix anise and/or fennel with them is that they can cause intestinal cramps (griping), in some people which can be counteracted by anise, fennel, catnip, lobelia and other herbs that have a relaxing effect on the GI tract.
There are also a few important contra-indications to mention when using these herbs. The anthranols produced by the intestinal bacteria are absorbed into the blood stream and can enter breast milk in nursing mothers. For that reason, they should never be used when nursing. Most herbalists also recommend avoiding them during pregnancy. Furthermore, because they interfere with the absorption of water and electrolytes (sodium and chlorine) you shouldn't take them for long periods of time, generally no more than one or two weeks.
One more caution. Anthraquinones are dyes, so they stain the colon if you use them regularly. While there is no evidence that this harms the colon, it does raise concerns with doctors giving colonoscopies.
Digestive Bitters
If you need help keeping things moving over the long haul, try taking some digestive bitters with meals. Bitters stimulate the digestive tract, including the release of bile. Bile acts as a natural, internal laxative, especially when you have an adequate intake of fiber and water. Good bitters for stimulating digestion include gentian, centaury, and dandelion. These are typically combined with aromatics like orange peel, cardamom, peppermint, and ginger as part of a digestive bitters formula. Many such formulas are available to try.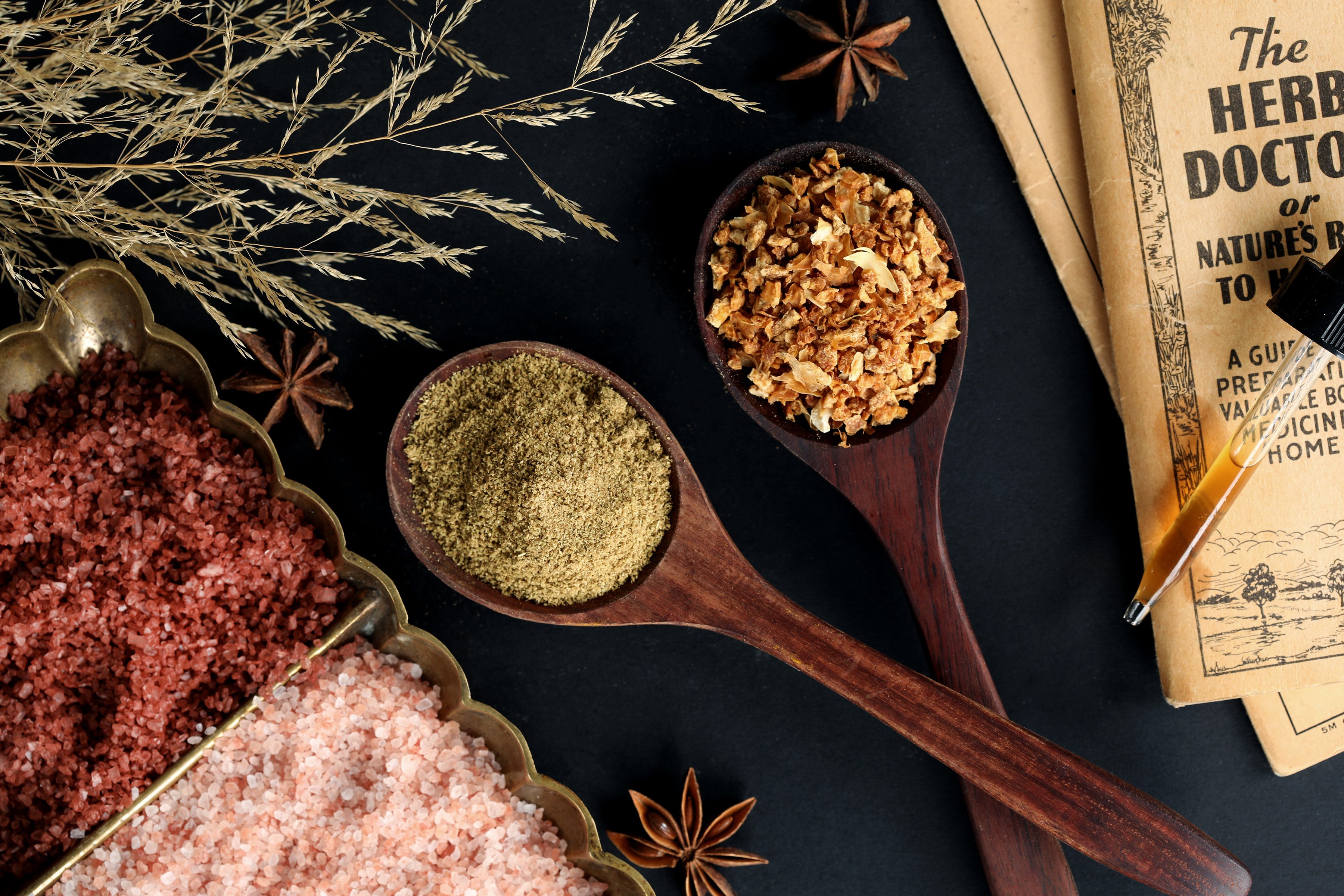 Water, salt, Vitamin C, and Magnesium
One final tip. Over the years I've run into a number of people who can't seem to go without using laxatives. Besides encouraging them to use water and fiber, here are a couple of things I've done to help them get regular again.
First, laxatives tend to deplete mineral electrolytes. So, have the person try drinking 6-8 glasses of water each day and accompany each glass of water with a small pinch of a natural salt such as the Himalayan pink salt or the Hawaiian red alaea salt. This can help to hydrate the colon and get it working normally again.
Second, both vitamin C and magnesium have a bowel tolerance. That is, if a person takes enough of either, they'll usually start to get a loose stool. Vitamin C is often tolerated in doses as high as 10 to 20 grams per day. Magnesium is often tolerated in doses over 1,000 milligrams a day. It's always best to start with a small amounts when introducing new vitamins, and gradually increase week by week.
Finally, both the above suggestions work well when combined with using triphala with some fiber as described earlier. Triphala has a nice tonic effect on the bowel and also seems to have a normalizing effect.
With all these options available to help your colon work as it should, there's no reason why you can't keep moving and stay healthy.
Want to learn more about herbs and your digestive system?
You May Also Like
Our Guide to Basic Herbal Actions
7 Ayurvedic Herbs for Vitality, Joy, and Peace of Mind