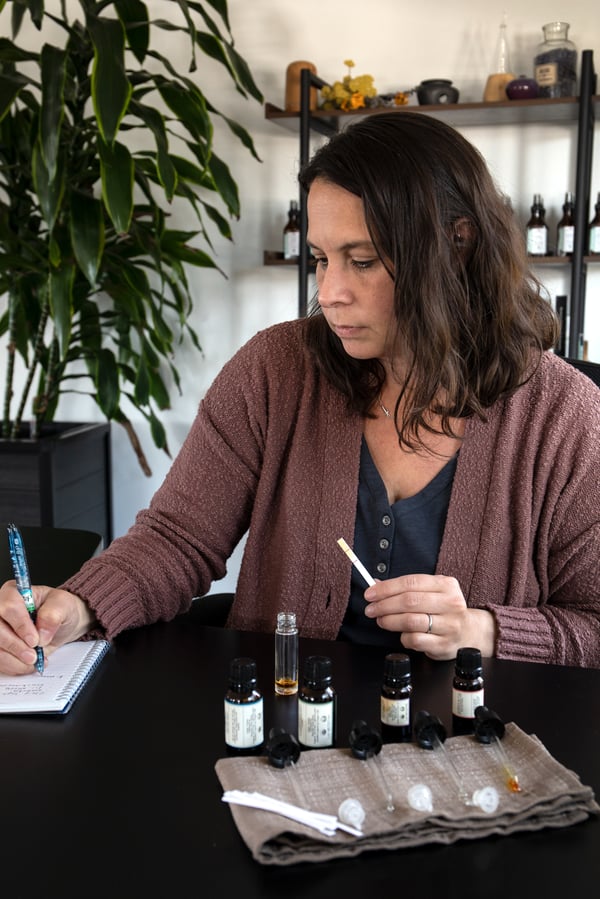 In the past few years, interest in aromatherapy has skyrocketed. More and more people are looking at alternative ways to manage their own wellness, build resilience, and create a peaceful, clean space to rejuvenate and renew. Increasingly, people are reaching out to us with questions, and inevitably we look to our Director of Product Development and Certified Aromatherapist, Christine, to provide us with guidance. Having a talented aromatherapist on staff and continuing to invest in her ongoing professional development has been one of the best decisions for both Mountain Rose Herbs and our wonderful customers. Christine brings remarkable expertise to both product creation and quality control, keeps us in close touch with the aromatherapy community and trade associations, and is the mastermind behind our new lines of oil blends and essential oil kits. She also has excellent insights for others who are interested in pursuing aromatherapy personally or professionally. We love her story, and we want to share it with you, along with her tips for those who have discovered their own passion for essential oils and want to learn more.
Fifteen years ago, the leadership team here at Mountain Rose Herbs started talking about the importance of professional representation with our core lines. It has always been important to us that people know we are not just passionate—we are also educated herbalists, aromatherapists, botanists, educators, and more. Having talented, credentialed people on staff is an important piece of helping our customers know we are making the very best decisions about the products we sell.
"At that time, we were able to harness internal talent to create a position for a staff herbalist," said CEO Shawn Donnille, "but we didn't have anyone with certification in aromatherapy. In those years, this field was considered less credible than traditional western herbalism, so the certification process was also about bringing a legitimacy—a credibility—to the art and science of aromatherapy. Christine had enormous passion and talent with our essential oils, and we knew we wanted to grow her skills."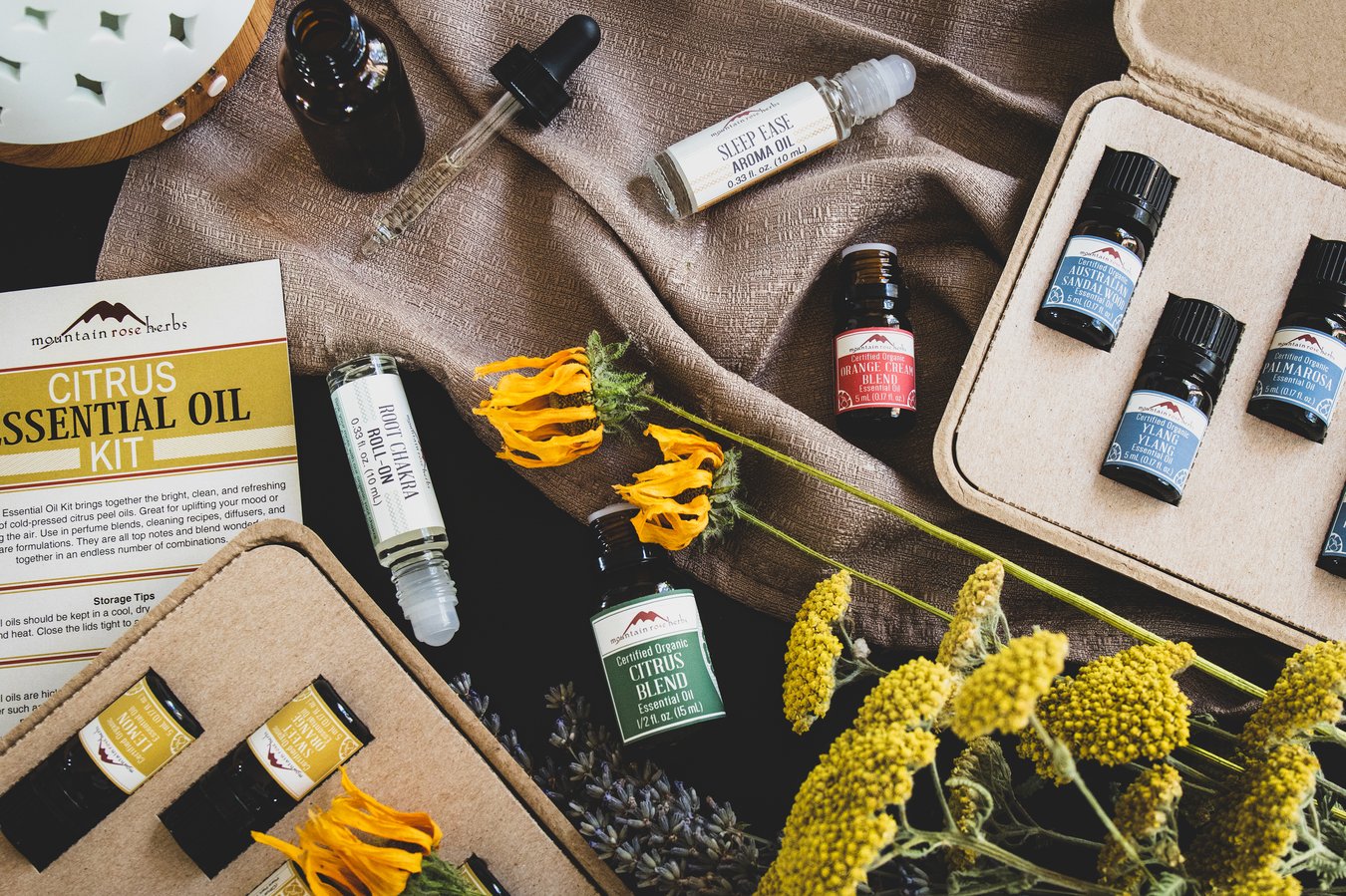 Christine received her accreditation in aromatherapy in 2010. She did her original coursework through an online college, which enabled her to continue to work. The accreditation coursework took about a year, but the more she learned, the more she wanted to know. "I have taken numerous courses since, including distillation and hydrosol classes, blending webinars, general industry presentations, and a chemistry class focused on essential oil constituents," said Christine. "I am constantly on the lookout for more education opportunities. There are plenty of amazing individual class offerings and full coursework options out there, including options where you can work at your own pace."
For beginners who aren't sure yet if they want to go the entire accreditation route, there are also online aromatherapy schools that offer free introductory classes. These are especially helpful for those just getting started, particularly because they provide basic use and safety information.
Two indispensable resources for essential oil education and finding community are the National Association of Holistic Aromatherapy (NAHA) and the Alliance of International Aromatherapists (AIA). Christine oversees our business relationship with both organizations. They provide general aromatherapy education, directories of approved schools and practicing aromatherapists, and wonderful webinars on current topics and events. They also release quarterly journals and have biennial conferences that attract amazing speakers and educators from around the world. Memberships start at an individual level for both organizations, so you don't have to be a practitioner or business to have access to their bonus resources.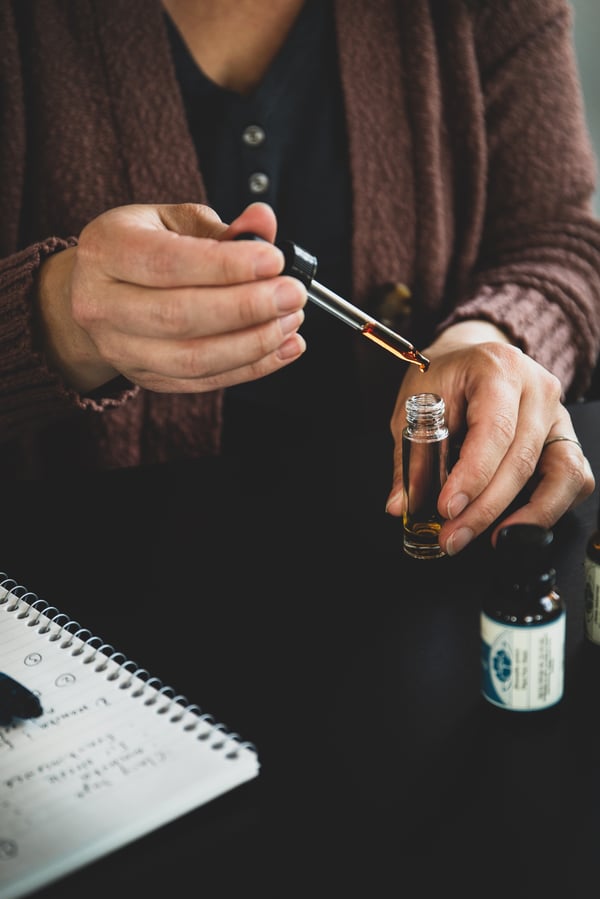 There are diverse opportunities for trained aromatherapists, and possible career paths reach far beyond the term "aromatherapy." Working with essential oils can be as simple as having a couple of oils that you love for personal use or can extend to advanced education for clinical aromatherapy and ultimately to having a private practice in which you serve clients. Also, aromatherapy-adjacent fields include botanical perfumery, essential oil sourcing, distillation and extraction, energetic work, and finished product development and manufacturing that can range from topical preparations to formulas for emotional support. Trained, certified aromatherapists also work in essential oil and aromatherapy education, and in chemical analysis and quality control.
Christine worked in our quality control department for several years, and in that process really got to know the organoleptic characteristics of all our oils much more intimately. She learned more about the subtle differences between distillations, the range of characteristics between different oils, and the chemistry involved in how pure oils work together in blends.
In her day to day, Christine combines her aromatherapy practice with her personal herbal practice. "I am grateful to have access to quality essential oils and herbal products," she said. "I use a mix of both in my life, depending on what I am needing. My office space at work is covered in bottles, which I find myself randomly smelling throughout the day, especially when I am trying to work with a new oil. At home, I tend to use essential oils topically: from diluted oil blends for bug bites or opening my airways, to outdoor sprays and skincare. What I find fascinating about crafting scents is that you aren't limited to working with distilled oils, you can also work with aromatic herbal tinctures and other extracts."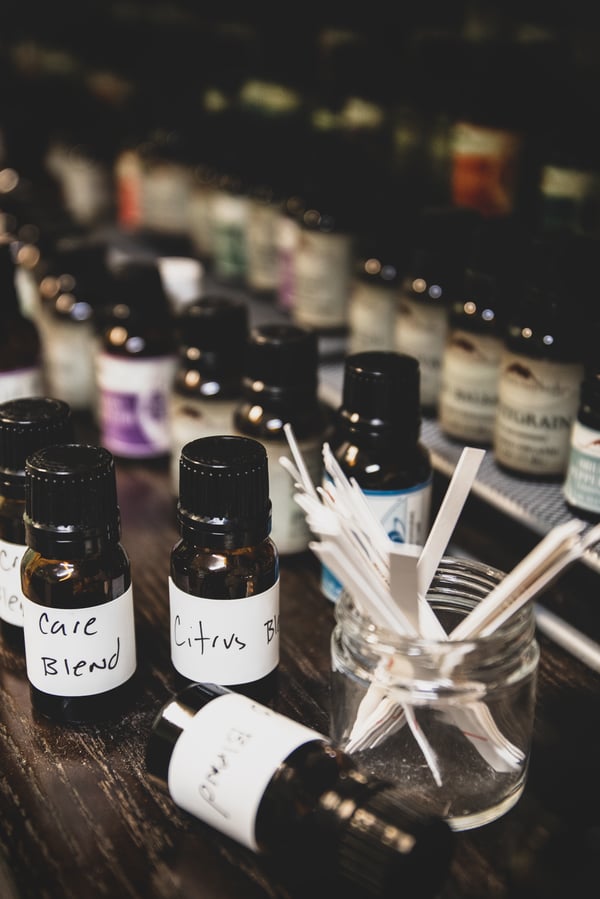 Christine's favorite part of her job as Mountain Rose Herbs' aromatherapist is blending and harmonizing custom blends. "I've had a great time these past two years expanding our essential oil and aromatherapy offerings. We now have a full line of pre-diluted single oil roll-ons, and we transferred our chakra essential oil kit into individual roll-ons that are ready to use. Our essential oil kits now come in fully recyclable kraft clam shell boxes, and we have more than doubled the line. Some of my favorite collections are the resins and green cleaning kit." She is also responsible for our brand-new line of essential oil blends, featuring functional combinations like our Calming Essential Oil Blend with blue tansy oil and our playful Orange Cream Blend.
Christine must also keep track of the details in packaging, accessories, and storage. For instance, we are currently transitioning all of our essential oil reducer lids to child resistant caps, which is increasingly important as essential oils become popular in family homes for everyday use.
Christine's approach to working with essential oils inspires so many of us. "You have to keep an open mind and maintain a willingness to try things, knowing that they won't always work out the way you want them to," she counsels beginners. And there is also a certain intimacy that successful blending requires. "Finding inspiration for oil blends is a little like matchmaking. You'll find me sitting on the floor of my office surrounded by bottles. I sit with them and see what speaks to me."
Looking for creative ways to use essential oils?
You may also enjoy: